Anti-racist activism risks own goals as sports fans tire of virtue signalling and constant badgering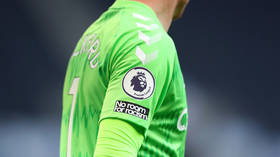 With the Premier League stepping away from its support of the Black Lives Matter campaign in favour of its own message on racism, people tired of the social justice crusaders will welcome a more relevant anti-racist approach.
No one would ever have thought it would be the English Premier League that would finally get to grips with the anti-racism movement and show us all in the UK the way forward over the second-biggest issue of 2020.
Because it seems football bosses finally woke up to the fact that Black Lives Matter in the UK is most definitely not part of the identically named US movement and that, if racism is going to be tackled effectively, then it is not by having quasi-paramilitary organisations like Forever Family Force or the Not F***ing Around Coalition marching on our streets.
So off come the BLM badges that were worn at the re-start of last season to be replaced by new sew-ons bearing the slogan No Room For Racism. It's a more considered campaign specific to football and not just another flash foreign import.
It is a welcome change of approach for football fans who, frankly, just want to watch football, without posturing multi-millionaires virtue-signaling before and during each game.
And it seems that it's a sentiment shared elsewhere. In the States, as the NFL season kicked off Kansas City Chiefs players linking arms in a show of unity before their game against Houston Texans were booed by fans in the stadium.
While some hand-wringers denounced the booing, one Kansas supporter pointed out what the display was actually about: "Football fans are not booing racial equality and justice. They are booing the far left, abolish the nuclear family and capitalism rhetoric that has been shoved down their throats for the past 5 months. We were already for unity."
Articulate, those Chiefs fans.
And also fed up with the tedious righteousness of the social justice warriors which has driven NFL teams to all sorts of responses: kneeling during the Star Spangled Banner, adding another song to the pre-match build-up – the Black anthem Lift Every Voice and Sing – staying in the dressing room until the game actually starts, linking arms, not linking arms, bitching about who's doing what and why. How individuals and teams choose to show, or not, their support for BLM has become as divisive as racism itself.
You can understand why people have become bored with it all.
But it's time someone stood up for those who are sick of being lectured, bullied and accused of all sorts of things, because, while they may not be racists, they just aren't declaring that fact loudly from the rooftops as the woke brigade insists.
As far as this brigade is concerned, if you aren't wearing t-shirts calling for justice for any number of individuals who have died at the hands of the police in a country on the other side of the Atlantic, then you are a racist.
Also on rt.com
NFL opener ratings tumble to 10-YEAR LOW, despite pent-up demand for football on TV, as league pays price for politicizing sport
Ordinary folk have had enough of that simplistic, infantile idiocy.
So if England, Pakistan and Australia cricket teams don't want to take the knee before their games, then fine. If British rugby teams are told they can show their support in whatever way they please, then that's good too.
And if Monte Carlo millionaire Lewis Hamilton wants to fight for justice from his Formula One podium and US Open champ Naomi Osaka wants to politicise her Covid-19 protective face mask with names of dead black people then that's all good too.
Just don't ask the rest of us to continually validate your political decisions, because that's not the reason we buy tickets to watch you perform.
We buy them so you can thrill with those skills that have taken you to the very top in international competitive sport. If you're not going to entertain us, we'll go somewhere else where we are not badgered about social justice or pet causes or face constant demands that we check our consciences.
For many people those annoyances have now become repetitive and boring which is actually counter-productive to the cause you so earnestly seek to promote. So, please, we hear what you're saying, take our word for it, we're all on side.
The protests have worked and things will change. Now. Just. Stop.
Think your friends would be interested? Share this story!
The statements, views and opinions expressed in this column are solely those of the author and do not necessarily represent those of RT.
You can share this story on social media: