Stung by election loss, Montenegro's eternal ruler Milo Djukanovic may be planning a reverse 'color revolution'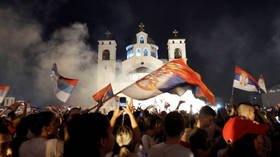 Europe's actual last dictator, the autocrat of Montenegro Milo Djukanovic, just had his grip on power slip when his Democratic Party of Socialists lost the general election. There are indications he may be unwilling to let go.
One of the six successor states of Yugoslavia, Montenegro commands a strategic location on the Adriatic coast but has fewer than 700,000 residents. Djukanovic has ruled it in one capacity or another since 1990, as president, prime minister and head of the DPS.
In the process, he changed political identities like underwear, going from an ardent Communist to a nationalist, and finally to a pro-Western 'democrat' and fanatical NATO supporter, whatever would keep him in power. For 30 years it worked – until it didn't.
Though Djukanovic wasn't up for election himself – his presidential term expires in 2022 – Sunday's parliamentary election was very much a referendum on his rule. For the first time since 1945, when it originally took power in its Communist incarnation, the DPS fell short of the votes needed to form a cabinet.
Three opposition leaders – Zdravko Krivokapic, Aleksa Becic and Dritan Abazovic – announced on Monday that had struck a deal to form a governing coalition, outlining a four-point platform. Their followers gathered across Montenegro that evening, waving historical flags, shooting off fireworks and singing traditional and patriotic songs, in a total rejection of one specific policy embraced by Djukanovic and the DPS: nation-building.
For the past 20 years, and especially after the 2006 independence referendum – which the West accepted despite widespread accusations of fraud and ballot-stuffing – Djukanovic has sought to create a new Montenegrin national identity, entirely distinct from – and hostile to – the country's Serbian heritage and history.
The plan's crowning achievement was supposed to be the so-called "religious freedom" law, enacted in December 2019, that would have enabled the government to seize the property of the Serbian Orthodox Church and hand it over to Djukanovic's pet denomination.
It backfired spectacularly. For months, Orthodox priests led protest processions throughout the country, attracting not just those who considered themselves ethnic Serbs, but also outraged Muslims and even some who had previously embraced Djukanovic's "Montenegrin" identity.
The government in Podgorica used the Covid-19 lockdowns to crack down on the processions, and had police round up priests and bishops. Objections from Belgrade and the Russian Orthodox Church were used as examples of 'Russian influence,' counting on NATO and the EU to back Djukanovic.
Also on rt.com
'Persecution of Orthodox Christians': Moscow Patriarch Kirill calls on Montenegrin authorities to stop crackdown on Church
Montenegro is the youngest NATO member, joining the alliance in 2017 without so much as a pretense of democratic approval. Djukanovic simply didn't put the issue up to a referendum, as all polls indicated he would lose. He accused Russia of fomenting a coup plot against him in 2016 – which may sound familiar to Americans – and used that as an excuse to do as he pleased.
With the West busy with its own troubles this time, the talk of 'Russian meddling' didn't help Djukanovic, while the religious persecution of the Serbian Orthodox Church ended up driving much of the vote against the DPS. Amending and revising "discriminatory laws and regulations, including the Religious Freedom Law" was one of the four main points announced by the new coalition. It is not an accident many of its supporters gathered outside churches to celebrate.
Even in their exuberance, the coalition is offering a "hand of reconciliation" to the former rulers, to build Montenegro's future together. The triumvirate said they want to continue with reforms intended to bring the country into the European Union, and "abide by all international obligations," presumably meaning they intend to stay in NATO. They also want to assemble a cabinet of experts "regardless of political, religious, ethnic or other characteristics."
In other words, it doesn't look like the coalition is pushing for revolutionary change, having already achieved their biggest objective by ousting the DPS from power. Djukanovic's party may have other ideas, however. Early on Tuesday, they announced a massive rally in the capital on September 6, under the slogan "No excuses...Montenegro above all."
What possible point could the rally have now, after the election? Well, coalition leaders have already urged their supporters to cut the celebrations short and return to their homes, warning about "provocations" by DPS loyalists that could touch off a civil war.
If the reports of agitators attacking coalition gatherings are true, and if the rally is intended to somehow dispute the results of the election, then Montenegro might be seeing the world's first reverse color revolution, wherein the government refuses to abide by the vote and foments unrest to reverse it.
It's a bold gambit, to be sure. Djukanovic and the DPS had left only a tiny bit of democracy on life support in Montenegro, just enough to give them an aura of legitimacy in the West. Trying to snuff it out altogether because they lost power would be entirely in character.
On the other hand, if the coalition prevails, that would be a breath of fresh air – not just for Montenegro, but for other places where corrupt oligarchs backed by the West think they can rule forever.
Like this story? Share it with a friend!
The statements, views and opinions expressed in this column are solely those of the author and do not necessarily represent those of RT.
You can share this story on social media: