Montenegro officially joins NATO despite internal opposition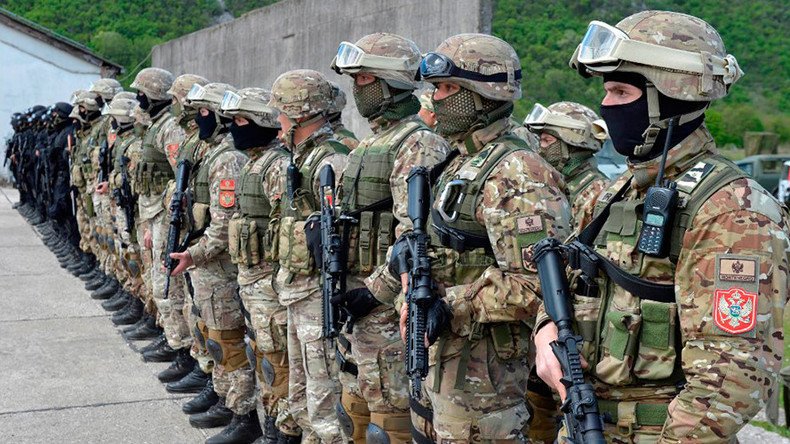 Montenegro has officially become the latest member of NATO despite internal opposition, after a ceremony in Washington, DC.
On Monday, a delegation led by Markovic went to the US State Department ceremony hosted by Undersecretary of State Thomas Shannon, officially inaugurating the small Balkan country into the bloc. NATO Secretary-General Jens Stoltenberg was also in attendance.
During his stay in Washington, Markovic is also expected to meet with US Vice President Mike Pence.
"As President Trump has said, the NATO Alliance has been the bulwark of international peace and security for nearly 70 years," the US State Department said in a statement Friday.
"This event represents the culmination of many years of effort on behalf of the government and people of Montenegro to join the Euro-Atlantic community of nations."
"Montenegro's NATO membership will support greater integration, democratic reform, trade, security, and stability with all of its neighbors. Montenegro's accession also reaffirms to other aspirants that NATO's door remains open to those countries willing and able to make the reforms necessary to meet NATO's high standards, and to accept the risks, responsibilities as well as benefits of membership."
Another ceremony is due to be held on Wednesday in Brussels, where the Montenegrin flag will join the 28 others flying over the NATO headquarters. Montenegrin President Filip Vujanovic is due to attend, along with Secretary-General Stoltenberg.
On April 28, Montenegrin MPs voted 46-0 to become the 29th member of NATO. However, 35 opposition lawmakers – almost half of the country's MPs – boycotted the parliamentary session, while hundreds of protesters gathered outside the parliament building before the vote to express their discontent with accession.
READ MORE: NATO mission creep on road to Russia reaches Montenegro
The protesters chanted "Treason" and "Thieves" and held a banner that read, "NATO murderers, your hands are bloody!" They also burned a NATO flag before peacefully dispersing. Many have still not forgotten the NATO bombing campaign against Yugoslavia in 1999 in which hundreds of civilians were killed, including in Montenegro.
Montenegrins were rather divided over accession into NATO. A survey carried out in December 2016 by the Center for Democracy and Human Rights (CEDEM) found that should a referendum on joining the military bloc be held in the country, 39.5 percent would vote for joining and 39.7 percent against.
Montenegro's contribution to NATO will be relatively small: It has a mere 1,950 soldiers, 13 helicopters, two frigates and three patrol ships, and its defense budget is €50 million, or 1.7 percent of its GDP – less than the 2 percent target set by NATO and reiterated by US President Donald Trump.
Critics in the US have questioned what benefits a country with such a small military will bring to NATO. However, the country's strategic position will give the alliance full control over the Adriatic Sea, as other Adriatic countries Albania, Croatia, and Italy are already long-time NATO members. Russia, by far the biggest foreign investor in the country, has warned that Montenegro's accession to NATO will diminish stability in the Balkans and the rest of Europe.
"The reasons for Montenegro to enter the alliance are unclear. Is someone threatening it?" President Vladimir Putin said last June at the 2016 St. Petersburg International Economic Forum, also pointing to "the bloc's blatant disregard of our position."
'NATO wants complete militarization of Balkans'
"Today, I have to underline this, Montenegro isn't entering and joining NATO, but it's NATO that's entering Montenegro and that's a huge difference," Marko Milacic of the Movement for Neutrality of Montenegro, told RT.
"This is the finalizing of one big, undemocratic process which included the bombing of our country in 1999."
Milacic argues that the Montenegrin government has sidestepped the will of the people by avoiding a referendum on the matter.
He noted that "NATO wants to finish a puzzle, a mosaic. They do this very openly, and they need Montenegro to complete the militarization of the Balkans."
Croatia, Albania, Slovenia, Romania and Bulgaria are already members of NATO, while Bosnia and Kosovo are also close allies. "So at this moment Montenegro serves as an anti-Serbia, but also anti-Russia, area," Milacic added.
According to Milacic, involvement in NATO would not only be the wrong decision politically, but financially as well.
"They [the government] don't ask us, and we will afford whatever they [NATO] want," he pointed out, "because here in Montenegro you don't have political elites, you have political puppets of Washington."
"It's a tremendous amount of money for small Montenegro. Our economy is devastated by the criminals in our government, but now they say we have to spend at least 2 percent of our GDP for our army and NATO, and that's much more than we are spending now. They are additional millions for armies, for wars, for NATO."
You can share this story on social media: