Democracy or paternalism? ActBlue's exile of 'revenge-porn' Kansas House candidate says Americans can't be trusted with their vote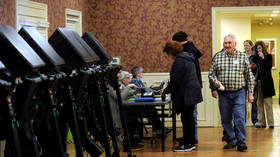 Democratic fundraiser ActBlue has banned Kansas House candidate Aaron Coleman after a woman accused him of abuse and he admitted to deploying 'revenge porn' as a tween. But voters in a democracy have elected worse.
Coleman acknowledged in June that as a 12-year-old, he'd blackmailed a 13-year-old female classmate with "revenge porn," making good on a threat to publicize a nude photo she'd texted him if she did not follow it up with more nudes. He also admitted to harassing other girls online, while insisting – at the ripe old age of 19 – that such behavior was behind him.
Also on rt.com
'You are frauds. You are the lie': Rose McGowan torches the DNC, calls Biden a rapist, inciting a horde of party defenders
Confessing to these abhorrent acts initially led him to drop out of the race for Kansas' House on Sunday. However, he reversed course on Tuesday, claiming he couldn't "stand idly by" and watch "young boys be left to the same circumstances as me" – i.e. growing up poor while the American ruling class continued to plunder the nation. While Coleman has apologized for his victimization of girls, he has also argued society is to blame, claiming with more "self-respect" he would have "been a better person to these women."
Coleman argued the voters who won him his surprise primary victory earlier this month – in which he edged out incumbent Democrat Stan Frownfelter by just 14 votes – had demonstrated they were willing to look past his personal failings to his promises to fight for Medicare for All, marijuana legalization, the Green New Deal, and support for public housing and public schools. Leaving the race, he insisted, would be handing an undeserved victory to the same ruling class he was fighting.
"My withdrawal would immediately return to power the same corporatist, out-of-touch 7-term incumbent that voters just rejected," he said in a statement posted to Twitter on Tuesday, arguing "we cannot undo democracy because I am a flawed individual who has made mistakes."
However, also on Tuesday, the Intercept published further allegations by a more recent girlfriend, 21-year-old Taylor Passow, who claimed after just a month of dating Coleman had choked her and told her to kill herself following a fight between the two last year. This report was soon joined by a handful of similar anecdotes – that he'd threatened Passow with death if she got pregnant, that he'd hounded another woman over social media for refusing to let him use her story in his campaign, and more.
It's not clear what specifically led Democratic fundraising platform ActBlue to drop Coleman from its roster, but by Tuesday afternoon, his donation page had been deleted. The site replied to his inquiries with a notice stating he was "out of alignment with ActBlue's mission."
Remember this. Corporate democrats decide who gets to run or not. The elites have no care in the world for the people of my district who live at the poverty line.They don't care if voters nominated me, regardless of my sins I apologized for in June (months before the election). https://t.co/eN3rYnog69pic.twitter.com/R5Y7vXbSY5

— Aaron Coleman 🌹 (@Aaron4KS37) August 25, 2020
Regardless of how heinously Coleman behaved with these women – and by all reports, he didn't leave his misogyny behind in his middle school years – ActBlue's decision to remove his fundraising page sets a decisive and disturbing precedent against the notion of democracy. The American system of government at least in theory protects the right of the people to choose their representative, even if it's the "wrong" choice by society's moral standards – or otherwise doesn't reflect the values of ActBlue or some other self-appointed watchdog.
Coleman told Fox News his supporters had forgiven him for his transgressions, stating "all of us have sinned, and we all make mistakes."
They said they voted for me because they believe I am committed to doing what politics is about – advocating policies that improve the lives of ordinary people, of working people, of those like me and those like them.
Moreover, the candidate's ethical transgressions, while reprehensible, pale in comparison to the misdeeds of more prominent Democratic candidates ActBlue celebrates. The fundraiser has never, for example, bothered to condemn Democratic presidential candidate Joe Biden's alleged sexual assault of Tara Reade, his alleged abuses against the seven other women who've claimed he harassed them, or his behavior with any of the children whose hair he's been filmed sniffing.
Also on rt.com
Vote for Weinstein? Michelle Obama's praise of Biden prompts opponents to recall her similar praise for Hollywood rapist
Nor have they complained about vice presidential candidate Kamala Harris blocking the release of evidence that would have exonerated hundreds of convicts, including at least one Death Row inmate, allegedly keeping prisoners locked up beyond their parole date to obtain cheap labor for fighting wildfires, or seeking to imprison the mothers of truant children.
Indeed, one would be hard-pressed to come across any other candidate aside from Coleman who's ever been booted off the fundraising platform for not aligning with ActBlue's "mission." The platform – backed, like most Democratic fundraising initiatives, by billionaire currency speculator George Soros among other deep-pocketed interests – is structured in such a way that it allows donors to conceal the ultimate recipient of their largesse, often for tax reporting reasons. So-called "dark money" organizations that allow corporations and other wealthy interests to pour unlimited funds into elections have been dubbed one of the chief threats to American democracy.
I don't know what's more troubling. @actblue determining that Coleman's conduct is out of bounds while many other Democrats have made decisions that have literally cost lives or the "progressives" cheering on whether a tech company determines if a candidate will be viable?

— BLM / ANTIFA Supporter (@sal636) August 26, 2020
Coleman's only 'crime', it seems, was not being rich or famous before he abused the women who've come forward to denounce him. Heinously immoral individuals have long been elected to state and national office in the US and other democracies – that's one of the risks of this form of government, one which is generally outweighed by the freedom of being able to choose one's leaders. Americans might want to think twice before doing away with this freedom.
Like this story? Share it with a friend!
The statements, views and opinions expressed in this column are solely those of the author and do not necessarily represent those of RT.
You can share this story on social media: