This illegal migrants scandal makes a mockery of 'Take Back Control'. Officials haven't estimated how many there are for 15 YEARS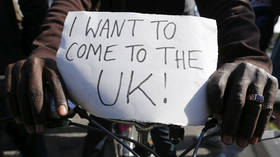 A damning official report has finally put in writing what many of us knew anyway: the Home Office does not have a clue about the scale of illegal immigration in the UK.
'Take back control of our borders' was a cornerstone of the 2016 Leave campaign in the Brexit referendum.
It was reinforced as a slogan when Boris Johnson campaigned in last year's general election, and overwhelmingly succeeded, in getting a new mandate to push the constipated Brexit agreement through Parliament.
But taking back control? It. Just. Ain't. Working.
Not when the beaches of the south east coast of England are used by international criminal gangs to traffick migrants to our shores like some park-and-ride scheme for shoppers.
Now the National Audit Office (NAO) tells us, as if we didn't know, that the Home Office has no idea how many of those illegal migrants have made it and settled in the UK, remaining here unchallenged. And why is that? Because they haven't even bothered to make an estimate for 15 years.
Also on rt.com
Nigel Farage blasts British government and media for ignoring criminal trafficking gangs dumping illegal immigrants on UK beaches
Back in 2005 – when Tony Blair was still PM, Crazy Frog's Axel F was annoying everyone and Hurricane Katrina battered New Orleans – the figure was put at 430,000. But today? Dunno. Take back control? Nah, we've not even bothered counting.
What we do know is that they keep on coming. Millions of viewers watch in dismay the videos made by Nigel Farage (somebody buy that man a wind muffler for his microphone), showing UK Border Forces taxiing migrants to safety after they have been rescued from their overcrowded inflatable boats in the English Channel. While Farage is keeping tabs, the NAO suggests no-one else is.
In a radio interview this week, the Brexit Party leader told listeners: "Last Wednesday, 166 illegal migrants were brought into Dover and who knows what other boats landed on shingle beaches in Kent or East Sussex during the course of the night, and those people just disappeared."
It's not just the newly-arrived illegals causing problems with the Home Office, it's those that are already here without permission and on the radar of the authorities.
The NAO report found: "In the 12 months to the end of December 2019 it released 14,900 (62 percent) of the detainees whom it intended to remove from the country."
That's right. Nearly two-thirds of those earmarked for deportation are just let go.
Farage faces wild, red-faced, spittle-flecked accusations of "racist" every time he opens his mouth about immigration, but the NAO, a body with no axe to grind and all the personality you'd expect from an outfit of auditors, just delivers facts and the information to back them up.
Also on rt.com
As record numbers of non-EU migrants arrive in the UK, the silence of Brexiteer politicians is deafening
If it wasn't so serious, the damning attacks would be funny, showing a level of incompetence at the Home Office that is jaw-dropping.
"We have not seen evidence [the Home Office] has tried to actively understand and manage these challenges and it has no strategy across the work of Immigration Enforcement and the rest of the Department to reduce their frequency," the report goes on damningly to say.
Boris should be hugely embarrassed that this centrepiece of controlling migration, one into which he has made the odd, ill-judged foray (Turkey to join the EU, anyone?), is being shown as a chaotic free-for-all in which the department responsible is almost criminally clueless.
If he was holding a banquet to celebrate his achievements in government so far, this would consist of a steaming pile of dung sitting on a platter mid-table and no-one would quite know how it got there, where to look or who was going to clean it up.
As Farage says: "This government was elected with a stonking majority to deliver on Brexit. One part of Brexit was controlling our borders and what's happening in Dover on most days of the week is we're being made a laughing stock."
That's Boris all over, you can always rely on our PM for a chuckle. But not, it seems, much else.
Think your friends would be interested? Share this story!
The statements, views and opinions expressed in this column are solely those of the author and do not necessarily represent those of RT.
You can share this story on social media: