Nigel Farage blasts British government and media for ignoring criminal trafficking gangs dumping illegal immigrants on UK beaches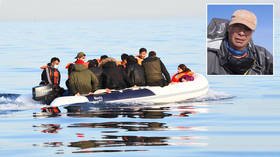 The architect of Brexit tells RT.com that the MSM and the government are using Covid-19 and the George Floyd controversy as excuses to ignore the widespread illegal trafficking of migrants across the Channel in rubber boats.
Nigel Farage, the man whose tireless campaigning for more than 20 years secured Britain's exit from Europe, should be enjoying a well-deserved break from frontline politics in order to enjoy his success. Instead, the leader of the Brexit Party is about as angry as I've ever seen him.
For the past few months, he's been trying to raise awareness of an international criminal enterprise exploiting human misery and raking in thousands of pounds a day that is operating right under the noses of UK officials.
He's got all the unquestionable proof that's needed, having several times gotten up in the middle of the night to go out into the English Channel to video boatloads of illegal immigrants making their way over from France – often, controversially, having been guided across by French naval ships.
You'd have thought such a story deserved a place on every newspaper front page and to be the lead bulletin on every TV channel.
But no. It's simply been ignored by the mainstream media. And it's not just due to the fact that the man highlighting this issue is a controversial and divisive figure.
Speaking exclusively to RT, the man widely credited with securing the UK's departure from the European Union said he was not surprised.
"This is a classic mainstream media strategy," he raged. "There is a huge disconnect between what the mainstream media thinks the story is and how the public actually feels. It's just like 2016 all over again.
"And you know, the mainstream media is simply in denial about it all.
"But I'll keep going. I've had more than 12 million views of the videos I've made on this topic and that shows that I do have a voice to be heard here. That I do have skin in the game."
And he has a point.
Despite all his millions of followers on social media, a recent piece in the Sunday Times under the headline "The old Nigel Farage immigrant song sounds way off key" would seem to have missed the tone and clearly irritated the former MEP for the direction its author chose.
"The suggestion in that piece by Sarah Baxter was that because so many people from migrant communities working in the NHS are doing such a great job, we really shouldn't worry about immigration in the future," he said. "Somehow talking about it was seen as attacking BAME nurses.
"But what I'm talking about is illegal immigration. It's about people breaking into our borders and simply disappearing. We have no idea who they are or where they are.
"But if you try to talk about it in the media, well, we're almost back to the bad old days where even discussing this is deemed racist."
Also on rt.com
As record numbers of non-EU migrants arrive in the UK, the silence of Brexiteer politicians is deafening
For Farage, 56, who saw the discussion of immigration become such a mainstream issue that it was the key topic throughout the referendum campaign, efforts to take it off the table before Brexit is even complete are puzzling.
"Everyone is being told that Brexit is done," he told me. "We're being told that concerns about migration, which was the single most important subject of the campaign, are no longer an issue and everything has been sorted.
"It's laughable. Brexit hasn't happened yet and every day, inflatable boats are coming across the English Channel packed with illegal migrants each paying around £5,000 to criminal organisations encouraged by the fact that the UK is doing nothing to stop them.
"It's like there's a great big sign on the cliffs of the south coast that says to the migrants, 'It is worth every penny you pay to the criminal trafficking gangs to bring you to the UK because more than likely you will be allowed to say.'"
With the lack of reaction of the Border Forces, it's hard to argue on this point.
"We've seen the French Navy out there escorting these rubber boats from French waters into British waters before a handover to the UK Coast guard who bring them ashore," Farage said.
"We've been told not to film and had boats positioned to block what's going on, but we've still managed to expose what is happening."
For a man so deeply loathed and admired in equal measure by many of the European politicians he outshone over a 20-year career as an MEP that even now some still shudder at the mention of his name, it is strange that the British establishment still tries to ignore Farage.
This is despite a massive social media presence of 1.5 million followers on Twitter, nearly a million on Facebook and millions of views on YouTube of his often self-made videos.
Bearing in mind he's no longer an elected politician with the platform that affords, these are pretty impressive figures carefully propagated over more than 10 years.
While many in the MSM wish he would just disappear, his name just keeps popping up.
EU Brexit Chief Negotiator Michel Barnier namechecked him at the weekend over the current state of negotiations, saying, "Brexit is lose-lose. Nobody has been able to show there's any added value to Brexit – not so far. Not even [Nigel] Farage. So in these negotiations, what we do is damage limitation."
So senior figures across Europe keep an eye on what Farage is saying and doing, but meanwhile in the UK, he is treated like some sort of throwback by the MSM.
But still, it seems, there are many ordinary people who love him.
"The other day I stopped to fill the car up with petrol and I had people coming up to me saying, 'Keep showing them the truth, Nigel. What's going on needs to be out there for everyone to see.' Some of them were using language a lot stronger, but it shows how important this issue is."
"Ordinary people are asking me, what the hell is going on? But as long as the Home Office is convinced everything is alright and the mainstream media keep ignoring it, then this shambles will continue.
"In ordinary times, pictures of these packed boats dumping passengers on south coast beaches would be on the evening news every night and in all the newspapers.
"Now, the promise to take back control of our borders has been forgotten. It's all too awkward to talk about and no one seems to want to tackle it.
"Except me."
Having known Farage for a long time, I have no doubt that he will continue his crusade for as long it takes. Even if it takes another 20 years.
Think your friends would be interested? Share this story!
The statements, views and opinions expressed in this column are solely those of the author and do not necessarily represent those of RT.
You can share this story on social media: