Hillary Clinton becomes US President at last! With Donald Trump's help! Calm down, folks, it's just the premise of a new novel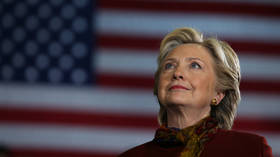 The novel Rodham ponders how Clinton's life would have turned out if she'd rejected Bill when he proposed. But even an admirer'sfictionalised account can't achieve the impossible and make her likeable.
Author Curtis Sittenfeld says she doubts Hillary Clinton will read her book "and if she does, she won't like it." She's right there, because I didn't enjoy this relatively well-written but very dull novel either.
As someone who is a self-confessed political junkie, having done my MA in Political Communication, I was initially excited to dive into Rodham. Its concept alone – could Hillary have become the first female president if she hadn't married Bill? – is undeniably a really good one
But the first third of the book, which deals pretty accurately with Hillary's younger years, comes across more like a painting by numbers exercise. It starts out with the feel of an Americanised update of The Crown with some cheesy Mills & Boons thrown in for good measure.
It fails to explain exactly how such a dashing, charismatic figure like Bill would even be attracted to Hillary, seeing as she's portrayed as a boring bookworm student who lacks any self-esteem. Even Hillary wonders why he would be interested in her.
In real life, Hillary had – up until losing the 2016 presidential election – certainly been punching above her weight, too. She's only this huge global figure thanks to good old-fashioned nepotism – and all at a great cost: her dignity for turning a blind eye to Bill's wandering eye.
Also on rt.com
'White liberal Hillary supporters bigger threat than the KKK': CNN's Van Jones channels Malcolm X with warning
The author – who has already written a novel about Laura Bush in American Wife– is a self-confessed fan of Hillary, which makes this novel feel like the ultimate revenge fantasy by a fangirl. At one point, Bill warns her, "I'll drag you down. The thing that's wrong with me is incurable." But, back in the real world, the truth is that Bill turned his wife into a household name and she only has herself to blame for not beating Trump.
All reality is thrown out the window again when – prompted by an accusation of sexual assault levelled against Bill – she dumps him and then later gets elected as a US Senator in the early 1990s. But it's hard to swallow, because if someone like the magnetic Bill failed to get re-elected as State Governor of Arkansas in the 1982 election, I don't know how a "strict, a mind-made-up sort of person" like Hillary –according to a one profile of her in the Washington Post–would have ever been able to get the electorate to warm to her unsympathetic personality without the Clinton brand.
After the early chapters, you need to dispense with any semblance of reality as we get to the more exciting parts, which read like Game of Thrones stuff – with her pitted against Bill in a race for The White House. Not only that, but she ironically has Donald Trump in her corner! Really?
Bill's infidelities drag him down, of course, because he doesn't have Hillary by his side, but rather a bland trophy wife who walks outon him. The book is really saying here that Bill wouldn't have become president without Hillary standing by her man, which may be a fair point.
But to say Hillary would have been president without Bill? Come on! That is stretching reality. Sorry, but I don't see how she, as someone with such an unpleasant public persona, would have successfully been able to climb up the echelons of the Democratic Party, without riding on the coattails of her husband.
Also on rt.com
Hillary ditches pantsuits for Covid face-mask with a message, is immediately MEMED to death with reminders of scandals
If the novel is an exercise in rehabilitating Hillary's image, as some claim, it fails to do so, because – Bill, or no Bill – she still comes across as the unlikeable, strict school teacher. You can't make a silk purse out of a pig's ear, or a likeable, electable Hillary out of a wooden sourpuss.
Hillary strikes me as the type of person who has always valued career goals above moral principles. It's the only reason I can see why she has repeatedly put up with the public humiliation of her husband's endless infidelities – the latest being accusations that heslept with Jeffery Epstein's lover, Ghislaine Maxwell, in a new book out next month.
It would have been a very much more fascinating book if Hillary had married Bill and then left him after the Monica Lewinsky affair. At least we might've got more under her "real" skin to help better explain why she's been such a cuckquean to stick with a world-class love rat for so long.
Hillary once described Bill as a "hard dog to keep on the porch". But I will never understand how she can come across as an American Pit Bull Terrier with her political façade, and yet be all-demeaning as her own husband repeatedly treated her like a doormat. I can understand her forgiving him once, maybe twice... but she must've lost count at this stage of the number of women he's had on the side... and on top and bottom too. Even love has its limits for most normal people.
But she comes across as a calculating ice queen. I think the public would've warmed far more to her if she had served Bill with divorce papers when in the White House. She might've even trumped Trump in the presidential election because she would've been able to better attack the womaniser – and his "grab her by the p****" attitude– without sounding like a compromising hypocrite.
One reviewer said he struggled to even finish this novel. I'll go one better and say, it literally put me to sleep when I first picked it up because the early chapters don't read like a novel per se, but rather a new journalism style retelling of the story – albeit without the same flair of Tom Wolfe's The Right Stuff.
Also on rt.com
'I'm with her': Biden fuels VP rumors as Hillary Clinton endorses him at women's event
It would've been a much better read if the first section had been chopped down to speed up the story and to get rid of some forced dialogue scenes and repetition, if nothing else. On one page we're told who she actually lost her virginity to, only for this fact to be repeated on the next page.
In fairness, the last third of the book's "what if" scenario is a good trashy yarn. In all, it's nothing more than a money-making exercise of a novel –not that there's anything wrong with that. But the fault here is the author isblinded by adoration of her hero in the same way that Hillary obviously was - is still, perhaps - with Bill.
Overall, it felt like the book was written with one-eye on securing a movie deal. And with that in mind, you're probably better off saving your hard earned cash and waiting for it to appear on Netflix.
Perhaps Sittenfeld also picked the wrong protagonist – Michelle Obama might have been more interesting... Now that I think of it, Michelle running against Hillary would've been a much better way to go with the storyline. It could've been like the Wicked Witch of the West pitted against Dorothy, Diana Ross-style in The Wiz. Now that would be worth reading - and watching.
Think your friends would be interested? Share this story!
The statements, views and opinions expressed in this column are solely those of the author and do not necessarily represent those of RT.
You can share this story on social media: