If Kim Jong-un is really dead, do not expect chaos in North Korea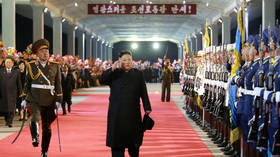 Amid growing uncertainty about the fate of North Korea's Kim Jong-un, the key question is who would replace him if rumors about his death are true. There are three foreign players who could try to take advantage of his departure.
His last public appearance was reported on April 11, when Kim presided over the ruling party's Politburo meeting. Observers were especially puzzled that on April 15, Kim was conspicuously absent from the ceremonies marking the country's main holiday, the Day of the Sun, which celebrates the birth anniversary of his grandfather and DPRK founder, Kim Il-sung. Since becoming North Korea's leader in 2011, Kim has always led the Day of the Sun events.
Various rumors are swirling regarding Kim Jong-un's absence. Some theories even go as far as to suggest that Kim is already dead after a failed heart surgery. Pictures purportedly showing the body of Kim in a glass coffin have been circulating on social media. While some commentators speculate that there could have been a coup, others argue that Kim has self-isolated to minimize exposure to the coronavirus which, despite Pyongyang's strenuous denials, may have entered the country.
The truth is that nobody, except very few people in Pyongyang and maybe Beijing, really knows what is going on. North Korea is the world's most secretive and closed society. Furthermore, the DPRK regime excels at deception and smokescreens. This has always been its way to survive in a very tough environment. Therefore, there is the possibility that Kim's disappearance is a hoax in pursuit of some strategic or tactical purpose.
Because of the lack of credible evidence that could support any of the circulating theories, at this point we can only speculate. My own guess is that Kim Jong-un is actually having some medical problems, but he is alive and will probably make a comeback relatively soon. Kim's health status has long been problematic, so it is plausible that his medical condition may not be good at the moment. It is quite possible that he is recovering from surgery.
Also on rt.com
#KIMJONGUNDEAD is a rumor, but political jokes at North Korean leader's expense are already here
That said, Kim's death or permanent incapacitation can't be completely ruled out. If this is the case, North Korea faces the all-important question of succession. The problem is, there is no heir apparent to Kim Jong-un. The DPRK is a dynastic autocracy that has been ruled by three generations of the Kim family. Power has always passed from father to son.
Kim Jong-un is rumored to have three children, with the eldest, a boy, believed to be born in 2010. Even if Kim does have a son, he is clearly too young to accept the leadership of a nuclear-armed state.
Kim's younger sister, Kim Yo-jong, an important political functionary and her brother's personal assistant, is considered by some observers as the most likely candidate to take the helm. I personally doubt that this could happen because North Korea is a profoundly patriarchal society. A female supreme leader, even one of the Paektu bloodline – Mount Paektu is Korea's sacred mountain which Pyongyang's official mythology connects to the Kim family – may not be acceptable to the majority of North Koreans.
Also on rt.com
North Korea's Kim sends letter to construction workers amid reports his TRAIN was spotted at coastal resort
Another option is for a male from Kim's extended family to be enthroned. These could be Kim's elder brother Kim Jong-chul or Kim's uncle, Kim Il-sung's only surviving son, Kim Pyong-il. Succession outside of the Kim family cannot be completely ruled out either. One of North Korea's top officials, such as Prime Minister Kim Jae-ryong or the chairman of North Korea's Supreme People's Assembly, Choe Ryong-hae, could assume supreme leadership.
It is impossible right now to make any confident predictions as to who exactly could be declared the country's new number one. Furthermore, some form of collective leadership is also a possibility. What is almost certain, however, is that the matter of succession will be decided by North Korea's top elite, a few hundred people in whose hands political and military power is concentrated. It is likely that they will reach a collective decision relatively quickly. Should there be any disagreements or disputes concerning the succession, they will be swept under the rug. The North Korean elite are acutely aware that, in order to remain in power they need unity and cohesion. Major internal strife, especially if it spills out into the open, could prove fatal to the regime.
Is there a possibility that external forces could attempt to take advantage of Kim Jong-un's departure? There are currently only three players that theoretically have the capacity and motivation to intervene in the North's power transition – South Korea, the US, and China.
Seoul's priority is to keep stability in the North. President Moon Jae-in's government is not hostile to the DPRK's regime and will accept any decision the elite in Pyongyang might make regarding the succession.
Also on rt.com
'I haven't heard anything directly': Lindsey Graham makes headlines by weighing in on Kim Jong-un death rumours, but knows nothing
The US is too busy dealing with the Covid-19 crisis, the upcoming presidential election and Iran, and will most likely limit itself to observing the developments inside North Korea. Unless, in a low probability scenario, these developments take a disastrous turn that could create the risk of the North's nuclear arsenal getting loose. Beijing is more difficult to predict. It has far more leverage over North Korea than any other external party and might be tempted to use its influence to engineer an outcome deemed most suitable to Chinese interests. That would be fraught with risks, though. If China does try to shape North Korea's succession, it will likely do so in a very discreet and low-key way.
Think your friends would be interested? Share this story!
The statements, views and opinions expressed in this column are solely those of the author and do not necessarily represent those of RT.
You can share this story on social media: