In our Covid-19 sports-deprived world, WWE is brainwashing fans using torture methods that the Stasi would be proud of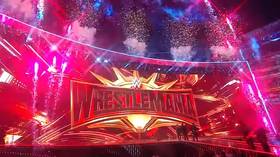 WrestleMania 36 is the only "live" major sporting event still going ahead — but it will set a dangerous precedent that may never be undone.
Sports junkies across the globe can't get a fix and are being forced to go cold turkey. That is apart from in Belarus, where, under the charge of its idiosyncratic President Aleksandr Lukashenko, football games are continuing. But the rest of the world can't watch any action. No football, no golf, no tennis, no Olympics, no Formula 1, no NHL, no NBA — it's all off.
That's until this weekend, when World Wrestling Entertainment Inc. attempts the most audacious heist of all time — akin to robbing the vault in broad daylight without a mask.
Also on rt.com
No more football, basketball and hockey: Major Russian sports leagues announce three-week stoppage due to coronavirus
The money-grabbing fiends are giving it big licks and steaming ahead with WrestleMania 36. For the uninitiated, WrestleMania is their Superbowl, the biggest date in their calendar with usually an 80,000 crowd packed into a giant stadium, while millions watch on at home worldwide. But instead of accepting the enforced Covid-19 hibernation that every other sport is enduring, the WWE is hijacking the scene.
Granted, some people may not regard professional wrestling as a sport. It is scripted and follows plot lines. Some may see the athletes as muscle-bound meatheads in spandex. Others acknowledge that they are extremely strong, flexible and committed performers — including former Olympians like Kurt Angle and Mark Henry.
Either way, the news that they will go ahead with WrestleMania is disturbing. It will be broadcast this weekend (April 4 and 5), billed as Too Big For Just One Night. It's a pay-per-view event and comes with a $60 price tag.The thing is, though, it's already taken place -— it happened on March 25 and 26 in the WWE's Performance Center in Orlando.
No spectators were allowed, of course, due to the pandemic. The wrestlers and referees all had to pass coronavirus tests before participating. But hasn't stopped one of the stars of the headline clash, Drew McIntyre, from posting Rocky-style training videos online. And these aren't DIY efforts, it's the full-on camera crew delivering polished montages.
It's being sold to unsuspecting saps as a must-see event of top class sporting action. The dismaying thing is millions of fans — mostly millennials — have already or will buy the PPV.
There's an entire generation under-30 who don't view sport in the same way as previous generations did. They expect to see top names battle each other. They expect to see lots of action. They expect there to be fireworks. But sport doesn't flow like that. You do get goalless games, you do get boring matches, you do get superstars having off days, and sometimes major rivals don't clash due to the luck of the draw.
The WWE is now manufacturing on a different level, that leaves a sick taste in the mouth. Pre-recorded pay-per-view events are the equivalent of serving someone kept under lock and key, high calorie junk food day after day — eventually, their brain endings become coated in thick, greasy oil.
Also on rt.com
CONFIRMED: New summer 2021 dates set for postponed Tokyo 2020 Olympics
East Germany's state security service, the Stasi used to do that to prisoners as a form of mental torture, so they would lose their spark and break their spirit. In this case, the breaking of their spirit will be that the consumers will no longer appreciate what it was like to try something new and be surprised — or disappointed.
Live sport is about sitting down, chewing your nails to pieces and getting lost in the moment as the action unfolds, in often unexpected, exciting ways. It's the most human of all of our activities — people have much more in common in terms of sports across the world than anything else, be that language, music or religion. Who hasn't watched their local club, country or favorite athlete and willed them on? Heroes come from unlikely places in sport, when some plucky underdog rises to the occasion and goes beyond expectations to deliver a performance that changes history.
Or when a legendary name can't summon up what is expected and leaves everyone open-mouthed as they flop. The records books are littered with such events. But WrestleMania is the first major dent in that armor, it's going to condition millions of people to redefine sport in their minds.
Also on rt.com
Simulated competitions: Is Covid-19 the big moment for E-Sports?
This may be some kid's first major sporting experience and they will go on expecting everything to happen that suits a high-octane, scripted narrative. They will get addicted to that sickly, sugary artificial taste. They may not know any better, or have even been brainwashed to think they don't. But the rest of us do.
Boycott WrestleMania and the greedy money-hungry power brokers being it. Sport is organic, it doesn't need any additives.
The statements, views and opinions expressed in this column are solely those of the author and do not necessarily represent those of RT.
You can share this story on social media: