Simulated competitions: Is Covid-19 the big moment for E-Sports?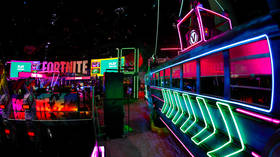 As Covid-19 hits major sporting events, the immediate future of spectator sports is in question. Could digital competitions fill the void, or has professional gaming become so similar to live sports that it now suffers the same?
It's a unique time when you're trying to keep yourself entertained during a viral outbreak. That is, unless you're a gamer. Many people have likely spent their time playing Animal Crossing or Doom Eternal since they were released recently, keeping them occupied during this time of "social distancing." But if your preferred pastime is watching sports events, you might not be as lucky with all the games and bouts called off because of the pandemic. It's safe to say that the virus is hurting sport quite badly, so what exactly is the alternative? Some have turned to the electronic variety.
Recently, Formula One announced that they are launching a virtual series to combat the coronavirus, since actual races have been canceled. NASCAR is following suit as well, believing the software used can simulate results fairly accurately. It's an interesting work-around, given current circumstances. Perhaps one thing that needs to be considered is demographics: is the generation that is used to a live experience with real-life drivers going to latch on to a simulation? The question of "is that really how it would play out" would be ever-present – even though it doesn't really matter as long as the competition, even if it plays out on a digital field, is fair.
With that said, options for substituting the thrill of watching sports are fairly limited. Though some may be entertained by Khabib Nurmagomedov v Tony Ferguson in EA Sports UFC 3, the rest of us MMA fans would rather see the two scrap in real life. I'm certain the same can be said of basketball or football fans, where something is truly lost in the digital space because it's a bunch of ones and zeroes. You could have simulations run all day with video games like the Phoenix Suns are doing but it'll never match up to the real thing.
But that's casual gaming. As for professional E-Sports events, they may have been just as unprepared for the pandemic lockdowns as physical competitions. Several events have already been canceled, such as EA game events for FIFA and Apex Legends, and the Call of Duty league.
Ironically, electronic competitions have grown to be so much like the 'real-life' ones that they are facing similar problems. For one, major events take place in real-world venues to prevent cheating, online lag and give viewers the thrill of seeing the live people behind the screens. You can have great connection speed playing with friends online, and the best cheat prevention software available, but nothing is likely to be 100-percent effective. Even so, organizers have been going this route with some games, like DOTA 2 and League of Legends.
That leaves many people who follow E-Sports wondering what happens next. Do the events just get canceled, or can they do empty venue setups similar to what the WWE has been doing lately? The latter would likely be the safe bet, and the most realistic – though the players and the staff would need to be tested for the virus prior and likely fill out some liability waivers.
On the flipside, the E-Sports world already sees the vast majority of its audience come from online streaming, and could end up saving themselves a ton of money for the foreseeable future. All they need to do is stop trying to imitate traditional sports with stadium setups and huge venues. For example, if the upcoming fighting game tournament Evo were to take the empty venue route in July, they wouldn't need to host it where it was planned in Las Vegas. Instead, they could use a smaller area and simply stream the event on Twitch as they do every year. At that point, you've cut down on arena costs, security and all sorts of other things. There are workarounds for E-Sports that simply don't apply to traditional competitions.
Ultimately, the sporting world is hit harder than many other industries simply because of the nature of competition. With even world championships and Olympics being pushed back by the pandemic, it's impossible to make any kind of profit. E-Sports, on the other hand, are better placed to seize the market – all that's needed is some clever thinking around no-gathering restrictions and lockdown laws, at least on the national levels. And with good connection and anti-cheating measures, it's a small leap to take things back to world scale and rake in the electronic ticket fare. Perhaps it'll even win over some of the 'real-life-only' fans, while they are looking for something to tide them over in the absence of big events. After all, if we can work from home, why can't professional gamers?
The statements, views and opinions expressed in this column are solely those of the author and do not necessarily represent those of RT.
You can share this story on social media: