UN can tell states to start accepting 'climate change refugees' but more nations will simply build walls, like Trump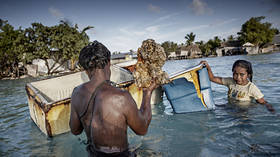 Migration pressures from conflict, religious persecution and economic causes already cause headaches in Europe and elsewhere, but now the UN has decided that climate change could be yet another reason not to repatriate a migrant.
In the years to come, as climate change continues to bear the blame for everything from bushfires, drought, hurricanes, biblical-style rainfall and even record snowfall, we might just look back at a recent United Nations ruling as the tipping point for the greatest-ever global migration shift.
For the UN has put the developed world on notice, and let's be frank, it is those prosperous nations they are lecturing to that refugees will have a right to be relocated to from their drought-stricken, water-logged or hurricane-devastated home countries if the conditions at home subject their human rights to a violation.
What exactly constitutes climate change in a legal sense here is anyone's guess, but that's not a problem for the UN to consider, as it has just kicked that particular can down the road for those nations besieged by climate migrants in, say 2035, to deal with.
The judgement was made after the (unsuccessful) claim of Ioane Teitiota, a man from the Pacific nation of Kiribati, a collection of 33 islands threatened by rising sea levels who had applied for protection in New Zealand in 2013, claiming his and his family's lives were at risk. Mr Teitiota was already deported from New Zealand in 2015.
The New Zealand courts rejected his claim, and the UN human rights committee upheld its decision saying there was time for Kiribati and the international community to take affirmative action and relocate its population but – and there was a big 'but' – the future effects of climate change evident in some countries could mean it would be considered a violation of a migrant's human rights – thus illegal – to be returned home by a nation in which they were seeking to enter.
Also on rt.com
Cusack, Bernie's prophet of doom: Only 10-12 years to stop climate change & 'predatory capitalism'
Legitimate refugees
This is the sort of ruling that gives leaders and policymakers in the nations of southern Europe in particular, as well as those further north, sleepless nights. Did someone say "build a wall"?
They see decisions being made about far-away lands that will have a sledgehammer impact on their own people in the not-too-distant future.
For many governments, it is hard enough determining who is and who isn't a legitimate refugee claiming protection from religious, sexual or racial discrimination. Clearly identifying the Chinese Muslims from the Sudanes Christians or transgender Afghans is tricky on its own. Now we have to take a potential migrant's weather concerns into consideration?
Do years of drought – or is it years of flood – constitute a threat to someone's human rights? Is the heavy rainfall on the coast of South America down to the effects of that regular menace El Nino, or something more long term happening on the polar ice caps?
While the world in general – excuse us, Mr President – is starting to identify many of the modern environmental phenomena as the results of global warming, scientists even now are still a little fuzzy about the particulars.
And there are so many issues to consider. There are sinking islands, like Kiribati and the Maldives, there are bushfires in Australia, there are summer heatwaves in Greece and unparalleled rainfall in northern England.
There are targets, declarations, denunciations, forums, committees, scientists, politicians, religious leaders and even Swedish teenagers all creating a massive incoherent clamour from which it is impossible to distill any one distinct message, apart from "we're all gonna die," which most of us know anyway.
And now we have the prospect of those experiencing unsettling weather extremes and looking to migrate being given UN support in seeking to move somewhere less volatile climatically.
Also on rt.com
Before Greta, there were Vikings: Swedish runes warned of impending climate crisis, researchers claim
Misery piled on
How massively increased urbanisation in already heavily-populated countries (because that is what this would lead to) and the ensuing pressures on limited resources would help was not something the UN concerned itself with here.
Irresponsibly, the UN human rights committee, in claiming that "something must be done" in its deliberations over the Kiribati family, has ducked out of directly helping them in any practical way, burnished its woke credentials and simply piled on the misery in the climate change mess.
This outcome has helped no one. Not the environmental cause, not the governments of Europe, and most tragically, not Ioane Teitiota, who was told that while future migrants should have a legal claim to be accepted elsewhere, he must return to his sinking island home on South Tarawa in the middle of the Pacific Ocean.
Think your friends would be interested? Share this story!

The statements, views and opinions expressed in this column are solely those of the author and do not necessarily represent those of RT.
You can share this story on social media: