Too many white men: Oscar nominations provoke outrage from the woke… again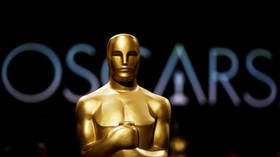 The Oscar Nominations came out on Monday morning and the usual woke suspects were outraged by the lack of minorities and women in key categories.
You can set your watch by the emotionalist bitching and moaning of the identity politics crowd come awards season and so I fully expected to be confronted by a cavalcade of absurd hot takes from the woke media bemoaning the racism and misogyny of the Academy Awards when I awoke this morning. I was not disappointed.
The first headline I saw declared "Oscars Nominations Lack Diversity," and other articles decried black actress Lupita Nyongo's lack of a nomination as "horrifying," and deemed the absence of recognition for female directors, among them Greta Gerwig and Lulu Wang, as well as minority actors Jamie Foxx, Eddie Murphy, Jennifer Lopez and Awkwafina as being a result of "snubs."
Also on rt.com
'Inclusive' Hollywood snubs female directors for Oscars: 'Congratulations to all the male nominees'
As is evidenced by this current Academy Award furor, outrage is the nectar of the gods for the woke contingent, and they fuel themselves and their self-righteousness on its intoxicating nature. Proof of this was found last year when every acting category at the Oscars was won by an actor of color, which should have made the woke happy… but instead the main storyline surrounding the event was that Green Book, a movie deemed "racist" because it depicted racism in America through the perspective of a white character, had won Best Picture.
I must admit that there is nothing so delightful as the vacuous and self-righteous over-reaction of the woke to entertainment award nominations and wins. Ever since the #OscarsSoWhite movement came to the forefront in 2016, you can always count on the identity politics adherents come awards season to make an emotional mountain out of the lack of diversity and inclusion molehill.
Also on rt.com
The 2020 Oscar nominees: From the woke to the good
In regards to the current woke hysteria, here are some facts to remember. Contrary to the headline mentioned above, the 2020 Oscars did not shut out all diversity. Black actress Cynthia Erivo and Latino actor Antonio Banderas are nominated in the main acting categories, and Korean director Bong Joon Ho and his terrific film Parasite, is nominated for Best Picture, Best Director and Best Original Screenplay.
As for the female directors and minority actors left out of nominations… who exactly is deserving and who should they replace on the current list? This is why I find the woke media outrage over the Oscar nominations so disingenuous as they say all of these minority and female artists should be nominated but never mention what white/male artist isn't deserving of their nomination.
Greta Gerwig (Little Women), Lulu Wang (The Farewell), Marielle Heller (A Beautiful Day in the Neighborhood), and Lorena Scafaria (Hustlers) are often named as female directors who should be nominated… but this seems more like a list of female directors who have made a movie this year, and not a list of female directors who have made a good movie this year. No one but a cinematic cretin and philistine would consider these films, except for Little Women, even remotely serious Oscar contenders. And while critics love Greta Gerwig, Little Women is an umpteenth remake of Louisa May Alcott's iconic story… not exactly breaking new cinematic ground.
Also on rt.com
Oscars favorite '1917' is touted as a stirring masterpiece about horrors of war. It really isn't
As for the acting categories, does anyone really want to hang their hat on Oscar racism on Jennifer Lopez and Awkwafina not being nominated?
And if the Oscars are racist now for "snubbing" Jamie Foxx and Eddie Murphy with no nominations, were they racist when they actually gave a Best Actor award to Jamie Foxx in 2004 for Ray, or nominated Eddie Murphy in 2006 for Dreamgirls?
This is why I find the woke media outrage over the Oscar nominations so vapid as it is nothing but emotionalist idiocy that is allergic to context.
For instance, you wouldn't know it by listening to the woke media, but if you take a look at the Oscar acting categories since the year 2000, you will find that black artists have won awards at a higher percentage than their population in the US and the Anglosphere (nations with English as a primary language – the US, UK, Ireland, Canada, Australia). Since the turn of the century black artists have won the Best Actor and Best Supporting Actor award 15 percent of the time and the Best Supporting Actress award 30 percent of the time, which is higher than both the percentage of the black population in the US, 13 percent, and in the Anglosphere, roughly nine percent.
Also on rt.com
Too white, or too woke? 'Little Women' shredded in media gauntlet, but critics are the ones flaunting their privilege
The perception that black artists are underrepresented in Oscar acting wins is false, at least since the year 2000, but that sort of fact does not ignite the fury that the woke so crave and is therefore ignored.
Another ignored fact is that while there is a paucity of Best Director nominations for female directors, the category is truly a cornucopia for ethnic diversity. In the last seven years, the best Director award has gone to Mexican artists five times, an Asian artist once and a white American once.
Look, the Academy Awards are little more than a self-serving orgy of narcissism that never fails to fail. Anyone who takes them seriously is asking to be irritated or aggravated in one way or another. For example, I am sure that I will throw something at my television when 1917 wins Best Picture this year. But with that said, the woke turning the Oscars into little more than the diversity and inclusion Olympics will do nothing but further reduce the quality and artistry of cinema, and that is a cultural crime of epic proportions.
Also on rt.com
BAFTA's diversity quotas want to counter hate. Instead they'll make producers & audiences hate TV
Like this story? Share it with a friend!
The statements, views and opinions expressed in this column are solely those of the author and do not necessarily represent those of RT.
You can share this story on social media: