First ever Russia-Africa Forum gives developing nations a wider – and better – choice in future economic partnerships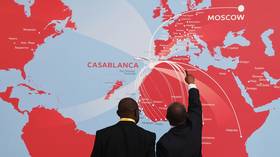 African nations have turned out in force a two-day business forum hosted by Russia. The developing nations have a choice apart from the West and China in choosing with whom they do business…but not according to mainstream media.
It is a big day for Africa as the first ever Russia-Africa Forum opens in the Black Sea resort town of Sochi, and it should really be applauded for its outlook and ambition. It is far too important to simply be framed in terms of being a part of a race for influence against China and the USA.
What differs with this forum is the stated aim of future co-operation without "political or other" interference, as Russian President Vladimir Putin put it. Resource-rich Africa is sick of being dealt with through the carrot and stick approach and wants to build a future on its own terms.
The common understanding that drives this forum is that the approach used by the West needs to be fixed.
"There is a shared, common attitude to the West, which is that the global structure as it is today needs to be changed," Irina Filatova, professor of African history at Moscow's Higher School of Economics, told Financial Times. And that, in a nutshell, is why this forum will work.
Also on rt.com
Russia offers African leaders no-strings-attached business and protection from Western pressure
It's not just the West that has fallen short in Africa. Its rich natural resources are coveted by China, just like they were by Western imperial powers back in the day, but inadequate infrastructure is proving to be the bottleneck to the development of their potential.
So, China pours money in – currently around $200 billion a year – to help clear that bottleneck. Beijing's interest-free loans and export credits have proven irresistible to some African governments, leading some analysts to suggest that this type of relationship constitutes a new form of colonialism.
Many African nations have taken the offers of economic assistance from China for massive infrastructure projects, only to find themselves in a debt-trap that will take years to escape from. The Mombasa to Nairobi rail project in Kenya, for example, is 90 percent Chinese-financed and already four times over budget – representing more than 6 percent of Kenya's GDP. And they are not alone. In 2012, the IMF found that China owned 15% of all sub-Saharan African debt.
Despite the difficulties some of them are experiencing, there are currently 21 of the 54 countries in Africa that are experiencing growth in GDP by 5 percent or more, and that number is expected to increase to 25 next year, one expert told the forum Wednesday morning.
Also on rt.com
Russia & Ethiopia agree cooperation on peaceful use of nuclear energy
In comparison, the last quarter figure for the UK was 1.3 percent, the European Union as a whole was at 1.4 percent, and the former powerhouse of Germany wallowing at mere 0.4 percent. So it seems someone is doing something right in the often-dismissed developing nations.
When the West looks to Africa, its view is clouded by the generally-held belief that the continent is largely a disparate collection of pariah states, jihadist insurgents, debt-ridden nations and long-term dictators embroiled in frequent regional brawls with neighbors and even their own people. Sure, business is complicated in nations with low wages, sketchy infrastructure and endemic corruption – but those reasons alone are not enough not to do business with them.
Russia has looked at what it is good at, and what it might be able to sell to Africa. It won't be taking over from China as the continent's largest foreign business partner anytime soon, but it can certainly look at those things it can offer, such as expertise in the extractive industries, energy sector and security, and see what deals can be done.
Then there is food, of course. Speaking before the proceedings opened in Sochi, President Putin said that he hoped Russia could double the $22.5 billion worth of food it currently sends to Africa in the next four to five years.
Also on rt.com
Russia & Nigeria ink deal for delivery of MI-35 combat helicopters
There are also those ties that remain from the former Soviet era, with Russian businesses holding such assets as bauxite mines in Guinea, diamond interests in Angola and Botswana, oil concerns in Egypt and Mozambique, and a spread of nuclear energy projects across Africa. These cannot be left to die on the vine, so what better way to nurture them than invite 3,000 delegates, including heads of state, to meet, talk business and discuss areas of mutual interest.
The mainstream media in the West can insinuate the forum is some sort of elaborate power-grab by Russia and conflate it with events in the Middle East and elsewhere with ulterior motives all they like. The London Times did as much in its editorial this morning, hinting that Russia was seeking to build its influence in Africa as if it was a bad thing. But the African nations have turned up in force at Sochi, ready to do business and open doors to a brighter, alternative future. It might be a change of direction but neither they nor their Russian hosts have anything to lose.
Like this story? Share it with a friend!
The statements, views and opinions expressed in this column are solely those of the author and do not necessarily represent those of RT.
You can share this story on social media: