Boris Johnson's 'can-do spirit' and mystery tech won't solve the Brexit border problem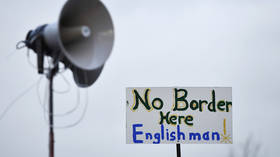 Boris Johnson fancies himself a magician. In likely his last column for the Telegraph before becoming PM, he proposes solving the Brexit border crisis with a "can-do spirit" and technology which, experts say, does not exist.
Comparing the impasse over the Northern Ireland border to the 1969 moon landing, Johnson calls for a "sense of mission" to solve the crisis, denouncing the "technological pessimists" and arguing that his opponents try to "overcomplicate" the situation.
"If they could use hand-knitted computer code to make a frictionless re-entry to Earth's atmosphere in 1969, we can solve the problem of frictionless trade at the Northern Irish border," he writes.
Also on rt.com
If we can put a man on the Moon, we can solve Brexit – Boris Johnson
Missing from Johnson's latest screed, however, are any specifics on what these mysterious technological solutions might entail. Indeed, implicit in the column is an admission that no such solution has yet been found. No matter, Johnson would still prefer for the United Kingdom to crash out of the EU on October 31 and just see what happens.
It's "absurd," the soon-to-be PM writes, that Britain has even "allowed" itself to be "momentarily delayed" by such a non-issue. Yet, what could be expected, other than nonsense, from the man who last year compared the post-Brexit border to driving between Camden and Westminster in London? Rounding out his column, Johnson asserts that Britain "certainly" has the technology to solve the border crisis and all that is needed is "the will and the drive" to implement it.
More idiocy from Boris Johnson today saying with that if technology can land a man on the moon it can solve the NI border problem. He thinks technology & a "can do" attitude can square the circle of 3 incompatible promises.Can it also mend a burst balloon?

— Lindsay 🔶 🏴󠁧󠁢󠁳󠁣󠁴󠁿 Maxwell #FBPE (@ParisDaguerre) July 22, 2019
Remember, technological solutions are an alternative to the "backstop" which has been the major bone of contention in resolving the border issue. The backstop –which Brussels and Dublin maintain is non-negotiable but which Boris promises to do away with– provides for "regulatory alignment" between the two jurisdictions and no hard border.
A no-deal Brexit, without the magical technological solutions to facilitate BoJo's "frictionless" border, would mean that some kind of border checkpoints would need to be installed at crossing points between Northern Ireland and the Republic. Johnson admits that without the backstop, checks on goods will be necessary, but says the checks must be done "away from the border."
The reality is that no amount of new-fangled technology will fully solve the border crisis –and it does not matter where checks take place– because they will undoubtedly still create some level of friction for the businesses transporting goods across the border every day. But mere inconvenience is not the only barrier here.
Also on rt.com
Tory contempt for the Irish peace process is sowing dragon's teeth
Unsurprisingly, Johnson fails to acknowledge that the border issue is not just a logistical question of finding the 'right' technology. What happens at the dividing line between these two jurisdictions is also fraught with emotion and unique political difficulties.
The border we are talking about was once laden down with British Army checkpoints and was a focal point of violence during thirty years of political and sectarian conflict which killed thousands. But for a hard-won peace process started in the 90s, it could very well look that same way today. These days, one of the only giveaways that you have crossed an international boundary are the placards demanding "no hard border" ever again.
Keenly aware that the 'border' is an unnatural one, imposed on the island by Britain almost one-hundred years ago, many of a nationalist persuasion, both north and south of the border, are not exactly amused by Johnson's nonchalant attitude toward the problem. Even cameras at the border could become a potential target for dissident republicans unwilling to accept any visible sign of separation between Northern Ireland and the Republic of Ireland.
Also on rt.com
Is Brexit to blame for the uptick in Northern Ireland violence, and what is the 'New IRA'?
Certainly, the dilution of promises of "no hard border" to serve the interests of English 'no-deal' Brexit enthusiasts in London has not gone down well in this neck of the woods, even among those less aggrieved by the country's partition.
Very few people on this island would happily accept the presence of checkpoints dotting the now-invisible border, with the possible exception of only the most hardline loyalists in the north, who would rather build a concrete wall than accept that Northern Ireland be treated slightly differently to the island of Britain in terms of its regulatory framework – even if peace was at stake.
Johnson has put all his faith in technology which would take years to develop and implement – and yet his non-negotiable deadline for leaving the EU remains October 31. A senior British official who had been tasked with post-Brexit border preparations suddenly left her role in June, having previously argued that "no magic solution" existed to prevent a hard border simply with technology.
What's more, even if Johnson's mystery tech could be installed and flawlessly implemented overnight, a question mark remains over its ability to maintain a frictionless, invisible border at a place where political tensions will be running high.
Ho ho -no doubt communities in Northetn Ireland that suffered decades of sectarian violence will find it very drole It's just a shame the media never ask Johnson & the other brexiter idiots specifically what is this technology, who has developed it & when will it be ready?

— Dr Pat Riart (@DrRiart) July 22, 2019
Right now, the reality is that technology can't offer an invisible, frictionless border by October –perhaps ever– and yet, a "no deal" Brexit will necessarily force a harder border anyway. The options for Ireland are not great and Johnson and crew are happy to brush aside Dublin's concerns and push ahead with their disaster plan anyway. The irony is that, with his insistence on a no-deal Brexit, Johnson could be sowing the seeds for an eventual breakup of his beloved United Kingdom.
In the context of a no-deal Brexit, nationalist calls for a border poll on Irish reunification will grow. This prospect does not seem to faze Johnson and his Brexiteer colleagues, whose particular brand of imperial hubris prohibits them from ever considering the possibility that Britain could walk itself into a disaster of its own making.
Also on rt.com
Scot's song about Boris & Brexit goes viral with Johnson-mocking lyrics (VIDEO)
Recent polls have shown that Scotland is not enthused at the prospect of Johnson's premiership, either. Fifty-three percent say they would vote to leave the UK in a second independence referendum if he was PM. Only 11 percent of Scottish voters said they trust him to represent them well on the world stage – and why would they?
Good old BoJo has not exactly been kind to Scotland. The bumbling politician has argued that having a Scottish person as PM is "utterly outrageous" – and worse, when he edited the Spectator, he OK'd the publishing of a poem describing Scots as "a verminous race" who should be exterminated.
It's always been odd how vociferously Tory 'posh boys' insist on the enduring greatness of their 'union' while at the same time treating Scots like second class citizens and giving barely a thought to how London's policies affect British citizens in Northern Ireland. A very strange union, indeed.
Like this story? Share it with a friend!
The statements, views and opinions expressed in this column are solely those of the author and do not necessarily represent those of RT.
You can share this story on social media: