London has fallen: May & Khan fiddle while crime destroys capital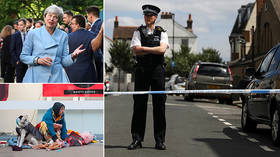 As Theresa May prepares to vacate Downing Street, Britain has never appeared so broken, fragmented and rudderless.
In London, long held up as one of the world's major capital cities – a beacon of multiculturalism, dynamism, enterprise and opportunity – death stalks the streets and alleys of its vast sprawling housing estates. Gang warfare has grown to the point where the lives of its combatants, in the main teenage boys and youths, have been reduced to the deadly scenario of kill or be killed. Meanwhile, the conclusion that the Metropolitan Police has lost control of the streets is now impossible to avoid. According to the Met's own statistics, we learn that between January and June this year there have been
125,190 thefts

108,084 assaults and violent attacks

9,998 sexual offenses

24,918 public order offenses

21,906 drug offenses

40,409 burglaries
As for the number of homicides committed in the same six-month period, this stands at 67, with a significant proportion of those slain in the gang war mentioned above, victims of an orgy of knife crime that shows no sign of abating.
Also on rt.com
'Unarguable link': Sadiq Khan blames Tory cuts on rise in youth stabbings in London
In words that deserve to be carved in stone they are so profound, Mayor of London Sadiq Khan recently announced that there is a link between poverty and violent crime among youths. It's an intervention that is on a par with announcing the link between exposure to the sun and sunburn.
Though Sadiq Khan has to take his share of responsibility for the catastrophic collapse in law and order in London (he is the mayor after all), the bulk of the responsibility lies at the door of 10 years of Tory austerity – austerity being the nice word applied to what has and continues to be a vast experiment in human despair.
And within a Tory party hierarchy made up of very expensively educated and wealthy extremists, outgoing Prime Minister Theresa May has the most blood on her hands. Still, today she has the temerity to deny the link between the radical cuts to the police that she introduced while home secretary, to the point that there are now 20,000 fewer frontline police officers in England and Wales than there were in 2010, and London's knife crime epidemic.
What we have is the classic perfect storm. Under Tory austerity, wages have been driven down, prices pushed up, public services cut to the bone, and police numbers cut. You really don't have to be Aristotle to grasp the nettle that is cause and effect. Speaking of which, the ancient Greek philosopher understood many centuries ago what Sadiq Khan seems to have just woken up to. To wit: "Poverty is the parent of revolution and crime."
Also on rt.com
What's the story Sadiq Khan? Oasis legend Liam Gallagher slams London mayor over knife crime
Compounding the crisis of violent crime that has engulfed London is Brexit, which has taken up all the energy and focus of the country's political class. The result after three years is peak chaos; the inability of the country's politicians and ruling establishment to navigate the UK through the most serious political crisis it has faced since World War II, leading to a paralysis of government.
Brexit, in a very real sense, has proved to be the proverbial brick in the wall, which when removed brings the entire structure tumbling down. A post-colonial state bereft of an identity that its people can cohere around, apart from the aforesaid World War II and regular bouts of ritual flag-waving when the Queen and other members of the royal family make an appearance like performing seals in a zoo, this is Britain in 2019.
Gang culture in any city or country is an inversion of mainstream culture. It represents the failure of mainstream society to assimilate young men from marginalized and dispossessed communities. And in response to being rejected by mainstream society, these young men have in turn rejected mainstream society, along with its values, morals, social mores and laws.
As legendary Los Angeles gang leader Kody Scott, better known as Monster Kody, writes: "The principle is respect, a linchpin critical to relations between all people, but magnified by thirty in the ghettoes and slums." He could have added that respect for those who have nothing is elevated to the point where life without it is not worth living, while those who would violate it are deemed not worthy of life.
As to the principle of 'disrespect', meanwhile, look no further than a Tory leadership contest between Boris Johnson and Jeremy Hunt. Whoever wins automatically becomes the country's next prime minister. That they will do so on the back votes cast by just 180,000 members of their party can only be described as a democratic outrage.
Also on rt.com
Shock in south London after pregnant woman stabbed to death in broad daylight
Worse, whichever of the two enters Downing Street, he may have well slide into the back pocket of Donald Trump; such will be the extent to which the next Tory prime minister will genuflect at the altar of US hegemony. We just had a glimpse of what that will look like, when on Washington's say-so British Royal Marines recently boarded and seized an Iranian oil tanker as it was going about its business in the Straits of Gibraltar.
London has fallen. The imperial capital of days gone by is now the capital of nowhere and nothing, struggling to maintain a facade of strength and power as its foundations crumble beneath it. The imposing statues and monuments that colonize the city in homage to an empire that once covered a quarter of the planet, all of a sudden appear like exhibits in a once-grand but now-abandoned theme park.
Think your friends would be interested? Share this story!
The statements, views and opinions expressed in this column are solely those of the author and do not necessarily represent those of RT.
You can share this story on social media: