Major news story: It's Sir John v Boris in the Tory Brexit war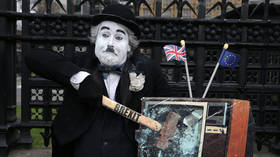 Former Tory PM Sir John Major has said he'd go to court to prevent the next Tory PM from proroguing parliament to get through a 'no-deal' Brexit.
Could BoJo and Brexit be derailed by Europhile Tories, or will fears over a 'Marxist' Corbyn government unite warring Conservatives?
It's a major news story. Literally. Former British Prime Minister Sir John Major announced earlier today that he would seek a judicial review in the courts if a future prime minister sought to shut down parliament to get a no-deal Brexit through.

We all know who he is talking about – Boris.
Also on rt.com
Blue-on-blue warfare: Ex-Tory PM John Major threatens BoJo with legal action over no-deal Brexit
The man they nickname 'BoJo' is on course for a landslide victory over Jeremy Hunt (should that be Jeremy Fox-Hunt?) in the Tory party leadership race. The same Boris Johnson has refused to rule out proroguing parliament if MPs attempt to block a no-deal Brexit.
A note of explanation: A 'no-deal' Brexit is the default position, meaning that if a Brexit deal is not approved by parliament by October 31, then Britain will automatically leave the EU sans deal. However, given the strength of MPs' opposition to 'no deal,' it's extremely unlikely that some attempt won't be made to block it in a fresh parliamentary vote.
What we're seeing here with Major v Johnson is merely the continuation of a decades-long Tory party civil war over Europe. These divisions reflect wider ruling-class divisions. A section of the establishment, the more 'maverick' capitalist class, has never been keen on Britain in Europe, partly because of all the rules and regulations emanating from Brussels. The more 'mainstream' capitalists – the big banks and corporations – love the economies of scale and the single market. Boris Johnson used to be in category two, but now he's aligned himself with category one. Sir John Major, the man whose government signed the Maastricht Treaty in 1992, leading to a Tory split similar to today's, is firmly in category two.
While he is regarded by hardcore Euroskeptics as the man who 'sold' Britain out to Brussels, personally Sir John is one of the nicest British politicians out there. My uncle, a lifelong socialist, and anti-Tory, was walking along a street in Central London a few years back and saw Major coming towards him. Major nodded to acknowledge him and said "Hello." How many politicians would do that, when the cameras weren't rolling?
My fellow op-ed columnist George Galloway, also a life-long socialist (and ardent Brexiteer), tweeted in 2016: "I served in parliament under Thatcher, Major, Blair, Cameron, and John Major was the only decent human being among them."
"I served in Parliament under Thatcher, Major, Blair, Cameron, and John Major was the only decent human being among them." LIVE @talkRADIO

— George Galloway (@georgegalloway) November 25, 2016
So, if the mild-mannered Major is threatening court action, it can't be lightly dismissed.

The threat of being taken to court by a former leader of his own party is not the only thing Boris Johnson has to worry about in his attempt to get Brexit over the finishing line. Former attorney general Dominic Grieve, a dead-ringer for the late Yes Minister actor Peter Jeffrey, has said there were "30 plus" Tory rebels willing to defy party whips to prevent the UK leaving the EU without a deal.
Earlier, Grieve said he would not "hesitate" to vote to bring down a government which sought to take Britain out of the EU without a deal and without the approval of the House of Commons.

Ken Clarke, a former Tory chancellor with a penchant for comfortable shoes and cigars, is singing from the same hymn sheet. He told the Observer last month: "Well, I mean, if there's no other way... then you've got to bring that government down… If... some idiot was sailing onto a no-deal Brexit, I'd decide politics had finally gone mad and I was not going to support this."
Labour lost the last no-confidence vote they tabled against the government by 19 votes in January. But that was when they were still a pro-Brexit party. Now they've switched to a more 'Remain' position, will the Tory 'rebels' that Grieve speaks of side with the Europhile opposition against a staunchly pro-Brexit Tory government? Sir Roger Gale, in an interview with the House magazine, seems to think so.

Perhaps he can see which way the wind is blowing.
Also on rt.com
'Stop sucking up to racist EU govts': Corbyn blasts May during feud on anti-Semitism & Islamophobia
Boris Johnson's position looks distinctly precarious, but he does have one trump card. The card is not marked 'Donald' but 'ABC': Anybody But Corbyn.
Would pro-EU Tories, for all their talk of rebellion, do something which would potentially open the door to Labour, led by a man we are regularly told by establishment stenographers is a 'dangerous Marxist,' taking power?
If Johnson was thwarted in his attempt to take Britain out of the EU by October 31, then he's always got the 'nuclear option' against the Europhiles. Not blowing up parliament, but asking the Queen to dissolve it – and calling a general election. An election pact with Nigel Farage's Brexit Party insurgents fought on the single issue 'We will deliver Brexit.' Labour, by going 'Remain,' might attract Tory votes in the Commons for a vote of no confidence, but their pathway to election success lies with taking largely pro-Leave, Tory-held swing seats in the Midlands and the North.
Labour needs to convince these Leave voters that the party hasn't abandoned them, which might not be easy. The paradox is this: to get an early election, Labour needs to back Remain, to win it, it has to support Leave, or at least Leave with caveats.

Sir John Major's interesting intervention adds just one more element to a Halloween that could prove to be a nightmare. However, it's still too early to say for whom.
Follow Neil Clark @NeilClark66
Like this story? Share it with a friend!
The statements, views and opinions expressed in this column are solely those of the author and do not necessarily represent those of RT.
You can share this story on social media: