America's cult of 'liberal privilege' lets Jussie Smollett dodge felony bullet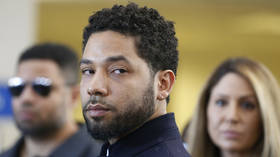 Instead of facing charges for staging a hate crime, Hollywood actor Jussie Smollett is free without so much as a slap on the wrist. Welcome to the world of liberal privilege, where criminals enjoy full immunity before the law.
As March madness continues to get madder by the day, it is becoming clear that the United States is not just a country being torn apart by two irreconcilably different ideologies, liberalism and conservatism.
It is a country where its inhabitants increasingly reside inside of fenced-off, heavily guarded parallel realities. Whereas the one half is governed by the rule of law and tradition, the other half is guided by raw emotion and hysterical claims of victimhood. The case of Jussie Smollett should make it clear which of those realities is gaining the upper hand.
Also on rt.com
Criminal charges dropped in case against Jussie Smollett
Just days after Robert Mueller wrapped up his years-long investigation of Donald Trump, which exonerated the president of any collusion with Russia, Jussie Smollett also received his share of good news. But that is where the similarities between the two public figures come to a screeching halt. Whereas Trump had received non-stop, politically fueled abuse from the media since the moment Mueller started his 675-day inquisition, Smollett got kid-glove treatment from the very same media, despite the extremely disturbing nature of his charges.
For the uninitiated, Smollett was arrested for filing a false police report – a Class 4 felony – with regards to an attack on his person. The 'Empire' star said he was the victim of an assault in Chicago in January, in which two white men allegedly beat him, doused him with bleach, and tied a noose around his neck before fleeing the scene. In addition to hurling racist and homophobic slurs, the men – according to Smollett – "yelled 'Make America Great Again' comments" in the course of the attack.
That sounds more like a cheap rendition of the 1988 Hollywood film 'Mississippi Burning' than your average winter in Illinois.
The takeaway point here is that Mr Smollett orchestrated an actual hate crime based on a volatile cocktail that mixed up race and politics. By appealing to the brutal savagery of America's pre-civil-rights past, complete with allusions to public lynchings, Smollett was attempting to connect Trump supporters to those historic acts of severe racism. That is about as sick and deranged as it gets. Worse, however, is that this rash and reckless stunt relied upon a reverse form of racism – after all, it is not just whites who are always guilty of racism – that worked to aggravate racial tensions that are always smoldering just below the pavement.
Can Michael Flynn get some of the Jussie Smollett privilege?A decorated war hero was entrapped by the feds and now faces $5 million in legal fees for a meaningless process crimeMeanwhile Jussie committed 16 felonies and gets off totally cleanThis is a total injustice

— Charlie Kirk (@charliekirk11) March 26, 2019
Another disturbing part of the fake news story was how so many people – especially in the Democratic establishment – willingly rushed to Smollett's defense before any real investigation had commenced. On that point, would any scandal in America be complete without dropping the name of George Soros? And yes, there does seem to be a connection. It has been reported that Soros donated $408,000 in 2016 to a super PAC that supported State Attorney Kim Foxx, "whose office prosecuted — and dropped — the Jussie Smollett case," Breitbart reported. It has even been suggested, following the release of emails, that Foxx agreed to intervene in the Smollett case on behalf of his family.
.@JussieSmollett is one of the kindest, most gentle human beings I know. I'm praying for his quick recovery. This was an attempted modern day lynching. No one should have to fear for their life because of their sexuality or color of their skin. We must confront this hate.

— Kamala Harris (@KamalaHarris) January 29, 2019
But let's forget about the billionaire interloper for now. The purpose here is to consider the question of justice when it comes to such incidences. The conservatives like to argue that those who inhabit the left side of the political tracks always seem to have a 'get out of jail free' card at the crucial moment, while those on the political right must suffer the full brunt of the media industrial complex.
A good example of this media bias occurred in January when a group of students from Covington Catholic High School traveled to Washington DC to partake in a protest. During their trip, words were exchanged between them and members of an obscure religious group. At this point, Nathan Phillips, a Native American, walked between the two groups in an apparent effort to defuse the tensions. He approached Covington student, Nick Sandmann, as he continued to beat on a ceremonial drum. What happened next is already well known. Phillips and Sandmann, 'aggressively' sporting a red MAGA cap, engaged in what appeared to be a cold stare-down between the two. The media, without doing much research into the matter, jumped to the conclusion that Sandmann and his fellow students were taunting the Indian elder, when, as it later transpired through a video, nothing of the sort had happened. Now the Washington Post is facing a $250 million lawsuit for its mishandling of the story. Was Sandmann's grave offense in the eyes of the media being white, Catholic and a Trump supporter?
Also on rt.com
Defamed by media, Covington Catholic student sues CNN for $275 million
Meanwhile, Smollett's total exoneration should really not come as a surprise. The trend up until this time points to the fact that liberals have acquired a super sort of immunity when it comes to their behavior, even criminal behavior. The climate of political correctness seems to have given liberals a body armor that repels any accusations made against them.
In what other period, for example, could a celebrity hold aloft a severed head effigy of the American president for a promotional photo shoot, as the so-called comedian Kathy Griffin did, and not suffer any legal consequences? In fact, Griffin continues to play the victim card since pulling the stunt.
Then there was the moment when pop queen Madonna told a crowd of rapturous fans that she has "thought an awful lot about blowing up the White House. "
However, there is some light at the end of this tunnel. Although Jussie Smollett is a free man today, avoiding a lengthy prison term that would have been a certain fate for anyone else, there are signs of anger with the decision, even inside of the Democratic camp.
Chicago Mayor Rahm Emanuel, for example, called the ruling, "a whitewash of justice." At the same time, the Chicago Police Union, which invested a lot of manpower and money into solving the non-crime, is calling for a federal investigation of the incident.
While the liberals seem to enjoy a sort of invincibility when it comes to some of their more bizarre antics, with no small help from a left-leaning media that supports their every stupid stunt, the tide may be slowly turning against them. In that sense, the liberals may possibly be saved from themselves.
Like this story? Share it with a friend!
The statements, views and opinions expressed in this column are solely those of the author and do not necessarily represent those of RT.
You can share this story on social media: