White Helmets stealing children for 'chemical attack' theater in Idlib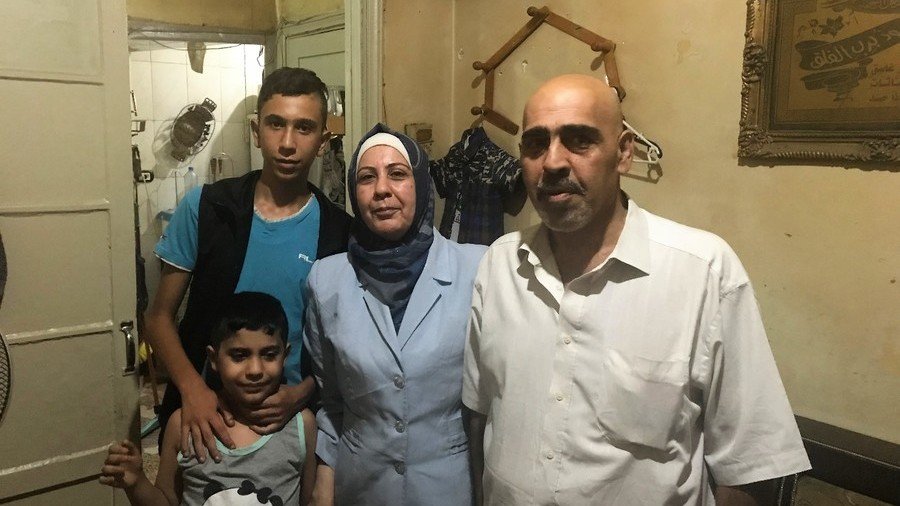 "Leave our children in peace. Let our children play, stop 'playing' with our children." These are the words of a mother whose child was stolen and is being imprisoned in Idlib by terrorist groups and the White Helmets.
I met Wafaa at her home with her husband Mohammed Ibrahim and her two sons Hamza, 9, and Lotfe, 14. Both Wafaa and Mohammed are lawyers, they met while studying at the same university. Wafaa is strong, her expression is defiantly hopeful and optimistic despite fears for her kidnapped son, Ahmed, who is now 11.
"Ahmed was born mute, he couldn't speak," she told me. "I believe this is why he was taken from us, because he cannot protest or resist."
Ahmed was kidnapped by terrorist groups only 200 meters from his home one year ago. The location of their home will not be disclosed to protect the security of the family, but they know that Ahmed is now being held with other children in Idlib. The locations change regularly, according to information the family has received from friends and family still trapped inside Idlib.
On August 30, 2018, Syrian Foreign Minister Walid Muallem stated that the US Coalition-sponsored White Helmets had kidnapped 44 children in order to use them as 'props' in the staging of a chemical weapon attack in Idlib. The White Helmets have a history of providing the scenarios required to precipitate FUKUS aggression against Syria.
Their most recent chemical attack hoax attempt in Douma in April 2018 was proven unreliable by the OPCW interim report. Sensationalist suggestions of sarin use by the Syrian government during the last moments of the liberation of Douma from the murderous Jaysh al-Islam fanatics was dismissed by the findings in the report. The chlorinated elements detected in the samples taken by the OPCW could come from any manner of household items and no conclusions of chlorine use by the Syrian government have been drawn. Western media and their governments have ignored the findings of the OPCW and are once more preparing the ground for a "chemical attack" in Idlib to enable further unlawful aggression against Syria during the Arab Army's campaign to cleanse Idlib of the terrorist infestation.
Wafaa's greatest fear is that Ahmed will be used alongside other children as actors in such a staged chemical attack.
"I stopped working when Ahmed was taken from us. About six months ago, a friend came from Turkey to Idlib. As they were crossing the border between Syria and Turkey, they stopped to rest. Their son knows Ahmed very well. Ahmed has a particular way of communicating by making a sound that is very recognizable by those who know him. Their son heard Ahmed making this sound. He told his parents that Ahmed was close by," she said.
Wafaa's voice trembled as she described this identification of her son. At least he was alive. Shortly after the family were given this information, an alleged chlorine gas attack was carried out in Saraqib to the east of Idlib city. A recent OPCW report on this alleged incident concludes that:
"Chlorine, released from cylinders through mechanical impact, was likely used as a chemical weapon on 4 February 2018 in the Al Talil neighborhood of Saraqib."
However, the FFM (Fact-Finding Mission) was unable to enter Saraqib due to the risk of being executed or kidnapped by the "moderate" fanatics occupying the area. They instead relied entirely on "open-source" testimonies and evidence provided by compromised sources such as the White Helmets.
"Shortly after the Saraqib reports of a chemical attack, we received a phone call from the groups who were holding Ahmed. The man told me that the reason for kidnapping Ahmed was gone and that he would probably be returned soon," Wafaa informed me.
I asked her if they knew who was holding Ahmed captive.
"Shortly after Saraqib happened, some women who managed to leave Idlib came to me. They told me that Al-Nusra Front (Al-Qaeda in Syria) were in charge of the children and the White Helmets were helping them with this. When I reported it, the White Helmets accused me of being 'Shabiha.' This is a death sentence if you are caught by the armed groups."
Wafaa still has a sister in Idlib who is able to pass some information on to her directly or to people leaving Idlib via the Russian/Syrian established humanitarian corridors, which evacuate civilians to safety ahead of the ground campaign to liberate Idlib commences.
"Abu al-Duhur corridor is going to reopen, but we know that the terrorist groups are charging civilians 300,000 Syrian Pounds ($600) to leave by these corridors. People are leaving with nothing except the clothes on their back and yet we are told these monsters bring us 'freedom and democracy.'"
Wafaa described the foreign fighters occupying Idlib: "Most people in Idlib avoid the foreign fighters, they are very extreme and dangerous. My sister told me that a few days ago she walked past some Uyghur children in her district. They started taunting her because the hem of her skirt was too high. People see the White Helmets in the same way. They are foreign, and they are well paid. They are wealthy like the foreign extremists. Most people in Idlib don't allow their children to go to school because they fear that the White Helmets will kidnap them."
Wafaa explained that the White Helmets don't ask for money for the safe return of the children, which was the practice of the armed groups earlier in the conflict, according to her family.
"Why don't they ask for money? This means they want to use the children for something else. They call anyone who questions them "shabiha" because they need to keep their image clean in the West. They are not 'humanitarians,' they are terrorists in a uniform, that's all."
Wafaa is terrified that these US coalition proxies, which include the White Helmets, have already used Ahmed for one of the reportedly staged events that have been prepared in advance, in order to criminalize the Syrian government and its allies as soon as the SAA liberation campaign begins in earnest.
"Ten days ago, a woman came to see me. She had just arrived from Idlib. She showed me a photo of Ahmed and confirmed he is still alive but imprisoned with many other children. She told me that the White Helmets move the children from place to place depending upon where the attacks might be staged. They are kept in prisons all the time. I worry so much that he is sick or scared and he can't speak. I am convinced I will see Ahmed's face in one of these chemical attack videos or reports," said Wafaa.
As we were talking about Ahmed, his younger brother Hamza was reacting strongly and becoming increasingly agitated.
"He does this every time we discuss his brother, Ahmed. He is deeply disturbed by the loss of his brother," Wafaa explained. "I used to take more care of Ahmed because he had special needs but now I try to protect Hamza more also."
Throughout the interview, Wafaa remained composed and eloquent. She presented facts in a considered and objective way. Her child has been abducted, he is imprisoned by some of the most brutal extremist groups in Syria, but Wafaa displayed a fortitude that defied fear or pity. She remained proud and resilient. Mohammed Ibrahim, Ahmed's father, was quieter and more withdrawn but the unbreakable bond between the couple and Ahmed's brothers was evident. They were united in hope and determination that Ahmed will survive his ordeal and will be returned to them.
"If Idlib is liberated, we know that our army will bring Ahmed home to us. They will rescue him."
Wafaa's first display of anger and frustration came when I asked her to describe the reality of the "moderate" occupation of her homeland to people in the West.
"We have no voice. We are the forgotten Syrian people. Nobody listens to us when we tell the world that these monsters are killing us, killing our children, stealing our lives and destroying our homes. These 'moderates' don't bring freedom or democracy, they bring only bloodshed, fear and loss. We want Idlib cleansed of their presence, we want the West to take their terrorists out of our country. What did we do wrong to deserve this? Why should my son suffer, for what? Please bring this to an end, let us live in peace as we did before 2011."
Just before I left this family, I filmed Wafaa as she gave perhaps the most powerful message of her interview – "Leave our children in peace. Let our children play, stop 'playing' with our children." In Syria, children have been cruelly exploited to promote war to ensure the deaths of more children. Wafaa is demanding that people in the West recognize this fact and do all they can to prevent more children suffering at the hands of the Western client fanatics and affiliated White Helmets. We should hear her plea and act upon it before it's too late for Ahmed and all the other children who will suffer the same fate if we do nothing.
If you like this story, share it with a friend!
The statements, views and opinions expressed in this column are solely those of the author and do not necessarily represent those of RT.
You can share this story on social media: