Guardians of the Galaxy defeated by the most fearsome super-villain of all…political correctness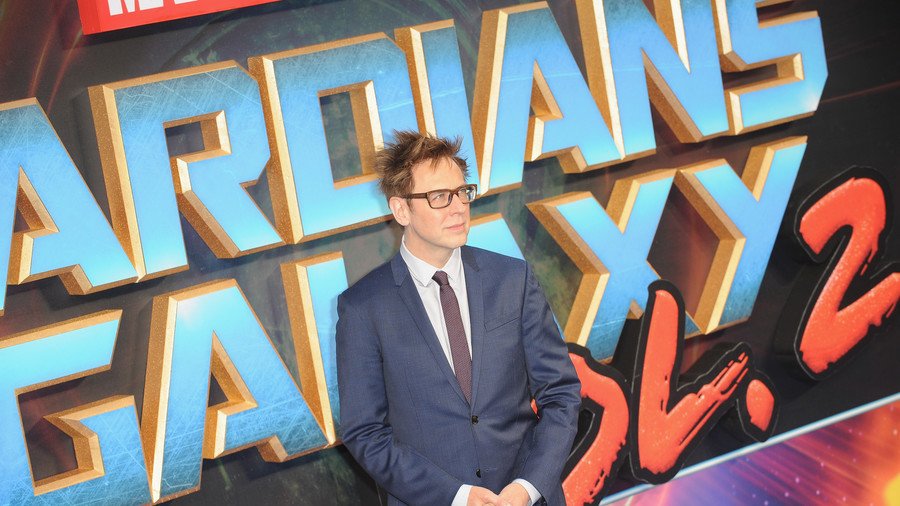 America is spiraling downward into a politically correct madness and big Hollywood corporations like Disney are hastening the descent.
On July 20, Disney fired outspoken liberal writer/director James Gunn from the film Guardians of the Galaxy 3 for a series of tweets he had written from 2008 to 2011 which the company deemed "offensive".
The tweets in question, which were Gunn's attempts at humor, were jokes about rape and pedophilia that were dug up by right-wing firebrand Mike Cernovich looking to bring the arch-liberal Gunn down a peg. Cernovich and his merry band of right-wing tricksters couldn't have imagined in their wildest dreams that due to their twitter/media campaign against Gunn, the man who wrote and directed the first two highly successful Guardians of the Galaxy franchise films, he would end up being kicked to the curb by Disney.
Many liberals in Hollywood are outraged that Gunn was fired and a petition with 200,000 signatures is even going around to get him re-hired.
Others in the film industry, like the writer and director of Star Wars: The Last Jedi (a Disney production) Rian Johnson, are quaking in their designer space boots over Disney's reactive and swift punishment of Gunn. Johnson wisely erased his entire twitter history in the wake of Gunn's firing, no doubt fearful he may have unwittingly violated Disney's moronic retroactive bad joke policy.
Regardless of how entertainment professionals feel about Mickey Mouse being quick on the draw to take down Gunn, they better understand that this sort of hypersensitivity combined with zero tolerance is now the new normal in corporate Hollywood.
Proof of this is that Gunn is not the only Tinseltown big shot to have recently had their careers tossed overboard from the good ship Hollywood after running afoul of the p.c. police.
The most high profile case occurred on May 29th when ABC, a subsidiary of Disney, fired vociferous Trump supporter Roseanne Barr from her show Roseanne, the most popular new TV show in America, after she had tweeted racist remarks about a former Obama official.
Also, the same week that Disney had Gunn walk the plank, Paramount fired Amy Powell, head of their television division, after Powell allegedly made a comment about "angry black women". Powell strenuously denies the allegations, and is planning on suing Paramount for wrongful termination. The irony is that the comment in question was made during discussions about Paramount's production of a series based on the film First Wives Club that has an all-black cast.
While the obvious through line of all of these stories is political correctness run amok and the internet mob targeting and destroying people's careers, another common feature of these stories is just as insidious…the expansion and abuse of corporate power.
It is bad enough that corporations are so short-sighted as to only make decisions based on quarterly earnings rather than long-term financial health, but now these business behemoths no longer seem beholden to shareholders or the bottom line at all, but rather, like impetuous adolescents, are slavishly and myopically addicted to such frivolous and fickle short-term measurements of their success as online popularity.
The fact that Disney would fire Gunn, whose two previous Guardian of the Galaxy films made the company nearly two billion dollars, over years-old bad joke tweets, is astonishing for a media giant that has built its exorbitant power making money, not friends.
ABC/Disney's decision to fire Roseanne, while more understandable in terms of the offensive content and recent timing of her tweets, also goes against the financial bottom line as it is estimated that it will cost the network tens of millions of dollars. And yes, firing Roseanne will appease people who were offended by her tweets, but in this hyper-polarized political atmosphere it will also alienate people who are her fans, making the whole enterprise a public relations wash at best.
Paramount's firing of Powell will no doubt hit the company in its pocketbook as well, since Powell has stated she will sue for wrongful termination, and from all of the information currently made public, she has a very strong case.
This recent upsurge in political correctness and zero tolerance in the entertainment industry is born out of impotent liberals in Hollywood needing to vent their rage at Trump, so they use any chance they get to punish a proxy, whether deserving or not. Barr and Powell are no doubt stand-ins for racist Trump in the eyes of Hollywood liberals and make for useful and momentarily satisfying scapegoats.
The big studios have now co-opted the mindset of their liberal La La Land neighbors, enshrining into corporate policy the idea that error has no rights, and that those who don't preach the politically correct party line are not only wrong but irredeemably evil.
While liberals cheered Roseanne's firing as a victory over "racist" Trump supporters, hubris blinded them to the uncomfortable fact that using politically incorrect tweets as a cudgel to bludgeon their enemies is a tactic that others could turn against them, thus the far-right used the same approach to bag their own big game in the form of James Gunn.
The inevitable outcome of Hollywood social justice warriors using revenge fueled, emotionally driven political correctness as a weapon is that it will invariably devolve into a self-defeating circular firing squad where liberals destroy and alienate just as many allies as enemies in their scorched earth approach at policing speech and thought.
This approach also conditions corporations into abandoning context and logic from their decision making, such as being able to see the difference in severity between Gunn's old rape jokes and Roseanne's recent racist barbs, and replacing them with a draconian and manic zero-tolerance policy in order to satiate whatever online mob, regardless of their political affiliation, targets them.
And so, while Trump-loving Roseanne is out at ABC, so is devout Democrat James Gunn at Disney. And while the liberal goal is for more diversity and racial sensitivity in studios, Amy Powell's quick-trigger firing from Paramount will result in White studio executives being less willing to work with minorities for fear that they will unwittingly say something offensive and instantly lose their jobs. In mediation this is what they call a lose-lose scenario.
The scariest part of all this is that since the disease of zero tolerance political correctness has spread from universities to Silicon Valley and now to the behemoths of corporate Hollywood like Disney, which is on the precipice of controlling an astounding 40% of the box office market with their pending purchase of Fox, the contagion will only spread further to the rest of American industries through the mindless and spineless group think of human resource departments in corporations across America.
Being beholden to the whims of whatever mob of snowflakes or cynically inspired career assassins shriek the loudest is no way to run a business, an industry or a nation. The sort of Orwellian, Stasi level policing of thought and speech that brought down James Gunn, Amy Powell and even Roseanne Barr is pure and utter madness. I can assure you one thing…this insanity can not and will not end well for Hollywood or America.
Michael McCaffrey, for RT
Michael McCaffrey is a freelance writer, film critic and cultural commentator. He currently resides in Los Angeles where he runs his acting coaching and media consulting business. mpmacting.com/blog/
Think your friends would be interested? Share this story!
The statements, views and opinions expressed in this column are solely those of the author and do not necessarily represent those of RT.
You can share this story on social media: