Hollywood's malicious propaganda dehumanizes all Russians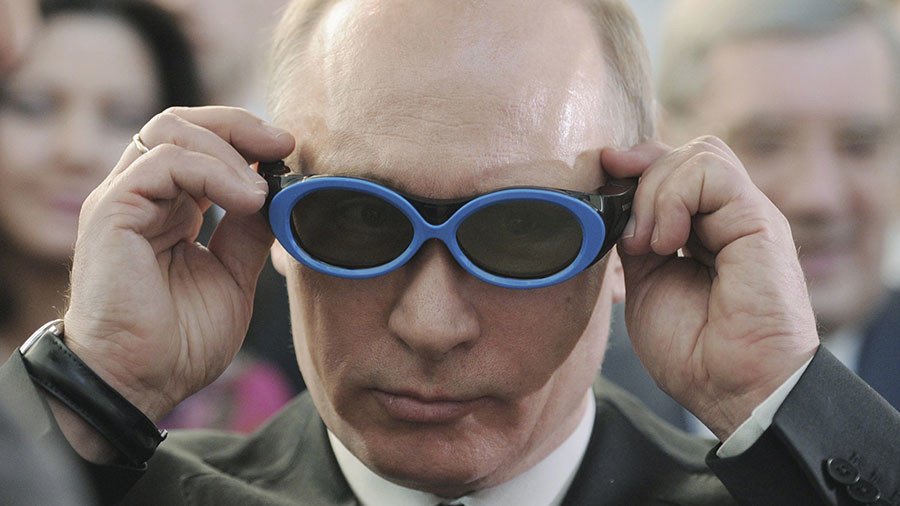 A closer inspection of America's relentless Russophobic propaganda campaign reveals that it isn't just the news media spreading hatred of Russia and Russians, but Hollywood as well.
America's unrelenting propaganda assault on Russia began by demonizing Russian President Vladimir Putin. He is routinely blamed for every evil that occurs under the sun, and according to the establishment media, there is nothing too evil that the Bond super-villain Putin cannot accomplish.
The US likes to personalize its enemy into one caricature so that Americans have an effigy onto which they can project their fear and loathing. A brief glance at recent history shows this to be true as the US used the same playbook with Bin Laden, Saddam Hussein, Muammar Gaddafi and Kim Jong-Il.
Sometimes, when an enemy lacks the requisite charismatically evil leader to fit the propaganda bill, the US will demonize whole peoples, for example the Japanese in World War II. The dehumanizing of the Japanese people, instead of a single leader, is what convinced Americans to accept the internment of Japanese-Americans during World War II and the use of nuclear weapons on Japan to end that war, which is in marked contrast to Americans' attitudes towards German-Americans.
In the current propaganda war with Russia, the US seems to be taking a unique hybrid approach. Putin is certainly held up as an icon of evil but Russians and people of Russian descent are as also being demonized and in some very insidious and disturbing ways.
For instance, James Clapper, former director of national intelligence, told NBC in an interview, "…the Russians, who typically, are almost genetically driven to co-opt, penetrate, gain-favor, whatever..."
Clapper's statement maligns all Russians, even Russian-Americans, as genetically duplicitous and diabolical. Such repulsive xenophobia isn't just good old-fashioned American Russia-hating, it is fast becoming US policy.
Also, the Senate Select Committee on Intelligence probe into alleged Russian interference in the 2016 US presidential election has deemed all people "of Russian descent or nationality" to be potential targets of its investigation. There are 3 million Russian-Americans in the US, and according to the committee, they are now all suspects.
In the same vein, Senator Dianne Feinstein demanded that Facebook turn over to the Senate any data related to "Russia-connected accounts." Feinstein broadly defines Russia-connected accounts as "a person or entity…that may be in some way connected to Russia, including by user language setting, user currency or other payment method."
Feinstein and Clapper's Russophobia and totalitarian instincts are chilling, and they will find little resistance from the American people who are being surreptitiously indoctrinated by Hollywood to believe that Russians are inherently devious miscreants.
It has been well established that Hollywood is the propaganda wing of the Pentagon and the intelligence community, and that it has effectively indoctrinated Americans to whole-heartedly support the nation's belligerent militarism and to see the US as always the well-intentioned hero.
So it is no surprise that Richard Stengel, former managing editor of Time magazine (2006-2013) and under secretary for public diplomacy and public affairs under President Barack Obama (2014-2016), saw the success of the Pentagon-Hollywood alliance in shaping public opinion and tried to emulate it. It was revealed in a trove of hacked Sony emails released by WikiLeaks, that in 2014, while officially serving in the Obama administration, Stengel approached Hollywood studios asking for help in countering "Russian narratives."
Stengel was wise to ask for Hollywood's assistance, as entertainment is a much more insidious form of propaganda than "fake news." It is designed to manipulate emotions and audiences have been conditioned to allow it to do so. Viewers willingly let their guard down and suspend their disbelief when they watch a film or television show, and therefore their critical thinking function is reduced and they become much more pliable and vulnerable to propaganda.
It is in this state of vulnerability when their emotions are triggered and their conscious mind is bypassed, that the nefarious ideas of the propagandist are implanted in the viewer's unconscious. This is why businesses pay so much money for "product placement" in films and why the Pentagon has embedded itself so deeply into the entertainment industry.
The extent to which Stengel's conversations with Hollywood bigwigs convinced the studios to act is not yet fully known, but since he made his plea to the studios, Hollywood has churned out a steady stream of films that have portrayed Russians as a deplorable people.
Some of the most prominent of them were Child 44 (2015), the story about a Russian serial killer starring Tom Hardy, Steven Spielberg's Bridge of Spies (2015) starring Tom Hanks and Atomic Blonde (2017) starring Charlize Theron, both about nefarious Cold War Russian spies, and Bitter Harvest (2017), the story of famine induced by Joseph Stalin upon Ukrainians in the 1930s. These films, all set during the Cold War (except for Bitter Harvest), uniformly portray Russians as treacherous, vicious, malicious and merciless.
On television, there has been the recurring anti-Russian storyline on the hit Netflix show House of Cards, where a remorseless and repugnant Putin-esque Russian leader cynically destroys people's lives.
Last month the newest batch of films and television shows hit screens with the same theme of degrading and dehumanizing the Russian people as their propaganda predecessors.
Red Sparrow is the story of a former ballerina turned Russian super spy trained in the sexual arts and stars the highest paid actress in the world, Jennifer Lawrence. The Death of Stalin is a dark comedy about the power struggle in the Soviet Union to fill the void after Stalin's death. And the hit FX television show The Americans is about a couple living in Cold War America in the 1980s who are actually deep undercover Soviet spies.
Red Sparrow is a prime example of Hollywood's attempt to incite Americans to distrust and dislike the Russian people. The film is set in modern day Russia but feels decidedly Cold War in its depiction of the country as a bleak frozen tundra inhabited by the most paranoid and despicable of people.
Every Russian man in the film is a vicious murderer, pedophile, rapist or traitor…and in the case of the lead villain played by Matthias Schoenaerts, a Vladimir Putin look-a-like, all of the above.
Red Sparrow's Russian women fare no better as they are all cold-blooded, conniving, manipulative whores who are only proficient at sex, ballet or both.
The Death of Stalin is a considerably better film than Red Sparrow, but that only means it is a more effective propaganda tool.
In the film, under a veneer of humor, all Russians are portrayed as deceitful, corrupt, unscrupulous monsters only interested in selling out their comrades, gaining power and then brutally abusing it.
The television show The Americans by its premise alone also ingrains in its audience the idea that Russians are not to be trusted because they are instinctively a deceptive and plotting people.
The trudging up of the Cold War is an easy propaganda device that triggers old anti-communist and anti-Soviet fears among Americans. It is striking to note that Hollywood is portraying Russians solely in terms of the Cold War but not in regards to World War II. That is because Russia's role in defeating Hitler and ending the war in the Pacific is a heroic one and would undermine the foundation of Cold War enmity upon which the current Russophobic narrative is built.
As Hollywood and the news media continue to indoctrinate Americans with an anti-Russian animus, US audiences will become even more susceptible to stories, like the Skripal poisoning, that feed the anti-Russian narrative no matter how tenuous or divorced from the facts they may be.
The problem of Hollywood and America's Russophobia will only get worse, and that is troubling for all of us, because in this current climate, a war with Russia seems possible, and that would be a movie without a happy ending.
Michael McCaffrey, for RT
Michael McCaffrey is a freelance writer, film critic and cultural commentator. He currently resides in Los Angeles where he runs his acting coaching and media consulting business. mpmacting.com/blog/
Like this story? Share it with a friend!
The statements, views and opinions expressed in this column are solely those of the author and do not necessarily represent those of RT.
You can share this story on social media: