World Cup 2018: Epic fail for Russophobes but a great victory for football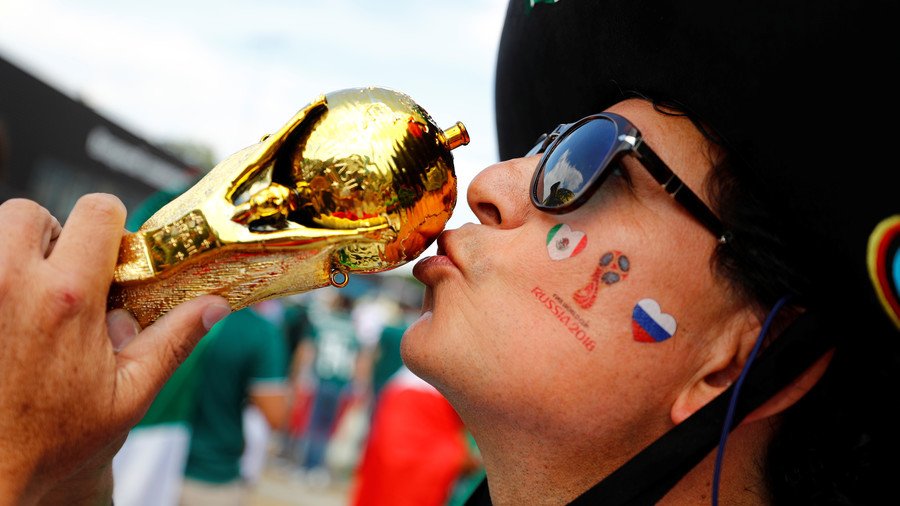 The 2018 World Cup is shaping up to be the best ever. It's a far cry from the negative media coverage that surrounded the Mundial before it began, which sought to de-legitimize Russia's hosting of the event and put fans off going.
Has there ever been a World Cup that has left so many people with egg on their faces.
We were told by indignant neo-cons and virtue-signaling Western 'liberals' that it was a disgrace that Russia, a country of which they did not approve, was being allowed to host the tournament. It would be like the 1936 Nazi Olympics, MPs and media pundits assured us. 'Putin's World Cup' would be the worst World Cup ever.
Fans who went would be in fear of their lives as three out of every four Russians was a racist, homophobic football hooligan and the fourth was like Frankenstein's Monster. England's players could be drugged in their hotel to "slow them down."
In fact, the World Cup has turned out to be absolutely brilliant.
There have been some incredibly exciting games – with the drama greatly enhanced by VAR (video assistant referee) technology – lots of goals and plenty of surprises. Reigning champions Germany have failed to get past the group stage for the first time since 1938. No, it's not fake news, it really happened. We are guaranteed to get a new final pairing on July 15.
Given how open it has been, and how the 'Big Guns' have been wobbling, any team in the last 16 can be realistically dreaming of glory, including countries such as Croatia, Belgium, Sweden, Russia, Mexico and Switzerland who have never won the World Cup before. Isn't that wonderful?
The World Cup has been a success on and off the pitch. Fans have mingled happily together and enthused about the warm and friendly welcome they have received from the locals. Far from being a dour, miserable place, they have found that Russia really rocks. Football commentators have hailed the magnificence of the stadiums and facilities. The only attacks England fans got in Volgograd were from the midges.
The propaganda that we were subject to 24/7 before the tournament began has been exposed by those who actually defied the 'Boycott Russia' brigade. "(England) fans were put off (going to Russia) by suggestions of hooligans, authoritarian police, racism and homophobia, but it's not been anything like that," author Mark Perryman, who has travelled to World Cups since the 1990s, told the Daily Express.
Others are finding out too that Russia is actually very different from the way it is routinely painted.
"I'll admit it: the thought of working and living in Moscow for almost six weeks conjured thoughts of being tossed back in time… Gray and unfriendly. Barren food shelves and shadowy figures. The joy and passion of the World Cup doused by Russian gloom. I was wrong. Moscow is the vibrant heart of this soccer celebration… (It) looks and feels like any major European city," wrote Steven Goff in the Washington Post.
It's worth pointing out that there's always negativity about a non-Western country that hosts a major sporting event. Stadiums won't be ready in time. Supporters will be in danger. The bidding process has been hideously corrupt. I remember going on BBC Radio Five live in 2012 to debate about how safe it was for fans to travel to Ukraine and Poland for the European Championships to be held there that summer. I remember too the negative coverage of Brazil that preceded the 2014 World Cup, and of South Africa in 2010.
However, while dissing the host nation is nothing new, the campaign against Russia this time has been off the scale. What's come into play is not just sour grapes that a leading Western country didn't get to host the tournament, but geopolitics too.
Russia is demonized in elite Western circles not because it's a 'terrible country' with an 'appalling human rights record' but because it has got in the way of the hegemonic ambitions of the US and some of its regional allies in the Middle East.
Reflect on the fact that there was no establishment-induced Russophobia in the 1990s when Russia, under the drunken Boris Yeltsin, allowed oligarchs to plunder the country's wealth. The elites were quite happy with the Kremlin then, even though there was a large number of journalists killed in Russia at the time. But as soon as the Russian authorities began to clamp down on certain oligarchs, and the Russian government took a less submissive role in foreign affairs, the situation changed. Russia was the bogeyman once again.
READ MORE: English football fans discover real Russia is different to Oxbridge-dominated media portrayal
If you want to demonize a country then it stands to reason you don't want major sporting events to be held there and lots of people to go and visit it. Significantly it was uber neo-con hawk John McCain, who led calls in the US for the World Cup to be taken away from Russia.
McCain re-iterated his call last December, this time on the basis that Russia was banned from the Winter Olympics. The 'Boycott Russia' brigade got a second wind after the Salisbury poisoning case, even though Russian state involvement was unproven. "I'm glad Prince William has already indicated that he won't be going to watch any of England's matches. But his absence – and the mooted refusal of officials to go to Russia – will not of themselves constitute an adequate protest. Everybody must stay away," opined columnist Stephen Glover.
MP Stephen Kinnock wanted a "coordinated approach to FIFA to discuss moving the World Cup to 2019 and having it hosted in another country or countries."
As I pointed out in an earlier column, if that had happened there would have been no 'England 6 Panama 1' last Sunday.
Neocon/neoliberal ideologues aren't happy that people are now praising Russia to the rooftops.
Tim Montgomerie showed his frustrations in a tweet to BBC football presenter Dan Walker who had said Moscow had been a great host city.
Tim seemed to want Dan to talk about Crimea and Syria on Match of the Day. "I'm not sure half-time in a Colombia-Japan game is the right time," was Dan's response.
As the world delights in the football, the continued ill-humor of anti-Russia obsessives stands out like a sore thumb. The world's greatest, sexiest and most fun summer-time party is taking place in Russia at the moment and they want us to carry on being angry, like a bunch of misanthropic weirdos.
Of course, there's still over two weeks to go. There could yet be issues with hooliganism. The football might go off the boil. The midges might become super midges.
But already, it's become much harder for the neocons and their "muscular liberal" allies to peddle BS about Russia. People who go there soon realize it's a very normal country with a lot fewer problems than the US and many other Western nations.
READ MORE: 'We are in love with Russia' – Sons of Brazil's most famous football fan on World Cup experience
The situation reminds one of that classic scene from the 1930 film version of 'All Quiet on the Western Front.' Schoolmaster Kantorek encourages his pupils to enlist for the German Army, filling their minds with images of glory for the 'Fatherland'. Paul Baumer comes back from the front, having experienced first-hand the horrors of war and doesn't want to tell lies. "I've been there, I know what it's like," Paul tells Kantorek.
The supporters in Russia have had the reverse experience to Paul. They were told that it would be terrible but, in fact, it's been great.
"I've been there, I know what it's like": That's what fans will be able to say to those who persist on promoting anti-Russia propaganda campaigns, in pursuance of geopolitical objectives, after the World Cup.
Like this story? Share it with a friend!
The statements, views and opinions expressed in this column are solely those of the author and do not necessarily represent those of RT.
You can share this story on social media: