With Iran sanctions Trump made Europeans look like the fools they are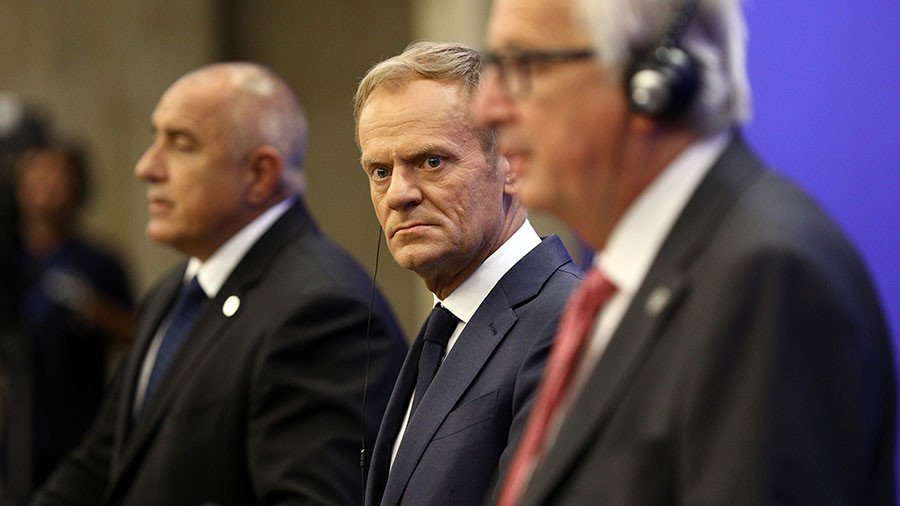 The attacks by European leaders against US President Donald Trump are getting sharper by the day.
On the day Trump announced that he was ripping up the Iran deal, and that the US would impose sanctions on European companies trading with that country, the French finance minister Bruno Le Maire said that European states refused to be treated like "vassals" of the US.
At Aachen on 11 May, Emmanuel Macron effectively accused the US of blackmail. On 17 May, the president of the European Council, Donald Tusk, asked, "With friends like that (i.e. Trump), who needs enemies?"
The temperature only rose further when the French energy giant Total announced that it would pull out of a multi-billion dollar gas deal with Iran unless European diplomacy succeeds in obtaining a specific waiver from US sanctions. Other European behemoths including Allianz and Siemens have also announced either that they will wind down operations in Iran or that they will not start any new ones.
These statements show that Trump's decision is a slap in the face for the EU politically, economically and - perhaps above all - ideologically. Politically, because both Emmanuel Macron and Angela Merkel made special trips to Washington to plead with Trump, to no avail whatever. Moreover, the EU is itself a signatory to the Iran deal, which it regards as a major diplomatic triumph from which it draws credibility: its disavowal by Trump is a deep insult to the diplomatic status of the EU as such.
Economically, because of the gigantic contracts which European companies could lose. For years, following the nearly $9 billion fine imposed by the US on Paribas in 2015, European companies and banks have been terrified of engaging in any business activity likely to attract the ire of the Americans. Deals with Russia, for instance, are shunned. The effect of this latest decision could be like many Paribas situations at once.
Ideologically, because the EU draws its entire legitimacy from the belief that by pooling sovereignty and by merging its states into one entity, it has advanced beyond the age when international relations were decided by force. It believes that it embodies instead a new international system based on rules and agreements, and that any other system leads to war. It is impossible to exaggerate the importance of this belief for European leaders; yet Donald Trump has just driven a coach and horses through it.
The angry statements by European leaders might lead one to think that we are on the cusp of a major reappraisal of trans-Atlantic relations. However, the reality is that the EU and its leaders have painted themselves into a corner from which it will be very difficult, perhaps impossible, to extricate themselves.
First, the links between the EU and the US are not only very long-standing, they are also set in stone. NATO and the EU are in reality Siamese twins, two bodies born at the same time which are joined at the hip. The first European community was created with overt and covert US support in 1950 in order to militarize Western Europe and to prepare it to fight a land war against the Soviet Union; NATO acquired its integrated command structure a few months later and its Supreme Commander is always an American.
Today the two organizations are legally inseparable because the consolidated Treaty on European Union, in the form adopted at Lisbon in 2009, states that EU foreign policy "shall respect" the obligations of NATO member states and that it shall "be compatible" with NATO policy. In other words, the constitutional charter of the EU subordinates it to NATO, which the USA dominates legally and structurally. In such circumstances, European states can only liberate themselves from US hegemony, as Donald Tusk said they should, by leaving the EU. It is obvious that they are not prepared to do that.
Second, EU leaders have burned their own bridges with other potential partners, especially Russia. Angela Merkel traveled to Russia on Friday but only a few weeks ago more than half of the EU member states expelled scores of Russian diplomats and encouraged non-EU European states like Ukraine and Montenegro to do the same, in retaliation for the poisoning in Salisbury of Sergei and Julia Skripal.
How is Mrs Merkel going to convince Mr Putin to join her in keeping Iran's nuclear program under control if she officially thinks that Mr Putin is guilty of secretly stockpiling and using chemical weapons for assassinations in the West? Only a few weeks later, in mid-April, Britain and France, together with the US, attacked Syria on the basis that its army had used chemical weapons at Douma with Russian backing. If they try to turn on the charm now in Sochi or in Moscow, do they really expect the Russians can take them seriously?
Third, how can EU leaders complain about US sanctions against their companies when they themselves have applied sanctions against Russian companies causing major economic disruptions in that country? EU states have also introduced punitive sanctions against Syria since 2011, one of the biggest programs of sanctions ever, whose effect and purpose is to disrupt the activities of the Syrian state including its ability to provide public goods like health.
Britain and France, who are, with Germany, the European signatories of the Iran deal, have been pursuing regime change in Syria for half a decade. By what right do they protest now that the US administration is taking decisions whose goal is to provoke regime change in Iran?
As if these external issues were not bad enough, the EU is currently riven by internal divisions too. Donald Tusk may say "Europe must be united economically, politically and also militarily like never before ... either we are together or we are not at all" but Europe is indeed not "together" at all. The Brussels commission is hounding Poland and Hungary on what are clearly internal political matters beyond the Commission's remit; the EU is about to lose one of its most important member states; and a new government is going to take power in Rome whose economic policies (a flat tax at 15%) will blow the eurozone's borrowing rules out of the water and perhaps cause Italy to leave the euro.
The Italian 5-Star / League government also wants an end to the EU sanctions against Russia; these are voted by a unanimity which, although fragile, has held until now but which, if the new power in Rome keeps its word, will shortly collapse. In other words, what Trump has done is to make the Europeans look like the fools they are. In circumstances in which the EU has placed all its eggs in one basket, a basket which Trump has now overturned, it will be impossible for it to come together. On the contrary, it is falling apart.
Think your friends would be interested? Share this story!
The statements, views and opinions expressed in this column are solely those of the author and do not necessarily represent those of RT.
You can share this story on social media: