Britain's presumption of guilt towards Russia invites conflict and chaos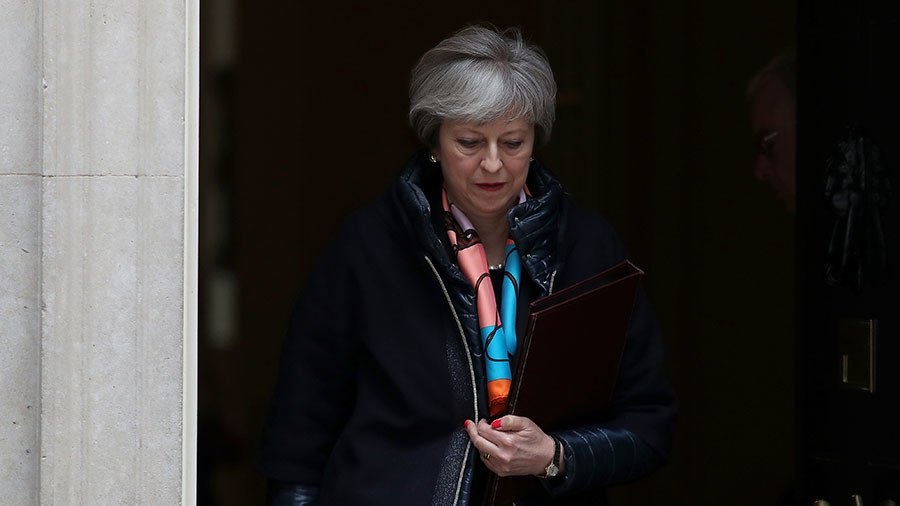 Britain's abandonment of due process has taken a dangerous and reckless leap, with Theresa May declaring economic sanctions and diplomatic expulsions for Russia's "failure" to respond to allegations over the Skripal poisoning.
Provocatively, Moscow was given a 24-hour deadline to "answer" charges leveled by the British government that it was responsible for the attempted murder of a Russian double agent, Sergei Skripal, who had been living in England since 2010 after a spy-swap deal.
Skripal (66) and his 33-year-old daughter Yulia were apparently stricken with a deadly nerve agent in his adopted hometown of Salisbury on March 4 while strolling through a public park. The pair have been receiving treatment in intensive care ever since.
Earlier this week, the British prime minister asserted that the chemical weapon used was a Soviet-era nerve agent, Novichok, and – on that basis – the Russian state was implicated in the attempted murder of the former spy. Skripal had been exiled from Russia in 2010 after he was convicted of treason as a double agent for British intelligence MI6.
The new economic and diplomatic sanctions against Moscow, which were announced by May in the House of Commons on Wednesday, constitute a reckless escalation towards conflict between Britain, its NATO allies, and Russia.
Moscow has said it will not stand for British punitive measures and is vowing to take reciprocal actions.
Washington and European states have quickly followed Britain's lead in ramping up hostile rhetoric towards Russia, and issuing statements of "solidarity." Relations between Russia and NATO states had already plummeted to Cold War depths before the latest row.
The invitation for more chaos and conflict comes with the abandonment of any pretense at upholding legal principles and standards.
Britain and its allies are relying on the inverted principle of "presumption of guilt" as opposed to "innocence." Within days of the apparent poison attack on the Sergei Skripal and his daughter, the British authorities and media had rushed to judgement that the alleged attack was the work of the Russian state in an act of revenge for past betrayal. That motive does not stand up to scrutiny, noted former British ambassador Craig Murray.
Furthermore, the hypothetical Soviet-era nerve agent identified by the British authorities has not been independently verified. We are relying on official British claims. The alleged chemical may or may not have been used in the attack.
READ MORE: Corbyn challenges May's 'evidence' of Russian 'culpability' in ex-spy poisoning
As Russia's Foreign Minister Sergey Lavrov revealed, all requests from Moscow for access to the alleged poison as evidence have been refused by London. Such a refusal is a violation of the Convention on Chemical Weapons treaty, which mandates joint inspection of alleged incidents.
So, the British government imposed an ultimatum on Russia to provide "answers" to provocative charges without Moscow being given a fair chance to ascertain those charges. On the basis of that contemptible lack of due process, the British are calling on its NATO allies to escalate punitive measures against Russia.
There are even British media reports of Britain invoking NATO's Article Five clause, which mandates the military pact to come to the defense of another member deemed to be under attack.
One senior British cabinet minister was quoted anonymously by The Independent as saying: "What happens will be an economic war, these will be economic measures. Russia's economy is only half that of the UK… That doesn't give us any pleasure at all, but we need the nations of Europe to behave within the rule of law and not like gangsters."
The logic is unhinged. British authorities are claiming to be acting within the rule of law against Russian "gangsters," when in fact it is the British who are bludgeoning any legal standard of due process.
Paramount to due process is the presumption of innocence, which is the bedrock of international law and the United Nations' Charter of Human Rights.
Canadian-based war crimes defense attorney Christopher Black says: "The presumption of innocence is the foundation stone of modern criminal justice. It is the pre-eminent factor in every trial. The accused is deemed to be innocent unless and until evidence that cannot be doubted establishes that the crime took place as claimed, and the accused is the person who committed it and had the intent to commit it."
Black says that this is the exact opposite of what is taking place with regard to British claims over the latest alleged poisoning incident in Britain. The lawyer adds that the erosion of standard legal principle has been underway for several years due to political expedience by Western states. He points to the various ad-hoc war-crimes trials pushed by the United States and its NATO allies to convict political enemies in former Yugoslavia and Africa.
With regard to Russia and, in particular, the demonization of the government under President Vladimir Putin, the Western states have used the principle of "presumption of guilt" on numerous occasions, including the downing of the Malaysian airliner over Ukraine in 2014; implicating Russia in Ukraine's conflict; smearing Russia over sports doping and banning it from the Olympics; allegations of Russian "interference" in US and European elections; and blackening Moscow for "war crimes" in Syria.
In all cases, allegations are simply leveled and repeated ad nauseam without evidence ever being presented. Indeed, sometimes in spite of plausible counter-evidence.
Christopher Black continues: "The accusations against Russia from the MH-17 Malaysian airliner, Crimea, Ukraine, electoral interference, and so on, are all part of carefully orchestrated propaganda warfare aimed at reducing Russia's prestige in the world, its range of friends and allies, and to paint it as the 'evil other' for the Western public, who are having their minds conditioned to prepare them for war."
The presumption of guilt towards Russia has now converged over chemical weapons and Syria.
In rallying Washington and European allies to back Britain's "economic war" against Russia, British Foreign Secretary Boris Johnson this week said of conversations with his French counterpart: "The French government stressed particular concerns about Russia's use of chemical weapons elsewhere, as is evident with their support to Assad's murderous regime in Syria."
On the basis of no evidence, dubious hearsay from terrorist-affiliated groups like the White Helmets, and the expedient presumption of guilt, Britain and its NATO allies are willing to go to war in Syria.
This week, US Ambassador to the UN Nikki Haley accused Syria and its Russian ally of carrying out chemical-weapons attacks, for which the "US is prepared to take military actions."
All this should be a lesson on why there is such a thing as legal standards and due process as a safeguard for international order. Once certain states start to assert "presumption of guilt" towards others, then all pretense of upholding law and order collapses into a descent of chaos and conflict.
Attorney Christopher Black goes further. He says that Britain and its NATO allies are not just derelict in their duty to abide by law. "As in the latest reckless statements concerning Russia and the alleged poisoning in Britain, the case can be made that the British and their allies are in fact guilty of war crimes by inciting the conditions for war."
Finally, there is one very obvious question that nobody seems to be asking, and that relates to the timing of Skripal's alleged poisoning. Why would Russia do it now, just a week before the presidential election and three months before the World Cup?
It suggests total insanity on Moscow's part. How could Russia possibly benefit from such an act? Skripal was previously in Russian custody and has lived in the UK for years. If Russia did want to poison him, as the UK has imagined, could it not have waited for a few more months?
It is not clear who benefitted from the inopportune timing of the incident, but certainly wasn't Russia.
The statements, views and opinions expressed in this column are solely those of the author and do not necessarily represent those of RT.
You can share this story on social media: