Hold those tweets! The Donald agrees to 'meeting of the century' with Kim Jong-un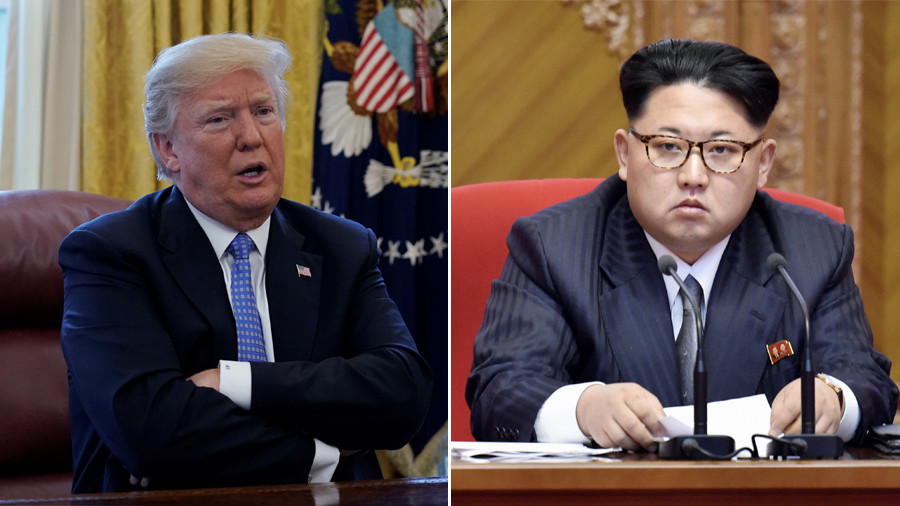 Long reviled in the Western media as a pariah state with devilish ambitions, Pyongyang is showing real savvy on the political stage in an attempt to lure Trump to the negotiating table. Can Kim and Trump agree to disagree?
Last week, a South Korean envoy arrived at the White House bearing a surprise invitation for Donald Trump from none other than his Twitter nemesis, North Korean leader Kim Jong-un. The South Korean security adviser said Kim was prepared to discuss, among other pressing issues, the possibility of North Korea giving up its nuclear habit. This would naturally entail major concessions on the part of Washington, yet without so much as a nod to his military brass, Trump accepted the invitation.
Although there has been much ado over Trump's abrupt willingness to meet Kim, possibly as early as May, the reality is that he never really had much choice. That's because, ever since the Olympic Games in PyeongChang, the communist recluse state has been embarking on a diplomatic charm offensive that has left Washington looking flat-footed and even slightly foolish.
It all began last month when Kim Yo-jong, the younger sister of Kim Jong-un, arrived in South Korea for the Winter Olympics, marking the first time a member of the country's dynastic family crossed the demilitarized border (DMZ) since the Korean War.
By the most conservative estimates, Yo-jong departed PyeongChang a gold medalist in diplomacy. Indeed, all of the pent-up hostility between North and South seemed to evaporate into thin air when the Western-educated party member shook hands with South Korean President Moon Jae-in at the opening ceremony. From that moment, the situation went from bad to worse for Team Trump, which had said it would meet with the North Korean delegation on the sidelines of the Games. Instead, it only played party spoiler.
Vice President Mike Pence is sitting only a few feet away from Kim Yo Jong, who is the very powerful sister of North Korean dictator Kim Jong Un during the winter Olympics #OpeningCeremony in South Korea. The two don't appear to have spoken to each other. pic.twitter.com/ZyZwFYou1W

— David Hookstead (@dhookstead) February 9, 2018
When a united North and South Korean Olympic team marched together during the opening ceremonies, attracting a standing ovation from Moon and Kim Yo-jong in the VIP section, a doleful-looking Pence remained conspicuously seated alongside his wife. How that spiteful gesture went down among the manners-manic Asians is anyone's guess, but probably not very well. After all, it would have cost Pence nothing to have stood up and applauded on behalf of peace.
If all that were not enough to scuttle any hopes of a bilateral chat during the world's premier sporting event, then the specter of Pence using his trip to announce the "toughest and most aggressive" sanctions against North Korea, as well as meeting with North Korean defectors, certainly did.
Meanwhile, Kim Yo-jung's diplomatic barnstorming was not limited to simple handshakes. During an official meeting of delegates from North and South Korea, she took the opportunity to present an invitation from her brother requesting Moon to visit Pyongyang at the "earliest date" possible. That proposal turned to reality last week as Kim Jong-un stepped out of his Hollywood-style villain character, regaling South Korean officials in Pyongyang with sumptuous food and drink, all the while cracking self-deprecating jokes.
It was during this meeting that Kim announced Pyongyang would halt nuclear and missile tests while attempting to extend an olive branch to the Trump administration. Considering the great amount of enthusiasm that the two Koreas now have for achieving an "historic breakthrough" in their relations, which is certainly vital for them since nothing less than the possibility of a nuclear conflagration is at stake, Trump probably sensed he would have looked like a mean-spirited spoiler – especially following Pence's poor performance at PyeongChang – had he rejected an opportunity for a meeting with Kim Jong-un.
Moreover, the Manhattan real estate magnate, who penned 'The Art of the Deal,' will certainly not want to miss a chance for the negotiations of a lifetime, which, if successful, would give him the first major win of his presidency, as well as shutting down the Democrats. At the very least, it would give him bragging rights for being the first-ever sitting US president to hold a meeting with a North Korean leader. And not a minute too late, it seems.
The New York Times provided a nice take on the challenges that face the two entirely different leaders – on the one hand, a dyed-in-the-wool capitalist with nationalistic tendencies; the other, a diehard communist who is extremely wary of foreign intervention: "Given two unpredictable and highly combustible leaders, it seems just as likely that the meeting will never take place," wrote Peter Baker and Choe Sang-Hun. "If it does occur, the challenges are so steep, the gulf so wide and the history so fraught with misunderstanding, suspicion and broken promises that the prospect of an enduring resolution to the impasse seems remote."
However, considering that just a few weeks ago Trump and Kim were bragging about the size of their nuclear buttons, and reduced to playground taunts and juvenile name-calling, credit must be given to Pyongyang for getting the diplomatic ball bouncing in the right direction. In fact, one could almost make the case for some sort of divine intervention, considering that the Olympic Games were held in PyeongChang when they were. Although many pundits were predicting all sorts of nightmarish scenarios, up to and including an attack by North Korea during the Games, almost the very opposite scenario transpired.
Now the ball is in Trump's court, and it would be very unfortunate indeed if he were to miss the shot at achieving a lasting peace on the Korean peninsula, while at the same time possibly even declaring a formal end to the Korean War (1950-1953), a declaration never signed between the two sides.
Should the watching world hold out hope for any sort of breakthrough? Admittedly, the odds do not look good.
"We have to realize there's nothing more complex than nuclear negotiations,"said former deputy national security adviser to President Barack Obama, Ben Rhodes, who is certainly not impartial in his views when it comes to Donald Trump. "There's no place in the world more volatile than the Korean peninsula. You cannot just approach this like a reality show."
Indeed, the US and South Korea will be hard pressed to end their regional military drills that rattle Pyongyang's nerves on various occasions each year, while it seems Kim Jong-un will be equally reluctant to surrender the one thing that has most likely prevented an American military offensive thus far, and that is North Korea's arsenal of nuclear weapons and newly developed long-range missiles. Nevertheless, considering that Trump's campaign pledge was to "Make America great again," that goal will never be achieved in the event of a protracted military conflict on the Korean Peninsula.
Thus, the one advantage that Kim Jong-un may have over the conservative-minded Trump is the knowledge that the United States, with a crumbling infrastructure back home that desperately needs finance, can no longer afford to be the world's policeman. Whether that fact will seal the deal for Pyongyang remains to be seen, but to date the US has seemed willing to sacrifice a lot on the domestic front in favor of hostility and war.
The statements, views and opinions expressed in this column are solely those of the author and do not necessarily represent those of RT.