Munich gathering descends into Russia-bashing nonsense & warmongering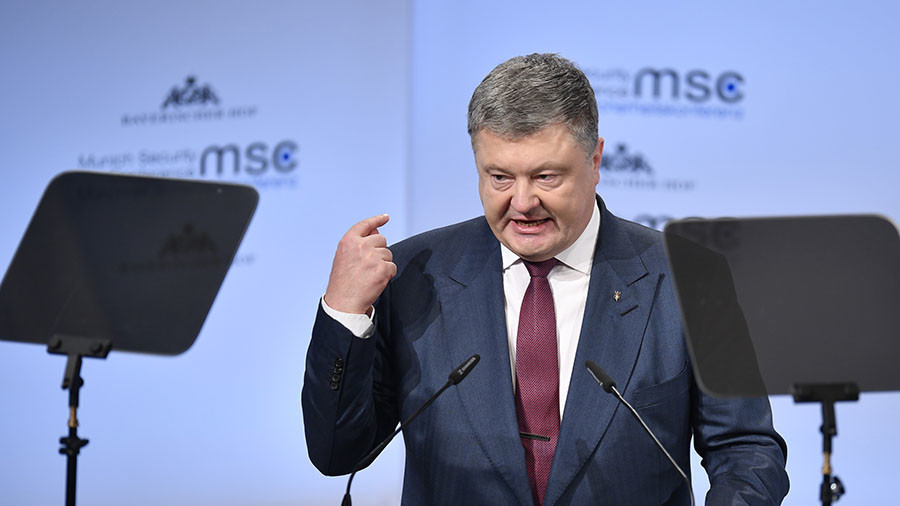 For an event designed to address real global security issues, the Munich Security Conference has shown itself to be a useless talking shop. But it does add more propaganda fodder for Russia-bashing.
How ironic. A forum proclaiming to uphold global security is acting like a bullhorn for war.
The release on Friday of the US Department of Justice's indictment of 13 Russian citizens for alleged meddling in the 2016 US presidential election went on to dominate the conference being held in Munich over the weekend.
Rather than being a peripheral matter owing to its dubious claims, the Washington hobby horse of "Russian meddling" was given free rein in Munich. Instead of parsing the latest Russophobia with intelligent skepticism, the conference added fuel to the bonfire of warmongering.
The annual gathering in the Bavarian capital is supposed to be an occasion when international political, military and intelligence leaders gather to discuss pressing security issues. The pro-NATO bias of the 54th Munich Security Conference (MSC) – never too disguised at best of times – was this year openly brandished.
A flurry of speakers eagerly took the latest US indictments at face value and cited them as "evidence" of Russian subversion and cyber warfare against Western democracies.
We should expect no less invective impugning Russia from the likes of NATO civilian chief Jens Stoltenberg, or Ukraine's President Petro Poroshenko, as well as US National Security Advisor General HR McMaster. But even German Foreign Minister Sigmar Gabriel in his address to the conference accused Russia (and China) of trying to "undermine" unity within the European Union.
Russian Foreign Minister Sergey Lavrov weathered the anti-Russia barrage by pointing out that the latest US indictments alleging Kremlin interference in American politics are yet more evidence-free assertions, which amount to nothing but "blather."
Sure enough, the 37-page charge sheet issued by the DOJ probe headed up by special counsel Robert Mueller is scant in incriminating details, heavy on innuendo, as usual, and certainly bereft of any credible link to Kremlin involvement in meddling with the US presidential election.
For this superficial and tenuous case to be held up by American politicians as "an act of war" by Russia on the United States is ludicrous. Insanity has indeed taken hold of mainstream American discourse.
One would think that maybe the Munich conference would be able to address global security issues objectively and professionally. No. It afforded its proceedings at the weekend to amplify the Russophobia raging in the US media over the spurious 'Russiagate' affair. At a time, too, when many alternative rational observers in the US and Europe are able to perceive that the Russiagate narrative is collapsing from lack of evidence.
Arguably, over its 54 years of convening in Munich, the only time that the MSC became enlivened with a dose of geopolitical reality was when Russian President Vladimir Putin delivered a blistering landmark speech back in 2007. Putin did not hold back any rhetorical punches then, propounding a withering criticism of Washington and its NATO allies for shattering international law and security through illegal military interventions around the world.
In the 11 years since Putin's seminal address, the international disorder has vindicated the Russian leader's prognosis. It has become even more frayed from US and NATO's unbridled use of military force, overtly and covertly, to pursue regime change and other criminal intrigues.
If the Munich summit had any genuine objective concern about global security and conflicts then it would be airing criticism of how Washington and its allies are undermining the international order in numerous ways.
From their military forces illegally occupying Syrian territory and covertly colluding with terrorist proxies for regime change; to ratcheting up tensions for a nuclear war with North Korea while shamelessly undercutting diplomatic peace efforts for the Korean Peninsula by Moscow and Beijing; to the Trump administration's provocative trashing of the 2015 international nuclear accord with Iran, while also fomenting aggressive moves by Israel and Saudi Arabia against Tehran.
Washington's green light to supply lethal weapons to the reactionary Western-backed Kiev regime is recklessly stoking a new war in Europe. The recent arrival of NATO military trainers to consort with Kiev's militias who openly espouse Neo-Nazi ideology is a harbinger of a new offensive on the ethnic Russian population of eastern Ukraine.
But none of these pressing security issues and grounds for vigorous condemnation of Washington and its NATO allies gained prominent discussion at the Munich conference. Of course, they wouldn't because the event is dominated by pro-NATO auspices.
Days before the conference opened, the preliminary MSC 2018 report hinted at aberrations in US policy under Trump. Conference Chairman Wolfgang Ischinger warned in introductory remarks that "the world has gotten closer – much too close! – to the brink of a significant conflict."
With somewhat surprising candor, the MSC preview document deprecated how the US under Trump was a "hostile revisionist power" attacking the "building blocks of international order."
Ischinger went on to cite conflicts between the US and North Korea and NATO-Russian tensions, admonishing: "2018 promises to be a year where some of these crises might either move towards resolution or escalation – with potentially catastrophic consequences. We must do whatever we can to move away from the brink."
However, moving away from the brink of conflict is precisely what the Munich conference did not do. Despite its claims to the contrary, the event is reprehensibly winding up tensions and war by lending credibility to Washington's fatuous anti-Russia propaganda. By doing so, the MSC has forfeited any credibility it might have claimed to have as an international forum.
Rather than shedding critical light on how Washington and its NATO allies are destroying the international order and provoking confrontation, the MSC turned over its proceedings at the weekend to Russia-bashing based on hysterical Russophobia and hollow claims of Kremlin meddling.
What is deeply disturbing is that a supposedly multilateral forum of professional diplomats and security experts has become an appendage of rank anti-Russian propaganda, instead of facilitating an earnest effort to honestly and accurately address real security concerns.
American politicians and the so-called paper of record, the New York Times, are openly equating dubious allegations of Russian interference in American politics as "an act of war." President Trump is being castigated for "not showing leadership to confront Russia."
"Trump's conspicuous silence leaves a struggle against Russia without a leader,"declared a NY Times front-page headline.
The hysterical headlong rush to incite war based on American propaganda is one thing. US political culture has become so wholly debased to the level of crass stupidity and prejudice one can expect nothing better.
But it is truly disturbing that the allegations against Russia are being amplified by European leaders and other international 'experts', at a time when these allegations are shown to be even more tenuous and untenable. Rather than focusing on real causes of war peril and "moving back from the brink" the Munich conference this weekend is pushing the world over the edge.
The statements, views and opinions expressed in this column are solely those of the author and do not necessarily represent those of RT.
You can share this story on social media: