How Russophobia wrecked normalization between US & Russia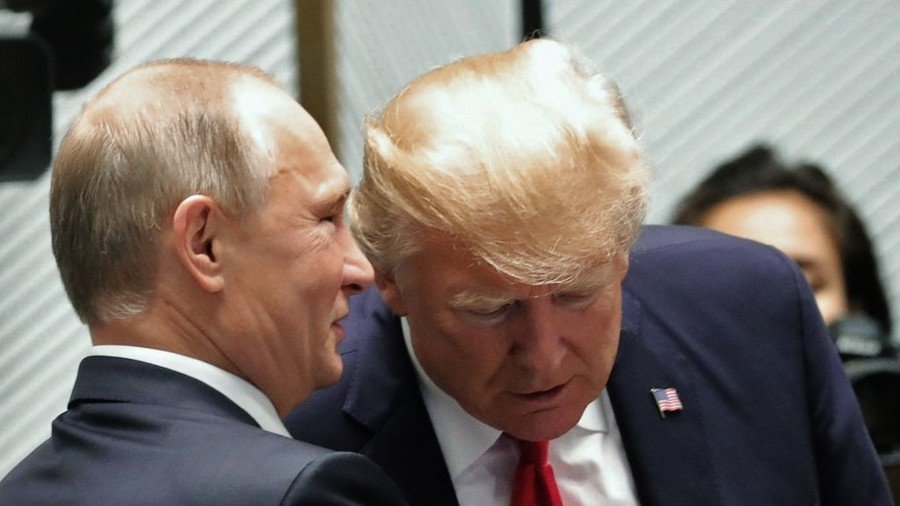 It's a glaring contradiction that while US President Donald Trump has repeatedly voiced a desire for restoring friendly relations with Russia, the two countries stand even more frigidly apart than ever.
One year after Trump's inauguration as the 45th US president, several metrics indicate bilateral ties have actually deteriorated, despite Trump's oft-stated approval for better relations between Washington and Moscow.
Trump has said US cooperation with Russia should be seen as "an asset, not a liability." Many people around the world, including within the US, would agree with Trump's view. So, why the inertia in translating this into practical policy?
Not merely inertia, but in fact the opposite direction. The seizure of Russian diplomatic properties in the US, restrictions on Russian news organizations, and expanding sanctions on Russian business leaders are just some of the issues indicating growing hostility from Washington. Naturally, Russia has responded with its own countermeasures, which in turn exacerbates the antagonism.
The Trump administration's green-lighting of lethal weapons supply to the Kiev regime in Ukraine regardless of Moscow's appeals, and the emerging policy of Balkanizing Syria under a continuing American military presence in that country – again in contradiction to Moscow's concerns – are more evidence of deteriorating relations.
While Trump was elected in November 2016 on a platform that included a reset from the antagonistic policy towards Russia under Democratic President Barack Obama – a policy Democratic candidate Hillary Clinton was also advocating – the upshot has been a continuation of hostility under Trump.
This raises troubling questions about the limits of presidential power to exert avowed policies.
One of the levers of control over the Trump White House has been the relentless "Russiagate scandal." Trump's domestic political enemies within the intelligence establishment, Democrat politicians and aligned news media outlets have drowned out public discourse with endless – and baseless – claims that Trump benefited from alleged Russian interference in the presidential election.
Trump has feistily brushed off these claims as "fake news." Nevertheless, the saturated media insinuations of Trump as a "Kremlin stooge" have inevitably hampered his options for bilateral relations with Russia.
When Trump first met Vladimir Putin at the G20 summit in Hamburg last July, both leaders greeted each other cordially. That caused cynical comments in US media of Trump being "played by Putin."
They agreed to bring the Syrian war to a rapid close and to work together to implement a negotiated resolution of the Ukraine conflict. But US policy has since become even more menacing in Syria, with the recent announcement that it is forming a 30,000-member Border Security Force (BSF). That development prompted Russian Foreign Minister Sergey Lavrov this week to say that he believes Washington is now intending to break up Syrian territorial integrity.
Then when Trump met Putin for a second time at the APEC summit hosted by the Philippines during November, the two presidents' encounter was strangely crimped from a bilateral meeting to a glancing conversation on the sidelines of the event. News images showed Trump and Putin still enjoyed a cordial relationship. Trump also said then he accepted Putin's assurances that Russia had not meddled in American domestic politics. Why the constraint then on having a bilateral meeting?
Moreover, a month later, Trump signed off on a new National Security Strategy document in December which explicitly accused Russia of using "subversive tactics" and "interfering in the domestic political affairs of countries around the world."
The document, which Trump endorsed with his signature, went on to state: "The United States and Europe will work together to counter Russian subversion and aggression."
Moscow has consistently responded with disdain to all such claims, pointing out the lack of evidence, and that the claims amount to a "frenzy of Russophobia." Russia has admonished that this is damaging the prospect of restoring relations.
What is lamentable is that even though the Russophobia is at the level of baseless hysteria and wantonly irrational, it has had the palpable effect of negating any attempt to restore US-Russia relations to a more sane footing.
The "Russiagate scandal" can be ridiculed as a contrived drama that keeps running and running. It may be dismissed with contempt as a load of hogwash whipped by Trump's political enemies within the US foreign policy establishment. But the disturbing thing is that the Russophobia has succeeded in controlling the White House.
Top Russian diplomat Lavrov this week reviewed priority foreign policy issues. They included establishing a peaceful end to the wars in Syria and Ukraine, as well as creating a peaceful settlement to the Korean nuclear crisis.
President Trump, from his brief personal meetings so far with Putin and Lavrov – the latter hosted in the White House – surely appears disposed to work with Moscow in addressing the foreign policy problems in a constructive bilateral manner. That is, in theory.
Regrettably, however, such cooperation between the American and Russian leaders will not be permitted to happen because of the Russiagate specter that has been conjured up over the Trump administration.
Hence, pressing global security concerns that would benefit from US-Russia cooperative dialogue are being jeopardized by the deepening, irrational chill in relations.
The baleful effect of this anti-Russian paranoia was illustrated in an article published last week by the Daily Beast. It was reported that a member of Trump's National Security Council proposed early in the new presidency last year that the US should scale back its military forces in the Baltic countries.
Russia has long complained that the buildup of US-led NATO forces on its European borders is a provocative threat to its national security.
The idea of repositioning US troops from the Baltic was pitched as a "gesture to the Kremlin that would enable the nascent Trump administration to see its desire for friendly relations with Russia would be reciprocated."
READ MORE: Senate probe expanded to anyone 'of Russian descent or nationality' – email
Apparently, the proposal was quickly rebuffed out of concern about how it would fuel US media claims of Trump being a Russian puppet.
Another idea that was similarly rejected was the lifting of US sanctions on Russia's economy.
The Daily Beast goes on to make the pejorative editorial comment that the floated proposals "fit a pattern within the Trump administration… of sidling up to Russia. Taken in sum, the pattern raises questions about whether Trump and his team are willing to pay Russia back for the Kremlin's role in the [presidential] election."
Note how the article asserts as fact the dubious speculation about Russia interfering in US politics.
Reportedly the proposals for trying to restore relations with Russia have since dried up within Trump's National Security Council.
Indeed, the NSC official named as the originator of the ideas – Kevin Harrington – is understood to have led the team that produced the hawkish National Security Strategy published at the end of last year.
Thus, from reasonable proposals to engage with Russia floated at the start of Trump's first year in office, within 12 months the administration has absorbed and adopted the Russophobia narrative.
Anti-Russian group think espoused by US elites has become institutionalized, against the stated views of the president and the American electorate. Where's the democracy in that?
The statements, views and opinions expressed in this column are solely those of the author and do not necessarily represent those of RT.
You can share this story on social media: