Arctic Summit: Putin-Trump meeting may be biggest box office draw of 2017
Published time: 31 Mar, 2017 16:42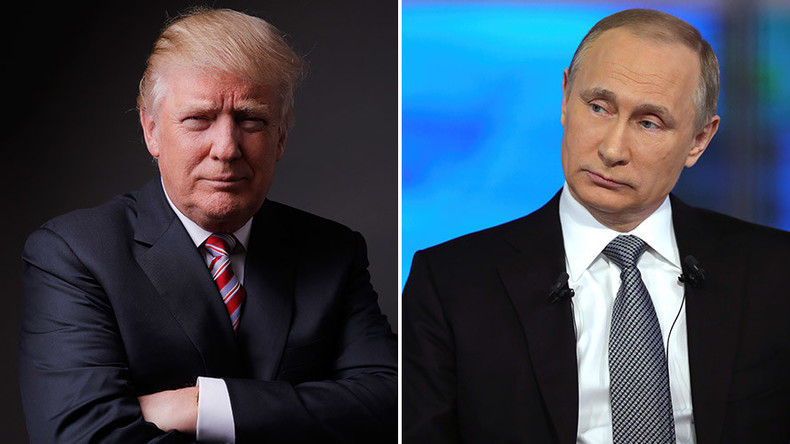 This week's Arctic forum in Russia's Arkhangelsk was a serious event. But, despite much worthy discussion of the region, the media's attention was on other matters.
Unless you've been trekking around Antartica for the past few months, you've undoubtedly encountered the endless babble about a proposed contest between UFC Champion Conor McGregor and the Boxing titan Floyd Mayweather. That said, the hype machine has been so intense even the penguins may have caught wind of it.
But there's another imminent transatlantic match-up with greater consequence. The match between the new US President Donald Trump and his Russian counterpart, Vladimir Putin. However, with Trump under a Russophobic barrage back home, it appears less set in stone than the inter-code sports encounter.
Thus, Putin turned up in Arkhangelsk on Thursday to talk about the Arctic, but the subsequent headlines focused on him and his supposed admirer in Washington. This is probably going to continue until the pair name a date. Something which is difficult to do in a climate of American hysteria about Russia last seen in the 1950s.
One Track Minds
During an interview with CNBC'S Geoff Cutmore, Putin was forced to address the subject a number of times, indicating how he is willing to meet Trump before July's G20 summit, in Germany. But he added the caveat that his counterpart must show an intent to cooperate. "We have a lot of things to discuss in the economy, security and regional conflicts. We're ready for discussions and talks, but the other side should demonstrate and manifest their goodwill and readiness for constructive cooperation and work."
Cutmore wasn't satisfied with the response, so he attempted to rope in Finland's President Sauli Niinistö as a matchmaker. The bemused Finn, who evidently thought he was there to talk about his country, played along. Saying he'd be "very pleased" to host the pair, provided there was something worth discussing.
This only seemed to encourage the CNBC anchor who pressed Putin for a reaction. "Helsinki would be an appropriate venue for organizing such events," was the response. "If it happens, we would be glad to participate, and I would be glad to attend." Right then, you wouldn't have blamed Vladimir Vladimirovich if he'd ripped off his microphone and said: "to hell with it." But he's made of cooler stuff.
Then Cutmore switched to Ukraine, a place hardly noted for polar bears. By now, the Russian President's frustration was becoming more obvious. "I knew that it would end this way. I really wouldn't like the problems of Russian-American relations to be transferred to this positive platform," he replied. Yet, he answered the poser "out of respect" to Cutmore and his network which gave him the "assignment."
Getting Warmer
Later, just as it appeared we might find out something about Russia's intentions for its vast northern hinterlands, we were back to America again. And the increasingly tiresome trope about Moscow's alleged interference in last year's election. A favorite obsession of both the unhinged and the leadership of the Democratic Party, which are frequently synonymous these days.
This time, Putin took off his translation earpiece and said (in Russian) "Once Reagan, discussing taxes, addressed Americans, saying 'Read my lips – (switching to English) No!'" And the 'No' could probably have been heard at Sarah Palin's house, where she famously observes Russia from her window.
Of course, Putin mixed up Reagan with his former Vice President George Bush, but most ordinary people would hardly regard that as a hanging offense. Then again most normal people don't work for American state broadcaster RFE/RL which celebrated the faux pax by making a video.
US media also jumped on Putin's insistence that climate change doubters "may not be at all silly." He was responding to yet more America-themed questions. This time about the rollback of Barack Obama's environmental regulations by Trump's team. However, he did reassert Russia's commitment to the Paris climate agreement, described as a "bad deal" last week by Scott Pruitt, the new head of the Environmental Protection Agency. Putin also admitted how global warming and ice melting in the Arctic are beneficial for the use of the region for economic purposes.
The Arctic's importance was probably best conveyed by Deputy Prime Minister Dmitry Rogozin, on the forum's fringes. Responding to a question on Western attitudes toward Russia, he revealed, "In fact, the sanctions have not affected two areas. The Arctic is one. We go ahead with our cooperation with the Arctic countries as usual, with the United States, Canada, and other NATO member-countries. We have no problems here, in contrast to other international fields of activity," he said.
"This means just one thing: everybody is well aware that risks may be taken everywhere but for the Arctic, because it is an equivalent of the world's lungs. There is water and resources for the whole of humanity. Taking liberties there is impermissible," he concluded. As a result, many observers may wish we could move the whole world there.
While that's impossible, what became very clear from this week's gathering is how, until they meet, the Putin-Trump courtship is going to overshadow both men's news conferences. If the suspense continues much longer, it's only a matter of time before the legendary promoter Bob Arum suggests hosting them in Las Vegas, with pay-per-view access available worldwide.
At this rate, it'd probably outsell Mayweather and McGregor to boot.
The statements, views and opinions expressed in this column are solely those of the author and do not necessarily represent those of RT.