Geert Wilders, 'quarantined' by Dutch establishment, still gains seats in election
Published time: 16 Mar, 2017 15:53
Edited time: 16 Mar, 2017 17:54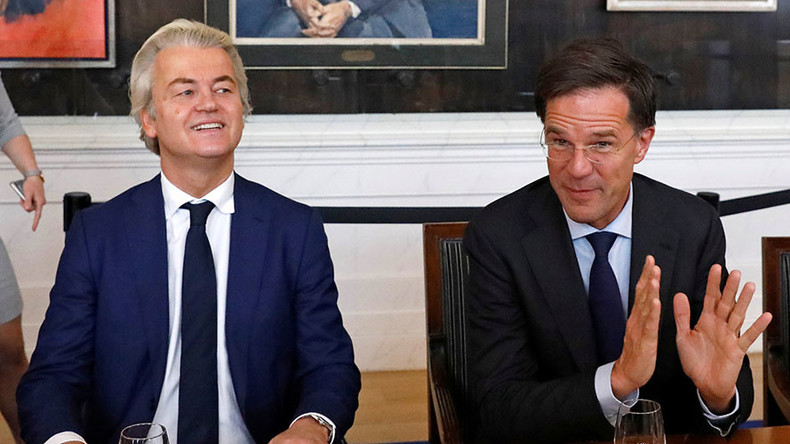 Is anti-establishment sentiment across Europe waning? Is second place for Geert Wilders' party in the Dutch general election really a 'no' to populism? RT spoke to politicians and analysts for an evaluation of the general election vote.
People's Party for Freedom and Democracy won the majority of seats in parliamentary elections in the Netherlands' held on Wednesday, according to exit polls and unofficial counts.
Geert Wilders' anti-establishment Party for Freedom came in second place, tied with two other parties. Prime Minister Mark Rutte's ruling party held on to the top spot, but lost many seats.
Beatrix von Storch, AfD MEP, commented on the results of the Dutch general election: "The Dutch have taken a very clear position. The governing coalition of Social Democrats and Rutte lost 50 percent of their seats. The Social Democrats themselves lost 75 percent of their seats, Rutte lost 25 percent of their seats. And Wilders gained something like 33 percent."
"I think it is a very strong message that the politician of the government has been voted out of office, that is very clear, and now it is going to be probably difficult to have a new government," she added.
Von Storch emphasized that what is presently dividing the Dutch people is what is already apparent across the rest of Europe: the migration issue.
"For the rest of Europe it is very clear that we have got one major issue and that is migration and that is Islam. We have to talk about it and we have to find a solution to it. And this is what splits the people," she stated.
The MEP also provided some insight into the results of the elections, which gave a boost to some minority parties, while actually giving seats to parties that before had none.
"They are voting either for the Islam party, which has now gained three seats in the last election in the Netherlands, they came from zero up to three. There is a left liberal party which gained lots of votes and seats with a strong position in favor of migration. And the other ones that is gaining strongly are those who are opposing it, that is Geert Wilders."
Von Storch then explained how Rutte may have emerged victorious due to some last-minute problems with Turkey, which showed him as willing to get tough on the migrant situation, which many Dutch fear is getting out of control.
"And there has been to some extent, Rutte who has only lost 25 percent and he would have lost much more if he would have not taken such a strong position on Turkey in the very last moment," she told RT.
Wilders too 'wild'?
Asked about Geert Wilders' failure to perform as well as some polls had predicted, Tony van der Togt, Senior Research Fellow, Clingendael Institute, told RT that "anti-establishment feelings of the Dutch public are still there."
However, he explained that the measures put forward by Geert Wilders, such as "closing mosques, closing the borders, destroying the Koran" were not viable solutions to problems the country faces.
"And therefore they have given their votes either to Mr. Rutte's conservative-liberal party or to other parties like the Christian Democrats or D66, the central left party. Quite a lot of votes have gone also to the central-left which are supposed to come up with better solutions, both on the European level and on the national level," Togt told RT.
However, Togt emphasized that although Rutte's party emerged victorious it was not the time to feel comfortable. Too many challenges remain, and the voters will expect some changes, especially given the huge shakeup in party seats.
"The [problems] have to do with the migration crisis in Europe, they have to do with integration issues and how to integrate migrants coming from Turkey, coming from Morocco who keep their own original nationalities and passports. How do you integrate them into Dutch society," Togt asked
"There are still a lot of challenges posed by populists and the challenges will have to be dealt with. They will not go away automatically."
Wilders was 'quarantined'
Laszlo Maracz, Assistant Professor European Studies, University of Amsterdam, told that he never thought it would be possible for Wilders' party to win these elections.
Maracz reasoned that "the mainstream political parties - the Prime-Minister Rutte's party, the left-wing parties, the middle parties, the Christian Democrats - all excluded him from forming a coalition government after the elections. So basically he was put in quarantine by the mainstream parties. And actually this was followed by the mainstream media."
"There was no chance for the party for Mr. Wilders to get into a government after the elections. So then voters started to reorganize their thoughts and might have changed their attitude about voting," he added.
"Then we have seen the conflict with Turkey in recent days. And I think Prime-Minister Rutte has profited from this conflict. It was quite clear that not only was it important for the Turkish referendum, but it played a significant role in the Dutch elections as well," Maracz said.
Meanwhile, the Labor Party lost its traditional votes, shedding 29 seats.
Maracz described the voting results as an "earthquake."
The statements, views and opinions expressed in this column are solely those of the author and do not necessarily represent those of RT.