'Not the victory we hoped for': Wilders concedes defeat to Dutch PM Rutte, but vows firm opposition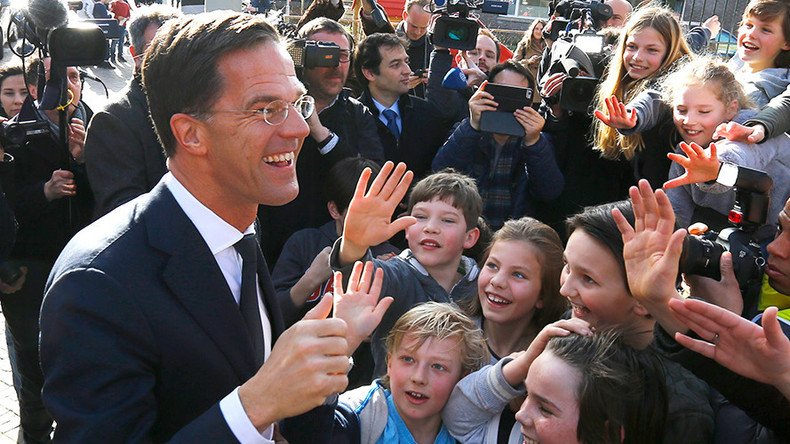 The Netherlands' ruling People's Party for Freedom and Democracy has won the majority of seats in parliamentary elections held on Wednesday, according to exit polls and unofficial counts. Geert Wilders' Party for Freedom is tied second with two other parties.
The People Party for Freedom and Democracy (VVD) has secured 31 out of 150 seats in the Dutch parliamentary elections, according to the first exit polls released by national broadcaster NOS. According to the unofficial partial vote count conducted by the national ANP news agency, VVD is poised to win 32 seats.
"This poll shows that people trust us," Tamara van Ark, VVD campaign manager said, according to NOS.
The VVD's main rival, the right-wing PVV movement led by Wilders secured 19 seats in the house of representatives.
Wilders conceded defeat to Rutte on Wednesday night and said he would like to be invited to coalition negotiations, Reuters reports. He also promised to "offer firm parliamentary opposition to government."
"We have had a huge influence on politics," Wilders said, calling Wednesday's preliminary results "a victory but not the victory we hoped for."
"We are also winners in this election with extra seats," the 53-year-old added.
Wilders, standing against the "islamization" of Europe, suffered losses in support days before the election, polls showed. The Ipsos exit poll was based on interviews of voters at 40 polling stations, and released by the NOS and RTL broadcasters at 21 pm local time.
The final results will be formally announced by the Dutch Electoral Council on Tuesday March 21, almost a week after election day.
Informal talks are expected to begin on Thursday, but the formal process will be announced only after the new Parliament convenes on March 23.
Right-wing parties have been recently on the rise in countries such as France, Germany, Austria, Denmark, Italy, and others.
The Dutch elections also took place against the backdrop of an escalating spat with Turkey which gave Rutte a chance to apply his diplomatic skills. Turkish officials, including President Recep Tayyip Erdogan, compared the Dutch to Nazis after Turkish politicians were banned from holding political rallies in the Netherlands.
READ MORE:Dutch PM to Turkey: Sanctions talk 'bizarre,' Netherlands has more reasons to be 'very angry'
Rutte, however, remained adamant, stressing that his country had the right to deny Turkish politicians opportunities to carry out mass rallies on Dutch soil.
You can share this story on social media: