'World Cup 2018 will showcase Russia - exactly what anti-Russia hawks don't want'
Published time: 17 Feb, 2017 16:22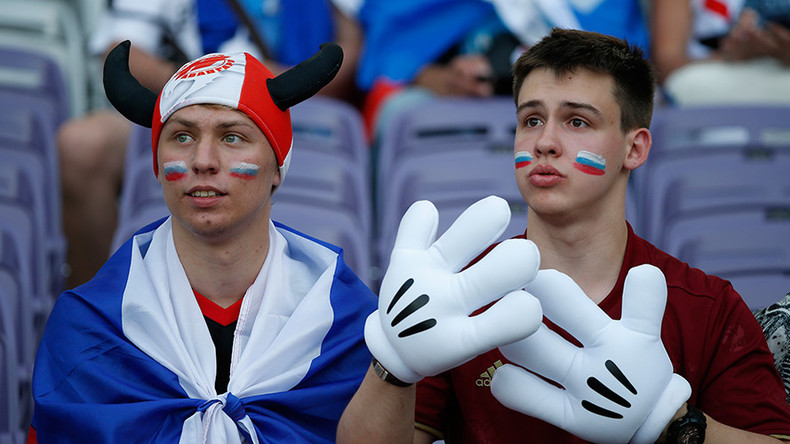 They will try to use any excuse, any pretext to get the World Cup taken away from Russia, hyping up Russian hooliganism, saying that it would be unsafe to hold the tournament in Russia, Neil Clark, journalist & broadcaster, told RT.
The BBC recently aired a film about Russian football hooligans. Russia's Embassy in the UK says the program was designed to create panic for traveling fans, as next year the country is holding the 2018 football World Cup.
RT: What do you make of the timing of this documentary?
Neil Clark: I think the timing of this documentary is very significant. We've seen this escalation of this very relentless anti-Russian media campaign going on at the moment in Britain and America. The establishment media is playing its full part in that. We obviously see what is happening in America with the sort of campaign to sort of portray Donald Trump as some kind of Russian agent. And now in Britain, we see this documentary coming out on Russian football hooligans. Well, are there football hooligans in Russia? Of course, there are. But there are football hooligans in many other countries around the world.
Why pick on Russia at this moment? I think it is clearly part of the start of a campaign I believe in trying to strip Russia of the football World Cup in 2018 because the anti-Russian factions in the West, the anti-Russian establishments in the West, don't really want the World Cup to be held in Russia because it would showcase Russia. It would be obviously massive television coverage; people will be able to see; people will travel to Russia to watch the matches. And this would give the Russian government the opportunity to showcase the nation. This is of course what the anti-Russian hawks in the West don't want. They will try to use any excuse, any pretext to get the World Cup taken away from Russia, hyping up Russian hooliganism, saying that it would be unsafe to hold the tournament in Russia because there are so many hooligans. This is clearly part of the strategy. I expect to see even more programs like this one on the Russian football hooligans…
RT: Russian authorities say they are taking measures to solve the problem of hooliganism during the football matches in general, and especially during such an important event as the World Cup. Has it been mentioned in the Western media?
NC: No, it hasn't. The very positive steps that the Russian government and the Russian football authorities are taking to tackle the problem of hooliganism in Russia has not been reported. The dominant narrative on this issue is that the whole of Russian football is just hooliganized…
I was at Zenit Saint Petersburg match outside the stadium in early December, and I saw the fans going in and out – I didn't see any hooligans there. I saw a police presence; I saw good stewarding, etc. So I saw it from myself. I am not saying that that might necessarily be the case in every Russian football ground, but it seems to me without a doubt that the problem has been massively over hyped. The positive steps that the Russian authorities are taking to deal with the problem are not being reported, because it doesn't fit that narrative, I am afraid – the dominant narrative, which is 'Russia is a country which should not hold the World Cup, because of hooligan problems.'
Unfortunately, [World Cup] is being used as a political football... The anti-Russian hawks in the West are trying to damage, are trying all they can to sabotage what should be a wonderful feast of football, using any means necessary to, first of all, to try to get the World Cup taken away from Russia. If they can't do that, then they will try scare tactics to try to say: 'You'll be unsafe, if you go to Russia. You'll be attacked.' The Russian authorities need to be aware of what is going on, and they need to be putting out programs to show the other side and to assure people that football fans will be very welcoming in Russia next year. - Neil Clark to RT

'Russia has got a security plan'
Paul Nicholson, Editor-in-chief, and CEO, Inside World Football
RT: Why do you think the BBC picked Russian fans as the worst football fans, describing them as hooligans. Is it a fair statement?
Paul Nicholson: I don't know if Russia was necessarily the worst in the world, but there has been a lot of media coverage of the violence around Russian football. I think the real focus around Russia obviously there is a world situation anyway, and there is a political change in the world at the moment. But the real focus is really with [The FIFA] Confederations Cup this year, but more importantly the World Cup next year. The security issues around major events are very important – not just terrorism issues, but general fan security. So when you have a major event like that, you will have a lot of traveling supporters, for example, from England – from the big European nations – a lot of Germans, vast numbers of Dutch and Spanish. So you can expect a lot of visitors to Russia.
There have quite often been problems, as it were at the Euro Championships last year, around big events regarding security. I think the focus is on that, and it becomes quite easy then to look at Russia and say: "Well, there has been a problem in the past with Russia. How are they dealing with that problem up to this point."
RT: The documentary is called 'Russia's Hooligan Army.' Sounds like Russian football fans are the most violent in the world. Is it really the case?
PN: No, far from it! Absolutely not. There are issues with every country, and always around football. Quite often the issues are more social, rather than related to football, where people and groups are attaching themselves to football clubs. Although, it is far from Russian problem. It's a global issue, particularly in Europe in terms of violence and generally more associated to clubs. You've got groups of fans, who would look to fight other groups of fans.
There seems to be a resurgence in that at the moment, particularly in England, but in Italy as well. Italy has a whole set of other issues around racial issues that are struggling to contend with. It is absolutely not a Russia only problem. The issue for Russia is with the World Cup, and so many nations come into the World Cup. It automatically puts it into that focus. Now, Russia has got a security plan. The organizers have got a security plan. That security plan was today. In fact, the President of FIFA, Gianni Infantino, said [yesterday] he had no issues with that security plan…
It is a concern for everybody who goes to a major event. I'll give you an example. If you looked at the German World Cup in 2006, 600,000 English football fans traveled to Germany... There were only about 100,000 tickets available for English fans across all of the games that England played. So that meant that there were a half a million English football fans in Germany drinking, traveling the country, going to watch football. You have a security issue with all of those people; all of them drinking, all of them looking to have a bit of fun. It can be a fairly explosive mixture of people, but it is not just Russia.
The statements, views and opinions expressed in this column are solely those of the author and do not necessarily represent those of RT.