'Russian ambassador assassination is quantum jump in terrorism'
The assassination of the Russian ambassador targeted not only Moscow-Ankara relations, but envisaged the resolution of the Syrian conflict coming undone, namely the cooperation between Turkey, Russia and Iran, former Turkish ambassador to the US, Osman Faruk Logoglu told RT.
LIVE UPDATES: Russian ambassador shot dead in Ankara
Russia's ambassador, Andrey Karlov, 62, was shot and killed in the Turkish capital while delivering a speech at an exhibition hall on Monday. The man who assassinated the Russian diplomat was identified as a 22-year-old Turkish riot police officer.
Faruk Logoglu: We condemn the attack on the Russian ambassador, we extend our condolences to his family and to the people of Russia. But I think we have to emphasize the fact that this is a new kind of terrorism, it's a quantum jump in terrorism, targeting now ambassadors, and not just an ordinary ambassador, but the ambassador of a great global power like Russia in a critical capital like Ankara. This is a huge event with many implications and probably many unforeseen consequences.
Read more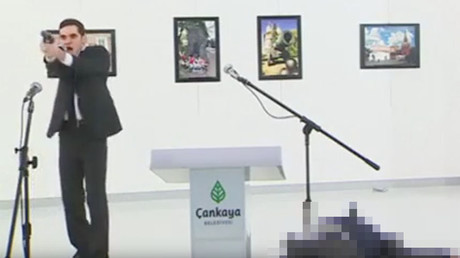 RT: Have you ever seen anything like this happen before, in your time?
FL: No, I haven't. And I'm very sorry that it happened in my time, especially to the Russian ambassador. I understand he was a very distinguished diplomat. But I do sense a degree of insufficient attention to his protection. Yes, this was an exhibition in a central location of Ankara, and only a few days back – I usually pass by the Russian embassy in Ankara on my way to some other destinations – for the first time in a long long time, the road before the Russian embassy was blocked. So apparently, there were certain warnings ... [received by] Turkish authorities and to the Russian embassy. But of course [on the matter of] how this particular assassination took place – we have to wait for the Turkish security forces to find who's responsible, how and whether he acted alone.

It's clear, however, that there are several reasons, objectives, perhaps speculative, but clearly a case can be made for the fact that this assassination aimed first [for] the rapprochement between Turkey and Russia at the bilateral level. It also targeted the ongoing efforts, including the meeting tomorrow, the trilateral meeting tomorrow between Russia, Turkey and Iran. I think it targeted that meeting as well.
Another factor to keep in mind is that the evacuation of eastern Aleppo left many radical elements of the Syrian opposition extremely upset. I think they are also upset with the policy of Turkey cooperating in this respect.
It's a very complex situation. But the end result is that we really have to keep our cool. And I'm very happy to hear on Turkish television that the meeting in Moscow tomorrow is going to take place. I think the only way to really put an end to this terror-producing Syrian conflict will be cooperation between Turkey, Russia and Iran. This is the prescription for the resolution not just to the Aleppo crisis but to the Syrian conflict.
RT: What is the reaction in Turkey to this deadly situation?
Read more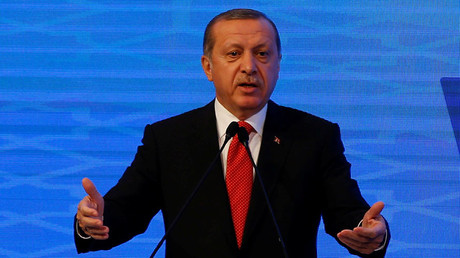 FL: I'm sure most people in Turkey condemn this attack, because most people in Turkey were happy to see Turkish-Russian relations getting back on course. And I think the Turkish authorities will spare no effort to pinpoint those responsible for this assassination. Not just the assassinator, who was terminated by Turkish security, but to find out who is behind this. Apparently it was a well-planned action, not just accidental, but a well-planned action [that] aimed to, first, eliminate the Russian ambassador and then to achieve whatever their purposes are presumably are.
RT: What can you say about the situation, considering the gunman was able to get through security and to the Russian ambassador. Does it surprise you the man was able to get so close to Russian ambassador to kill him?
FL: We have to be fair, we have to be objective. When an ambassador, depending upon the information and intelligence the embassy receives, contacts the local authorities and asks for additional protection, perhaps specifying what kind of additional protection the embassy and ambassador needs … I certainly don't know at this stage whether this sort of conversation took place between Russian embassy and Turkish security forces. But I can assure you, that had the Russian embassy asked for extra protection, or special protection on that occasion or permanently, 24 hours a day, the Turkish authorities would have supplied that protection. I'm not particularly aware of the kind of the circumstances at the exhibition hall, I think one of the questions being asked is whether the Russian ambassador was accompanied by Russian security guards…
READ MORE: 'It's astounding how close Turkish assassin got to Russian ambassador'

But in any case, easy access of the assassin to the hall should also serve as a lesson to the Turkish authorities, that on such occasions, even if they have not been requested by the embassy in question, that the Turkish authorities should nevertheless have added security measures to protect not just the ambassador, but all the people at the scene.
The statements, views and opinions expressed in this column are solely those of the author and do not necessarily represent those of RT.