Assassination of Russian ambassador to Turkey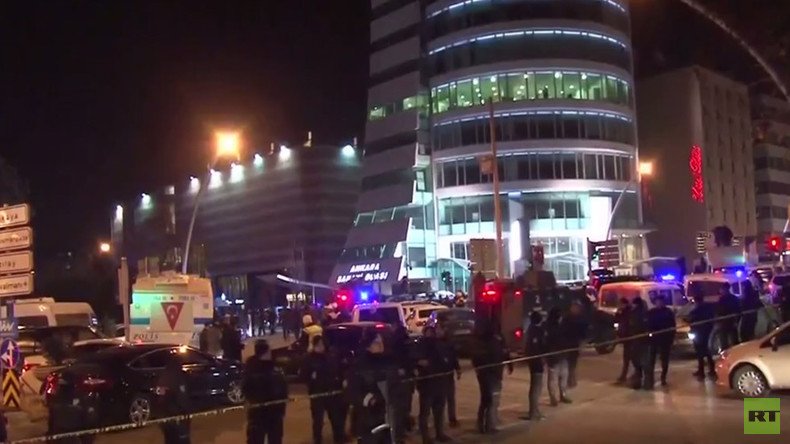 The Russian ambassador to Turkey, Andrey Karlov, has been shot dead by a gunman who opened fire at the opening ceremony of a photo exhibition in Ankara.
21 December 2016

04:04 GMT

Turkish Deputy Prime Minister Numan Kurtulmus said that Karlov's murder is being "examined meticulously."

Calling the assassination of the Russian ambassador to Turkey an "open provocation," Kurtulmus noted that the investigation is now focusing on the 22-year-old gunman and his "connections".

"It's obvious that it's a loud and clear provocation," Kurtulmus said, according to Hurriyet daily news. "We will never back down from our determination to take new peaceful steps in Turkey's foreign policy, especially in the context of developing Turkey-Russia relations. We hope that these attacks will not negatively affect mutual relations."

01:11 GMT

The US State Department has dismissed claims of having had any involvement in the murder of Andrey Karlov. Earlier on Tuesday, Turkish Foreign Minister Mevlut Cavusoglu told the US Secretary of State John Kerry that Fetullah Organization (FETO) was behind Karlov's assassination.

"It's a ludicrous claim, absolutely false, there's no basis of truth in it whatsoever," State Department spokesman John Kirby told reporters.

American based cleric Fetullah Gulen and his FETO group are accused by Ankara of staging the failed July 15 coup. The Turkish government claims it continues to infiltrate Turkish institutions, namely the military, police and judiciary, to form what Ankara calls a "parallel state".

"The secretary in his conversation with the foreign minister did raise his concerns about some of the rhetoric coming out of Turkey with respect to American involvement/support, tacit or otherwise, for this unspeakable assassination yesterday because of the presence of Mr. Gulen here in the United States," Kirby said.

20 December 2016

20:44 GMT

19:27 GMT

US Secretary of State John Kerry expressed his "deep condolences on the assassination of Russian Ambassador Andrey Karlov" to the Russian Foreign Minister Sergey Lavrov and offered the US assistance with the investigation, US Department of State spokesperson John Kirby, said in a statement.

18:50 GMT

Turkish foreign minister Mevlut Cavusoglu told US State Secretary John Kerry that Ankara believes followers of the exiled US-based Turkish cleric, Fethullah Gulen, whom Turkey accuses of orchestrating the failed July 15 coup, were behind the assassination of the Russian ambassador, as reported by Reuters.

18:13 GMT

US-based Turkish cleric Fethullah Gulen, whom Ankara accuses of orchestrating the failed July 15 coup, has condemned the assassination of the Russian ambassador to Turkey, Andrey Karlov. "I am shocked and deeply saddened to learn of the tragic assassination of Russia's ambassador to Turkey," the exiled cleric said in a statement, adding that he condemns "in the strongest terms this heinous act of terror."

18:10 GMT

An plane carrying the ambassador's body has landed at Moscow's Vnukovo airport. Previously, the Russian Foreign Minister said that he would personally meet the aircraft, which also has the ambassdor's wife accompanied by a medic and a psychologist on board.

16:29 GMT

The 22-year-old Turkish policeman, who gunned down the Russian ambassador in Ankara, called in sick on the day of the attack and promised to bring a doctor's note for his supervisors, a senior security official told Reuters.