Assassination of ambassador an attack on relations with Russia – Erdogan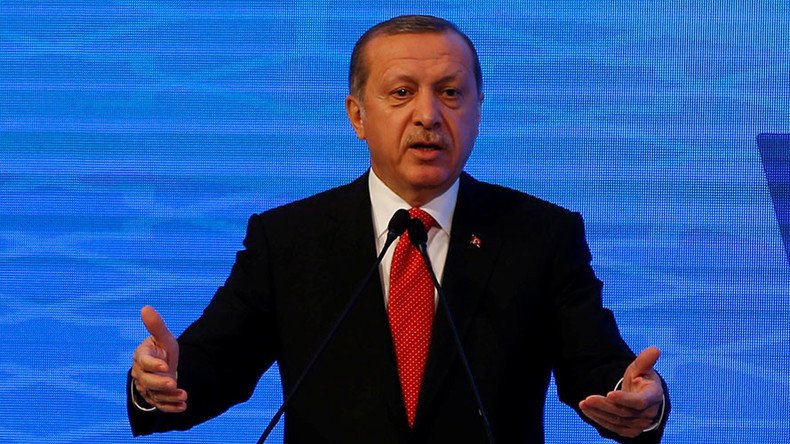 Senior Turkish officials have condemned the assassination of the Russian ambassador in Ankara, saying that those behind the attack were trying to drive a wedge between the two countries.
LIVE UPDATES: Russian ambassador shot dead in Ankara
"I believe this is an attack on Turkey, the Turkish state and the Turkish people, and also a clear provocation to Turkish-Russian relations. I am sure our Russian friends also see this fact," Anadolu news agency cited President Recep Tayyip Erdogan as saying in the aftermath of the killing of the top Russian envoy in Turkey.
Erdogan's Russian counterpart Vladimir Putin agreed with his assessment, saying the killing was a provocation.
"This murder is clearly a provocation aimed at undermining the improvement and normalization of Russian-Turkish relations, as well as undermining the peace process in Syria promoted by Russia, Turkey, Iran and other countries interested in settling the conflict in Syria," Russia's president said in a statement.
Andrey Karlov was gunned down on Monday by a 22-year-old Turkish police officer while delivering a speech at a cultural event sponsored by the Russian embassy in Ankara. The assassin was killed by Turkish security forces shortly afterwards.
The exhibition that Karlov had been attending was part of an effort to rebuild relations between Moscow and Ankara after a diplomatic crisis, which followed Turkey's shooting down of a Russian bomber near the Syrian border in November 2015. Karlov's efforts were reportedly crucial in mending the rift in relations and allowed the two countries to again negotiate any remaining differences on various issues such as the situation in Syria.
Turkey's Prime Minister said the attack on the Russian envoy at this time was "not a coincidence" and said that the two governments were determined not to allow the incident to derail the recovery process. Binali Yildirim said he and his Russian counterpart Dmitry Medvedev agreed on that in a phone conversation shortly after the assassination.
"We reached consensus that this incident would not destroy our relations," the Turkish official said.
Turkish Parliament Speaker Ismail Kahraman expressed a similar position in a statement.
"I wish that relations between the two countries will not be harmed after the attack which, I think, has been conducted by dark forces," he said Kahraman, extending his condolences to Russia and Karlov's family.
A number of Turkish officials and politicians have condemned the killing of the Russian envoy. Similar statements came from governments and politicians from other nations, while the UN Security Council called the killing an act of terrorism.
You can share this story on social media: