'It's astounding how close Turkish assassin got to Russian ambassador'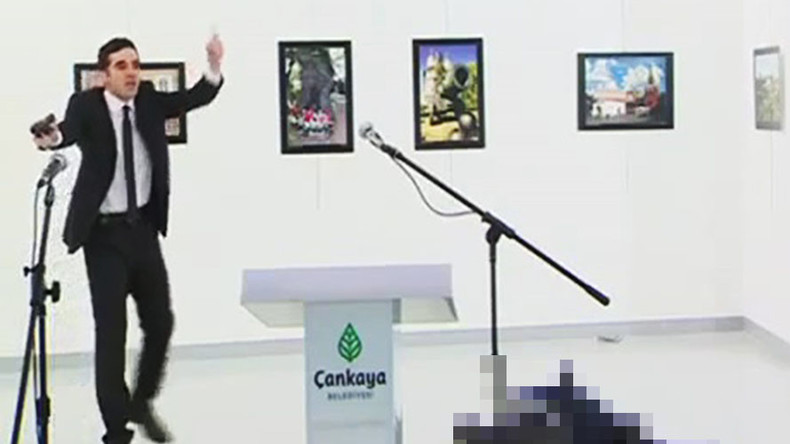 The assassination of the Russian ambassador in Turkey looks like a jihadist retribution for losses in Syria, but it might have a deeper motivation, such as damaging Russia-Turkey relations or taking terrorism to a whole new level, political analysts and experts told RT.
LIVE UPDATES: Russian ambassador shot dead in Ankara
Russian ambassador Andrey Karlov, 62, was fatally shot in the Turkish capital of Ankara while delivering a speech at an art gallery on Monday. The man who assassinated the Russian diplomat was identified as a 22-year-old officer with the Turkish riot police.
READ MORE: Assassin shouts 'Allahu Akbar, don't forget Syria' after shooting Russian ambassador (GRAPHIC VIDEO)
The assassination raises a range of questions about Turkey's actions and its ability to provide protection to foreign officials, former US diplomat Jim Jatras told RT.
"Let's remember that the security of diplomatic personnel – [the] responsibility for that – belongs to the house government – in this case Turkey. And think the real question right now ... [is] did Turkey do everything they could have and should have done in order to protect ambassador Karlov? Did they slip up in some way?" Jatras said.
"And we also have to worry about the prospect that there may have been some inside collusion, inside the Turkish establishment. We had the purge of personnel by Erdogan after the failed coup," he added.
While Turkey has allegedly supported various terrorists across the region, and there are lot terrorism supporters in the country, the attack took place just before "the meeting that is due to take place tomorrow among the foreign ministers of Turkey, Russia and Iran," and might have been aimed at undermining recently-mended Russia-Turkey relations, Jatras said.
"Let's also remember that for a long time Turkey ... supported terrorist forces from the Northern Caucasus, working against Russia. There are a lot of those people inside Turkey. Whether anybody had any kind of relationship with any of these kind of jihad terrorist groups, whether connected to the Caucasus, whether connected to Syria or not," Jatras told RT. "From the gunman's words we have an indication it was a part of his motivation in any case. So there are a lot of unanswered questions here, and I hope Turkey can reassure Moscow, truthfully, that they did everything possible and this is somebody who somehow slipped through despite their best efforts."
The Russian ambassador's assassination was a deliberate act of terrorism, probably connected to terrorist groups such as Islamic State (IS, formerly ISIS/ISIL), former Pentagon official Michael Maloof told RT. The gunman "was definitely very well trained" beyond "just police training, he had received some specialized training," Maloof added.
"He clearly was a jihadi of some kind, associated with some group, clearly Muslim, a Muslim radical," Maloof said. "You also keep in mind that ISIS, even if though ISIS is not in Aleppo, ISIS on August 1 put out a 'bulletin', if you will, calling for the assassination of Russians. This means that all embassies will have to be absolutely certain on who is guarding their ambassadors."
It might not be the only attack of its kind, as "every diplomat, particularly associated with Russia, is going to be a potential target," Maloof said.
Apart from seemingly obvious jihadist involvement in the attack, US-based cleric Fethullah Gulen might be linked to the assassination. Ankara blames Gulen for several actions aimed at undermining the Turkish government, including a failed summer military coup. President Erdogan has been purging alleged Gulen supporters after the coup, and the assassination of ambassador Karlov might lead to a new wave of the witch-hunt, Maloof told RT.
"Turkish national police were infiltrated tremendously with the Gulenists. And they were heavily purged when Mr. Erdogan, the President of Turkey, was almost overthrown. He probably is going to do it again, even more so now if this man indeed was linked to the Turkish national police," Maloof said. "And of course the Turkish national police guard the diplomatic corps in Turkey … there's going to have to be further vetting and closer attention to who's guarding who. For this man to have gotten in and get right to the ambassador is astounding."
The suspect's death will make the investigation more complex, but the best specialists, both Russian and Turkish, will be involved, according to former CIA officer and international lawyer Jack Rice.
"The problem right now is that the Turkish government is trying to ... see just how far this is. If I look at an operation like this the first question is 'was this a lone wolf?' Was this person working by themselves or were they working as part of a cell?" Rice told RT.
"The problem is when somebody dies in the process, you can't do any interrogation, you can't ... follow up. They're going to be looking at every computer, every communication system he has, and they're moving as fast as they possibly can. And as I understand, the Russians are going to be involved as well, so there're going to be a lot of people [working] as fast as they possibly can."
The assassination of Ambassador Karlov will unlikely undermine recent efforts to mend Russian-Turkish relations, and in fact might even strengthen them, Rice believes.
"A lot of people are wondering if this is going to cause a schism between the Turks and the Russians and frankly I think it's going to be just the opposite," Rice said.
"Erdogan seems to be looking to the Russians, seems to be looking to the Iranians and that connection between the all three. And I'm sure the West is unhappy about that."
It's always dangerous to be a diplomat of a great power which finds itself in the middle of a "foreign war," former US diplomat John Graham told RT.
"If I'm a diplomat for, say Brazil or Ghana, I think it's a fairly safe occupation. But whenever you have the great powers and they can't resist the inevitable temptation to move into foreign wars and foreign situations that are dangerous, then this path is fraught with danger," Graham said.
"The ambassadors, diplomats are all soft targets, they can't really be protected. As you well know, in Benghazi, America lost three of its diplomats, including our ambassador to Libya. And now you've lost apparently a very fine man – Andrey Karlov – in Turkey. And it's going to keep happening."
The assassination of Russia's ambassador is a deliberate attempt to harm relations between Russia and Turkey, who, in fact, have been on opposite sides of the Syrian conflict from its very beginning, Graham believes.
"Russia and Turkey, despite their protestation they're working together, are really on opposite sides in what at least began as a civil war in Syria. So it's inevitable that some people, some Turks would be angry, upset, and oppose what Russia is doing, and especially Russia's role, and Russia's aircraft contributing to the fall of Aleppo," Graham told RT.
"This was a deliberate attempt to inflame the situation, to push Turkey and Russia further apart, to diminish or destroy the beginning of some kind rapprochement between Turkey and Russia... The act by this murderous policeman definitely sets things back," he added.
The statements, views and opinions expressed in this column are solely those of the author and do not necessarily represent those of RT.