Turkish riot police officer who killed Russian ambassador identified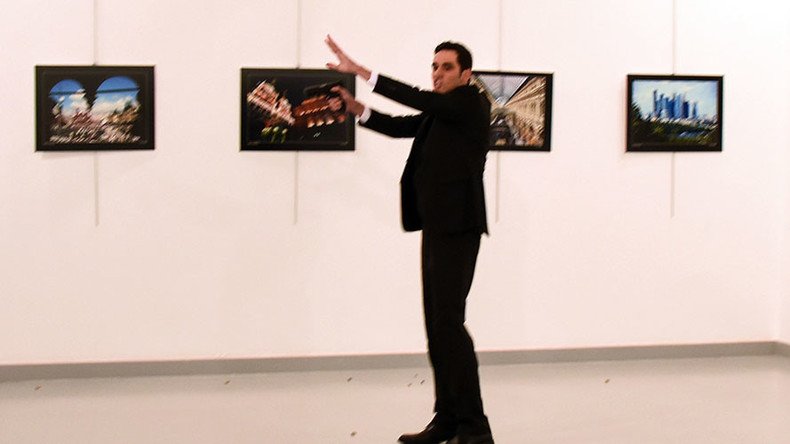 The man who assassinated the Russian ambassador in Turkey was identified as a 22-year-old officer with the Turkish riot police, who had 2.5 years of service under his belt.
LIVE UPDATES: Russian ambassador shot dead in Ankara

Ambassador Andrey Karlov was gunned down on Monday evening as he was delivering a speech at an Ankara art gallery. The assassin was killed in a shoot-out with security forces.
The attacker was identified as Mevlut Mert Altintas, a 22-year-old officer with the Turkish riot police, said Turkish Interior Minister Suleyman Soylu. The minister added that an investigation into the motives behind the killing was underway.
Altintas was born on June 24, 1994 in Turkey's western coastal province of Aydin. He attended the Soke Cumhuriyet Anadolu High School and is a graduate of Izmir Rustu Unsal Police Vocational School, the minister said, as cited by state news agency Anadolu.
The gunman used his police ID to gain access to the event. As the Russian ambassador was delivering his speech, Altintas shot him several times. He shouted that the attack was retaliation for Russian involvement in the Syrian government's operation in Aleppo.
A Turkish official told Reuters that Altintas may have links to the network of US-based cleric Fethullah Gulen. The unnamed official claimed there were "very strong signs" of such a connection.
A similar allegation was voiced by Ankara Mayor Melih Gokcek, who tweeted: "Assailant is a policeman. According to what I have heard, he is a FETO member. The slogans of the assailant are just perception management."
FETO is an acronym used in Turkey to describe the network of Gulen supporters in the country.
Ankara blames Gulen for being behind several actions against the Turkish government, including a failed military coup earlier this year. The self-exiled cleric routinely denies allegations.
Alp Aslandogan, Gulen's adviser, told Reuters that his boss had no connection to the assassination of the Russian ambassador and said Ankara had compromised the security situation in Turkey by launching a crackdown on suspected supporters of Gulen.
The assassination of the Russian ambassador in Ankara was condemned by several foreign governments and international organizations. Turkey offered its condolences to Russia and pledged to conduct a thorough investigation into the attack. Russia has sent a group of forensics experts and investigators to assist with the Turkish probe.
You can share this story on social media: