Russia-Azerbaijan-Iran: New format for long-term partnership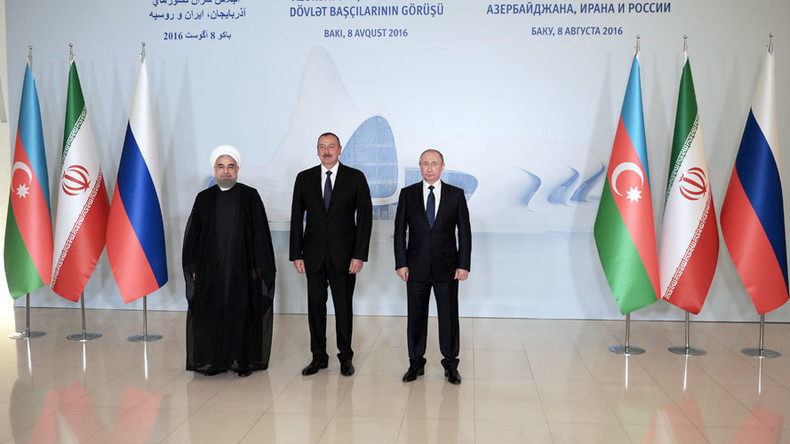 On August 8, 2016 a trilateral meeting between the presidents of Russia, Azerbaijan and Iran took place in Baku.
A joint declaration was adopted to underline and affirm intent to develop deep and comprehensive cooperation in various areas, such as fighting against terrorism and conflict resolution, along with strengthening ties in energy, trade, infrastructure, transport and other fields.
One of the important outcomes of this summit was an agreement to continue working together on Caspian Sea-related issues.
The creation of a trilateral format opened up a new chapter in the history of our relationships.
The need for this new format is clear: we have a shared interest in coordinating approaches on a broad range of regional and global issues and in promoting multifaceted practical cooperation.
Not only common interests unite us, but also the huge challenges we face define our cooperation. This includes the outcomes of global economic crisis as well as instability in Afghanistan and the Middle East spilling over our borders. Amid an unprecedented surge of international terrorism, including in the Middle East, we are convinced that the international community must remain steadfast in the fight against this threat.
The leaders agreed to establish a tripartite mechanism, which would include varied interaction formats (summits, foreign ministers' meetings and consultations between the heads of relevant agencies) to fight those challenges and threats, including to effectively curbing the transit of militants, weapons and drugs via our territories.
A trilateral dialogue on the Caspian Sea issues is very important in terms of the completion of the work on a draft Convention on the legal status of the Caspian Sea. The signing and implementation of this convention is in the interests of all five Caspian states. Among other things, the following issues are on the agenda: the development of the North-South transport corridor on the western coast of the Caspian Sea and joint projects on the development of oil and gas deposits. It was also decided to step up preparations for the Fifth Caspian Summit, which will take place in Kazakhstan.
The launch of a promising new format is an important contribution to the strengthening of ties between our three countries on an equal and mutually-beneficial basis. We believe it will certainly have a positive impact on many regional processes as we are interested in strengthening stability and creating conditions for the mutually beneficial cooperation in the region.
The statements, views and opinions expressed in this column are solely those of the author and do not necessarily represent those of RT.
You can share this story on social media: