'West's silence on Bahrain rights abuses breeds culture of impunity, leads to more repression'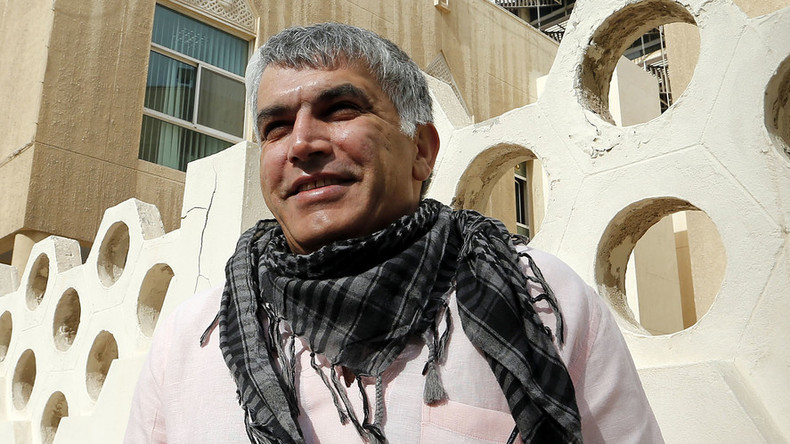 Arrested Bahrain rights activist Nabeel Rajab could be released if the international community condemns Bahrain's government and holds it accountable for its actions, while silence will breed a sense of impunity resulting in more repression, experts say.
Nabeel Rajab, a prominent Bahraini human rights activist, was arrested during a raid on his home, members of his family said on social media. Rajab led numerous protests in Bahrain during the Arab Spring and has openly opposed the Bahraini government.
Rajab, the president of the Bahrain Center for Human Rights (BCHR), was arrested just ahead of the 32rd session of the Human Rights Council, which kicked off in Geneva on Monday.
"To arrest one of the leading human rights defenders of Bahrain on the first day of the Human Rights Council session – this we haven't seen before," said Maryam al-Khawaja, the Gulf Center for Human Rights' co-director.
"We've seen an unprecedented type of crackdown in which an entire delegation of people going to Geneva to participate at Human Rights Council has been prevented from travelling to Geneva just last night," she told RT. "We had reprisals within the Council; we've had reprisals after people had come back from the Council."
Al-Khawaja believes that these actions have been made possible, in large part, because the international community has remained silent, which has only allowed the human rights situation to grow worse.
"Whenever we look at the Gulf state, at Bahrain, we need to ask the question: why is this government, this regime allowed to go unaccounted for, regardless of what human rights violations they commit… This is what increases the repression on the ground and increases the culture of impunity," she said.
Bahrain has close ties with many Western countries, which may explain why the international community has turned a blind eye to human rights violations in the Middle Eastern country.
"It is the situation of the relationship between the different allies that Bahrain has, or the GCC [Gulf Cooperation Council] generally has, especially in the West," said Al-Khawaja.
According to the human rights activist, Britain is among those countries.
"The Foreign Minister [Philip Hammond] alleges that the Bahraini government is on a path of reform, at a time when people are having their citizenship revoked and getting sentenced to life imprisonment and death sentences," Al-Khawaja told RT.
She argues that this is "very worrying," because not only have Western countries stopped criticizing the human rights situation in the Gulf state, but they are also "covering up for the government of Bahrain" by saying that it is improving.
International organizations have long seen rights abuses in Bahrain as a reason for concern. Switzerland initiated a joint declaration condemning the ongoing violations that was read during a UN Human Rights Council debate in 2012. The document was signed by 28 countries, but the US, the UK, and seven EU member states refused to do so.
"Switzerland was at the forefront of picking up the human rights issue of Bahrain for the past several years at the Human Rights Council," said Al-Khawaja. However, recently there were some agreements signed between the Swiss and Bahraini governments.
"Currently as far as we understood, there will no longer be any more joint statements that have been led by Swiss at the Human Rights Council," she continued.
Al-Khawaja said that Nabeel's future very much depends on the international reaction to the situation.
"If we see an international condemnation, international outcry, and threats of accountability for the Bahraini government, Nabeel Rajab will most likely be released. If not – then he would probably be sentenced for up to 10 years, if not more," Al-Khawaja told RT.
The activist added that that the Bahraini judiciary is a tool of the government.
"It is not something where there are laws, legalities, and due process. The government can bring any charges against anyone at any time; they can sentence them at any time – it doesn't matter if there is any evidence or not," Al-Khawaja told RT.
Saeed al-Shehabi of the Bahrain Freedom Movement told RT that Rajab's arrest just proves that this regime cannot tolerate dissent or accept freedom of speech, and therefore is incapable of reforming itself.
"After years of political strive, of people's protests on daily basis, where are we today compared to what we had been five years ago? Differently – the situation has deteriorated sharply in terms of human rights; free speech; political participation," he continued.
UN High Commissioner for Human Rights Zeid Ra'ad al-Hussein said in Geneva that "repression will not eliminate people's grievances, it will increase them," adding that more than 250 people had been deprived of their Bahraini citizenship in recent years "because of their alleged disloyalty to the interests of the kingdom.
"When he inaugurated the present session of the Human Rights Council, [Zeid Ra'ad al-Hussein] said that there is prosecution and persecution of the people of Bahrain… of those who talk against the regime, and that [there has been no sign of] any intention to revoke the situation," said al-Shehabi.
"The policy of stripping people off their nationality and deporting them has become a tool of repression," concluded Al-Shehabi.
In response to the commissioner's criticism, Bahrain's foreign minister, Khalid Al Khalifa, wrote on his Twitter account that the Bahraini authorities "will not allow the undermining of our security and stability and will not waste our time listening to the words of a high commissioner who is powerless."
The statements, views and opinions expressed in this column are solely those of the author and do not necessarily represent those of RT.