'Gap between govt, people wider': Rajab on Bahrain Shiite opposition leader's doubled prison term
A court in Bahrain has more than doubled the prison term for the leader of the Shiite opposition, Sheikh Ali Salman. Prominent opposition activist Nabeel Rajab told RT that almost all of the country's opposition leaders have been locked up.
Salman played a key role in the 2011 uprising, which was brutally suppressed by the government.
Read more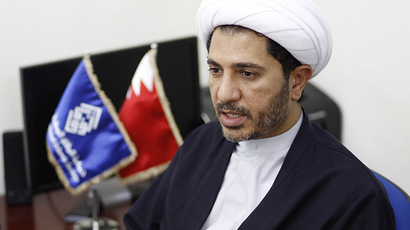 Also secretary-general of Bahrain's main opposition group, Al-Wefaq National Islamic Society, Salman was arrested in December 2014 and half-a-year later, in June 2015, was convicted of inciting unrest and calling for regime change, and sentenced to four years in prison.
Under the latest ruling of May 2016, Salman's term has now been extended to nine years on charges including trying to overthrow the regime by force.
"We, as a defense team, think this is a political trial, targeting Sheikh Ali for exercising his rights," said Salman's lawyer Jalila Al-Saye. "Sheikh Ali is being prosecuted for his work, trying to reform the political system in a way the government does not like."
Human rights group Amnesty International has slammed Salman's case as "politically-motivated" and dubbed him a prisoner of conscience.
The organization Human Rights First urged Washington to renew calls for his release.
Salman is a democracy activist and he is being punished for struggling for human rights, Rajab told RT.
The sheikh's trial was politically-motivated and did not meet the international standards for fairness, believes Rajab, who also spent time in a Bahraini prison.
Salman is the leader of all opposition of Bahrain and has wide support among the population, said Rajab, president of Bahrain Center for Human Rights.
"Unfortunately, we're [living] in a country where almost all opposition leaders are behind bars. Almost all human rights activists and defenders are behind bars, in exile or, like me, sitting at home because of the travel ban," Rajab said, stressing that opposition leader does not support violence in any form. "People cannot tweet, cannot criticize, cannot speak freely anymore."
The doubling of the prison term for Salman has only complicated matters and put the political situation in Bahrain in a deadlock, believes Rajab.
"The gap between the government and people is much wider now," he said.
The Bahraini establishment is a "nearly-go" regime that places itself in power solely by force, international affairs analyst Colin Cavell told RT, adding that "the majority of the population does not want them to rule the country."
Bahraini ruling regime is "odious to the core" and has violated all possible international treaties and agreements, believes Cavell.
Sheikh Ali Salman is the leader of the "largest opposition group in Bahrain," therefore a "tremendous amount of protest" should be expected in the country "at the very least," Cavell said.