US terror report on Iran a stupendous denial of Washington-Saudi terror reality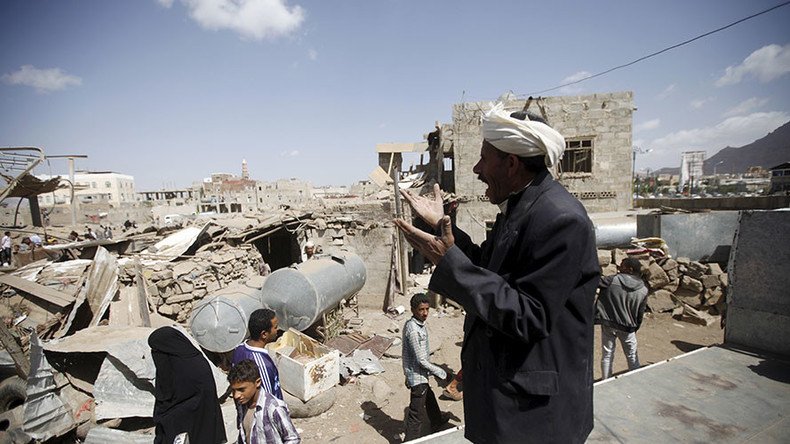 Since 1984, the US has been labeling Iran a leading state sponsor of terrorism, a charge that was reiterated last week. However, global events explode Washington's credibility and denial of reality.
Russia's Defense Ministry, for example, this week reported that some 270 civilians were killed within 24 hours from shelling of Syria's second city, Aleppo, by Al-Qaeda-affiliated terror groups.
Moscow said the surge in violence by these groups followed from the curbing of Russian air strikes at the request of Washington – purportedly to spare "moderate rebels" located in the same areas as Al-Qaeda terror brigades.
The latter include Jabhat al-Nusra and Islamic State (IS, formerly ISIS/ISIL), both of which are internationally proscribed by the United Nations Security Council.
As noted by former British ambassador to Syria, Peter Ford, the risible pretext of protecting "moderates" is a cynical cover for the unavoidable fact that the US is, in effect, siding with Al-Qaeda terrorism in Syria for the overthrow of the Assad government.
It has been reliably documented that the anti-government militia in Syria affiliated with Al-Qaeda, including Jaysh al-Islam and Ahrar al-Sham, are supported materially and politically by the governments of Saudi Arabia, Qatar and NATO-member Turkey – all close allies of Washington.
Also in the news, just as the latest US State Department report came out pillorying Iran over terrorism, the United Nations condemned the Saudi-led military coalition in Yemen for inflicting 60 percent of child deaths over the past year in the war-torn country.
The Saudi-led coalition includes the US and Britain which supplies warplanes and logistics for air raids purportedly aimed at defeating Houthi rebels who ousted the US-Saudi-backed regime in early 2015. The latest UN report also condemned the Saudi coalition for destroying hospitals and schools across Yemen, which had already been designated as the Arab region's poorest country even before the US-Saudi military intervention began in March 2015.
Disgracefully, within days of the report being published UN Secretary General Ban Ki-Moon buckled under political pressure and removed Saudi Arabia and its coalition partners from a global blacklist of rights violations against children.
Nevertheless, while in Syria the terrorist campaign is being waged by Al-Qaeda-affiliated groups funded and weaponized indirectly by foreign governments. In Yemen a major part of the violence is attributable directly to the military forces of the same foreign governments. By any definition this is terrorism, either state-sponsored or state-directed.
In presenting its latest global terror report, the US State Department devotes the vast majority of its concern to the threat posed by Islamic State (also referred to as ISIL) and related Al-Qaeda franchises, such as Boko Haram in Nigeria and Al Shabaab in Somalia.
"ISIL remain the greatest terrorism threat globally," said the US State Department, adding: "ISIL-aligned groups have established branches in parts of the Middle East, North Africa, West Africa, the Russian North Caucasus , and South Asia."
In the US press briefing at least 95 per cent of the content was connected to Al-Qaeda-linked terror groups. Only about five per cent dealt with Iran and its alleged sponsorship of terrorism.
After detailing ISIS terrorism, the State Department then makes the discrepant assertion: "The United States continues to work to disrupt Iran's support for terrorism. Iran remains the leading state sponsor of terrorism globally."
If Iran is the "leading terror sponsor globally", as Washington claims, then why is its latest global terror report preponderantly taken up with Al-Qaeda and various tentacle organizations?
Moreover, in the fleeting details on Iran in its report, the US bases its claim on the rather hackneyed allegation that "Iran continues to provide support to Hizballah [sic], Palestinian terrorist groups in Gaza, and various groups in Iraq and throughout the Middle East" as well as its support for "the Syrian regime."
Iran scoffed at the allegations, saying that its support for Hezbollah in Lebanon and Hamas in Palestine is a legitimate alliance with liberation movements against US-backed Israeli state oppression.
As for Washington's claim that Iranian support for Syria constitutes terror sponsorship, if it were a credible assessment then the US should at least be consistent in its logic and thereby should have included Russia in its latest terror report, given that Moscow is supporting the Syrian government militarily.
The US global terror report does not stand up to scrutiny. Its flagrant disconnect with reality betrays the study as having a political, or more bluntly, propaganda purpose.
The fact is that terrorist activity around the world is, by far, greatly more ascribed to Al-Qaeda-type groups. The US State Department says so itself. These groups are funded ideologically and logistically by Washington's allies, principally Saudi Arabia. That connection of Saudi sponsorship of terror organizations has even been acknowledged previously by former US Secretary of State Hillary Clinton and the US Treasury Department, among other senior establishment sources.
Hezbollah's, and by extension Iran's, alleged involvement in terrorism is an equally politicized subject fraught with murky claims and counter-claims. The US and Israel designate Hezbollah as "terrorist" but the European Union and several European governments do not. Russia officially views Hezbollah as a legitimate political party, which is a member of Lebanon's coalition government.
Washington's antagonism to Hezbollah arises from a litany of alleged terrorist actions, including the bombing of a US marines barracks in Beirut in 1983, which killed 241 American troops – the single greatest US military loss since the Second World War.
Several US courts have convicted Hezbollah and Iran of involvement in the Beirut bomb massacre, as well as other atrocities in Lebanon. Hezbollah and Tehran reject many of these accusations. But even if there were some truth to the American claims, it could be reasonably argued that the actions constitute military combat, not terrorism. The US-backed Israeli invasions of Lebanon in 1982 and again in 2006 were themselves arguably acts of aggression, or state-terrorism.
Another disconnect in the latest US terror report highlighting Iran is the flurry of European trade agreements signed with Tehran since the conclusion of the international nuclear accord last year. Iranian Foreign Minister Mohammad Javad Zarif's trip to Finland last week was but the latest in a host of renewed European relations.
If Iran were such a terrorist pariah, as Washington asserts, would European governments really be courting Tehran with evident diplomatic respect?
It is estimated the US owes Iran upwards of $100 billion in assets frozen since the Islamic revolution in 1979. The US is also accused of dragging its feet on implementing sanctions relief under the terms of the P5+1 nuclear accord that came into effect on January 16 this year.
It seems obvious that one way for Washington to procrastinate on implementing the nuclear accord and the financial rewards due to Iran from unfrozen assets and European trade deals would be for the US to maintain its narrative accusing Iran of "sponsoring terrorism".
Despite Washington's narrative sounding increasingly hollow and in denial of its own documented links to global terrorism.
The statements, views and opinions expressed in this column are solely those of the author and do not necessarily represent those of RT.
You can share this story on social media: