'Saudi violence in Yemen can't be ignored any longer'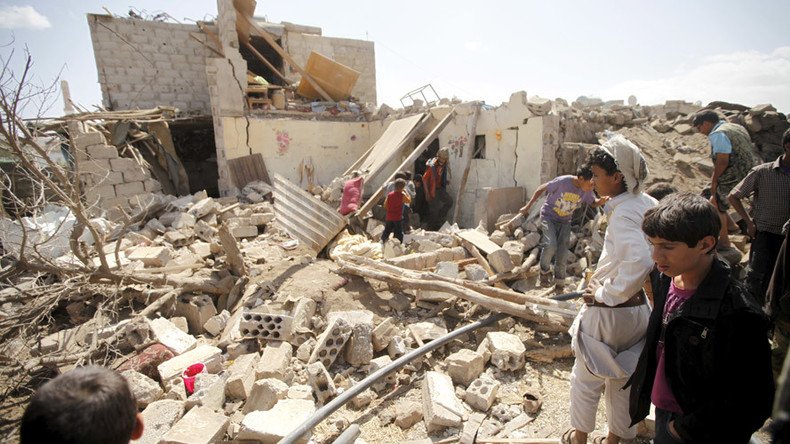 The UN has blacklisted Saudi-led coalition for killing and maiming thousands of children in Yemen. But will there be any consequences or sanctions for the House of Saud? Will their allies reconsider their support for Riyadh?
The United Nations included the Saudi-led coalition in Yemen on the blacklist of child rights violators. Among others listed are notorious groups such as Al-Qaeda, ISIS and Boko Haram. The Houthis - who are on the other side of the conflict – have been on the UN list for at least five years.
Answering RT's question about if there will be any ramifications for Saudi Arabia, a member of the UN, independent geopolitical analyst Navid Nasr said that it is difficult to tell because Saudi Arabia has been a loyal partner for the US and the NATO countries in the region for decades.
"To the best to my knowledge, this might be the first time there has been this kind of organizational rebuke directed at them either from UN, or one of the larger human rights NGOs that affiliated with Washington," he said.
There is a lot of stigma attached to this list, according to Jo Becker, advocacy director of the children's rights division at Human Rights Watch.
"These are governments and armed groups that have committed very grave violations against children. So to be added to this list certainly stigmatizes the Saudi-led coalition and brings to light the fact they are responsible for the deaths of hundreds of children in Yemen and the attacks on many schools and hospitals," she told RT.
Becker said that since 2014 the number of children killed and maimed in Yemen has increased sixfold.
"According to the UN report that came out [on Thursday], the Saudi coalition is responsible for at least 60 percent of those casualties," she said.
Another human right activist, Lama Fakih, who is a senior crisis adviser at Amnesty International, said that her organization has called on a range of consequences against the Saudi-led coalition because of their "unlawful attacks."
"We have seen for example attacks against schools rendering them unusable so that children have not been able to start the academic year. We've seen the Saudis also use a banned cluster munitions which act as landmines when they are left in civilian areas and are particularly problematic for children, who mistake them for toys and move them around and end up being causalities of this weapons," Fakih told RT.
She added that Amnesty International called on the states that are supplying the Saudi coalition with weapons to stop doing so.
"We believe that it is important that there is being an arms embargo against the coalition to send a clear message that these attacks must stop and that they must take their obligations under international law seriously," Fakih said.
"It is an important step that the UN has taken to express its outrage at the numbers of children who have been killed, recruited, displaced as a result of unlawful attacks in Yemen," Fakih told RT.
According to Nasr, entire cities in North of Yemen have "deliberately" been devastated by Saudi government and the Saudi military using American weaponry.
In January, the British Prime Minister was grilled in parliament over his support for the Saudi intervention in Yemen. At that time, Cameron refused to launch an inquiry into the delivery of UK arms to the Saudis.
RT asked experts whether the UK and the rest of international community will reconsider their support to Riyadh following the UN's latest report.
According to Nasr, that would depend on how seriously one takes the UN and this condemnation.
"At various times over the course of past decades, Saudi Arabia has been able to exercise some degree of influence in countries like the UK and the US," he told RT.
That is not just because of country's importance in the Middle East, Nasr said.
"The Saudi government and wealthy individuals in the Saudi Royal family own a tremendous amount of the US," the analyst continued. "People don't realize whether it's via US bonds and stocks, via real estate and other holdings in the country… they're actually able to bring a great deal of direct economic pressure to bear and they have a tremendous lobby behind them," he said.
The UN decision to add Saudi Arabia to its annual blacklist "shows that the degree of the crimes that the Saudi coalition has undertaken in Yemen can't be ignored anymore," Nasr said.
The question now is whether there will be any ramifications for Saudi Arabia following the UN decision.
What do you think will be the ramifications for the country now that it appeared on this list?
The UN Security Council has "repeatedly said that they would consider sanctions against parties that are on this black list," Becker said. "They specifically mentioned arms embargoes, travel bans, and asset freezes."
While in some cases sanctions did follow, "it is true that in many cases the parties have not faced those kinds of consequences," she said.
The statements, views and opinions expressed in this column are solely those of the author and do not necessarily represent those of RT.
You can share this story on social media: