Architects of disastrous Iraq War still at large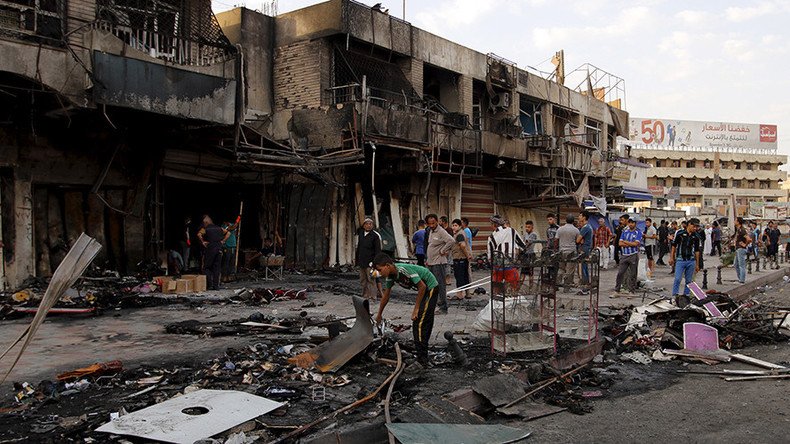 Bombs going off in Iraq? Well, it happens all the time - what's there to see? Let's all move along shall we?
On Thursday, at least 13 people were killed in a ISIS attack on a café in Baghdad for the 'crime' of watching a football match. The day before at least 88 people were killed in three explosions across Baghdad; scores were injured.
Yes, these events got some coverage on Western news channels, but they weren't the main stories.
The neocon war lobby, who, remember, couldn't stop talking about Iraq in 2002/3, and telling what a terrible threat the country's WMDs posed to us, would of course like us to forget the country all together now. They've told us lots of times we need to 'move on' from talking about the 2003 invasion and instead focus on more important things - like how we can topple a secular Syrian president who's fighting the very same terrorists who are bombing Baghdad.
The next few months though are going to very tricky for the 'Don't Mention the Iraq war' clique. After years of delay, the Chilcot report into the war, is finally coming out in Britain in July.
There are legitimate fears, bearing in mind the composition of the panel, that Chilcot will seek to whitewash those who took us to war. Another Establishment cover-up certainly can't be discounted.
But if Sir John does try and tell us that the war was all an 'honest mistake', he and his panel will be a laughing stock. Whatever Chilcot's conclusions are, the important thing is that Iraq will be back in the news headlines, and this represents a great opportunity for those of us who opposed the 2003 invasion to ensure that justice is finally done.
It's surely clear to almost everyone now that we were lied into an illegal war which not only destroyed an entire country, but which also led directly to the rise of IS and helped bring terrorism to Europe too.
We don't need Sir John to tell us that Bush and Blair knew there were no WMDs in Iraq - as common sense and logic tells us that the deadly duo would never have invaded if they had genuinely believed the lurid claims contained in the decidedly dodgy dossiers.
Everything we were told by the neocons in the lead-up to war was false. To quote the title of a book by the antiwar British MP Peter Kilfoyle, there were Lies, Damned Lies and Iraq.
'Saddam has existing and active military plans for the use of chemical and biological weapons, which could be activated within 45 minutes'.
Horse manure.
'Saddam's weapons of mass destruction program is active, detailed and growing'.
Hogwash.
'Saddam Hussein… has the wherewithal to develop smallpox'.
Garbage.
'We know that Iraq and al-Qaeda have had high-level contacts that go back a decade...We've learned that Iraq has trained al-Qaeda members in bomb-making and poisons and deadly gases'.
Baloney.
'The threat is very real and it is a threat not just to America or the international community but to Britain.' Has the trash been collected yet?
Yet up to now- the people who peddled this bullsh** - bullsh** which led to the deaths of up to 1m people and made the Middle East and the world a far more dangerous place - have got off scot-free.
Tony Blair did step down as British Prime Minister in 2007, but remains a free man. Almost every week, we read in the newspapers about the vast fortune he has accumulated, with much of the money coming from governments and countries which benefited from the toppling of Saddam.
Blair's partner in crime, George W. Bush, also remains at liberty.
Politicians who voted for an illegal war and who have failed to offer us a mea culpa for doing so - have advanced - but not to the jailhouse. In 2005, as I explained here, the pro-war David Cameron was fast-tracked by the neocons to become Conservative leader - at the expense of the more popular anti-war Ken Clarke.
In the US, the pro-Iraq war Hillary Clinton is the current odds-on favorite to succeed Barack Obama in the White House.
Disgustingly, obscenely, and outrageously, some of the most vociferous opponents of the Iraq war - the people who correctly predicted the disasters that would occur if Iraq was invaded - have seen their careers go into reverse because of the stance they took.
In Britain, George Galloway, the antiwar socialist who toured the country warning us what would happen if we listened to Bush and Blair, has become an outcast. The man who was branded as a 'traitor' by the pro-war Blairites for his stance on Iraq, is still waiting for his expulsion from the Labour Party to be rescinded. In the US, as anti-war activist Don Debar pointed out on Crosstalk this week, people of note who had opposed the Iraq war resolution - including Cynthia McKinney and Dennis Kucinich - had been 'driven out of Congress by one mechanism or another'.
Meanwhile, in the media, the journalists and neocon think-tankers who fed us with conspiracy theories about Saddam's non-existent WMDs and his non-existent links with Al Qaeda, continue to push pro-war propaganda. They are regular guests on Establishment friendly current affairs programmes on both sides of the Atlantic, imparting their 'expertise' on Syria and other foreign policy issues. No one ever has the courage to ask them: 'Whatever happened to those WMDs you told us that Iraq had?
At the same time, the journalists who called Iraq right - like the great John Pilger - are absent from Western television news and current affairs programs. You've got to tune in to channels like RT - which the hawks would dearly love to see taken off air - to see them.
I'm sure that future generations will be shocked and appalled at how the Iraq war brigade were able to get away with it for so long.
Iraq, in the words of John Pilger, was an 'epic crime against humanity', yet its perpetrators and enablers, are still there, thirteen years on, making money before our very eyes.
How have we allowed this to happen?
The pro-Iraq war clique have attempted to use political correctness to their advantage. As part of what Media Lens calls 'demonising dissent' - the fourth component of a 'Propaganda Blitz',principled opponents of western foreign policy are smeared as 'sexist' 'misogynist', 'racist' 'conspiracy theorists' 'genocide deniers' and even 'dictator apologists' -in the hope that no one will draw attention to the 'morally virtuous' attacker's support for wars which have led to over 1m people losing their lives.
Identity politics has played into the war lobby's hands. The neocons and Blairites are able to pose as 'progressives' who care deeply about the rights of women and gay people- while all the time pushing for wars which will kill women and gay people in great numbers.
To deflect attention away from their crimes, the Iraq war clique- who have clearly read their Orwell- also encourage us to focus on the alleged crimes of 'Official Enemies'. We're supposed to feel outraged over a non-existent 'Russian invasion of the Ukraine', while forgetting about the all too real invasion of Iraq and its catastrophic consequences.
Cowardly Establishment-friendly 'leftists', who wouldn't retweet or cite with approval an article published by RT because of fear they'd be excommunicated from the 'Elite Journos Club', happily engage with unrepentant pro-Iraq war propagandists on social media.
In doing so these western faux-progressives are effectively saying that the deaths of up to 1m Iraqis don't matter. They're sticking a big two fingers up at the people of the global south who have been the victims of neocon wars and destabilization campaigns.
The Nuremberg Judgement was quite clear: To launch a war of aggression, as the Iraq war clearly was, 'is not only an international crime; it is the SUPREME INTERNATIONAL CRIME differing only from other war crimes in that it contains within itself the accumulated evil of the whole.'
If we have retain any proper sense of right and wrong, then it is those who carried out the 'supreme international crime' - and their supporters - who should be treated as pariahs, and not those who opposed the crime.
We don't just need to campaign for Bush and Blair and their cohorts to stand trial (a website here offers a reward for those who attempt a peaceful citizen's arrest of Blair), but also to work for a new law to bar those who supported the 'supreme international crime' and who have not publicly apologized for their actions, from holding public office in Britain and America.
In Germany after WW2, Denazification took place to remove Nazis from positions of power and influence. We need similar action today against the serial warmongers of the 21st century.
In Britain, the publication of Chilcot in July should provide the perfect opportunity for Labour leader Jeremy Corbyn, who opposed the Iraq invasion, to go on the front foot against his pro-war critics in the party who have worked tirelessly to undermine his democratic mandate.
There's still hope too that in America, Hillary the Hawk can be defeated.
Let's talk about Iraq. Let's talk about it incessantly. Let's make sure that there is a reckoning, at long last, in 2016. Because if we want justice for the 1m or so people who lost their lives because of pack of lies nothing else will do.
Follow Neil Clark on Twitter @NeilClark66
The statements, views and opinions expressed in this column are solely those of the author and do not necessarily represent those of RT.
You can share this story on social media: