A Charmed Life: David Cameron, the fast-tracked Teflon Tory (Part One)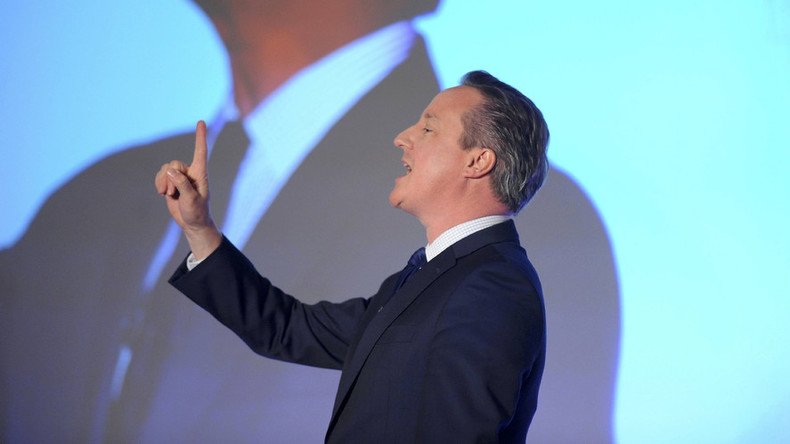 The #PanamaPapers leaks have exposed David Cameron as a hypocrite and consequently done great harm to his reputation.
If the political fall-out from the leaks does eventually bring the British Prime Minister down then he can't really complain as he's had a dream ride up to now.
He didn't deserve to become Conservative Party leader in 2005 as his main rivals for the job were better qualified and more experienced and he most certainly, given his track record in office, didn't deserve to get another term as Prime Minister in 2015.
In fact, if we look back at Cameron's career, it's apparent that from very early on he was placed on the 'Fast Track' to power. It's hard to think of another leading political figure in recent British political history who has had it quite so easy.
Cameron didn't have to fight his way to the top as others have to do: He was eased into his position by influential Tory neocon 'modernizers' who were confident that he would serve their interests better than his rivals.
Cameron had three major advantages to help kick start his career: He was from a very wealthy Establishment background (with money on both sides of the family dating back several generations), he went to Eton, the country's most prestigious public school, and then studied at Oxford University. During his gap year between Eton and Oxford he worked as a researcher in the House of Commons for his godfather Tim Rathbone, a Tory MP and former banker - who incidentally also went to Eton and Oxford.
At Oxford, Cameron was a member of the Bullingdon Club - an exclusive all-male dining and drinking club with a reputation for wild, outrageous behavior (George Osborne, Cameron's Chancellor since 2010, was a fellow member).
After he got his degree, Cameron spent five years working at the Conservative Party research department, making valuable contacts within the party.
In 1994, feeling he needed experience in the private sector to boost his career prospects in the Tory party, he entered the media/PR world, landing a job as 'Director of Corporate Affairs' at Carlton TV.
"The manner in which he obtained the job says much about how men of Cameron's background tend to progress through life," James Robertson and David Teather noted in the Guardian in 2010.
"With no experience outside politics, he did what any old Etonian might do and worked his contacts", Robertson and Teather continued.
"The mother of Cameron's then-girlfriend Samantha, Lady Astor, was friends with Michael Green, then executive chairman of Carlton and one of Margaret Thatcher's favorite businessmen. She suggested he hire Cameron, and Green, a mercurial millionaire, obliged. The 27-year-old was duly recruited on a salary of about £90,000 a year (the equivalent of more than £130,000 today)."
Nice work if you can get it, eh? But you'll only get it if, like Cameron, you have the 'right connections'. Experience and indeed ability has nothing to do with it: Cameron's career is proof that Britain is a long way off from being a 'meritocracy' - a place where people get jobs because of their talent and not because of who they know.
Carlton TV's 'Director of Corporate Affairs' was selected for the winnable seat of Stafford for the Tories in the 1997 general election, but lost out in the Labour landslide.
However, three years later Cameron was selected for the very safe Tory seat of Witney in Oxfordshire, and was duly elected as an MP in 2001.
Just four years later, at the age of 39, 'Call Me Dave' was Conservative Party leader. How was it done?
Cameron's main rivals for the Tory leadership in October 2005 had stronger CVs. Ken Clarke aka 'Big Beast', was a former Home Secretary and a Chancellor of the Exchequer who had presided over an economic recovery from 1993-7.
David Davis, a successful self-made businessman who had been born and brought up by a single mother on a council estate, had been a Minister of State for Europe, a Chairman of the Conservative Party and was now Shadow Home Secretary.
Not only did Clarke and Davis have far greater experience than Cameron, they also had greater voter appeal than the Old Etonian.
A BBC Newsnight poll in September 2005 revealed that Clarke was FOUR times as popular with ordinary voters than his nearest rival in the Tory party leadership race: 40 percent said Clarke would be the best Tory leader, 10 percent said Davis, but only 4 percent said Cameron.
Yet 'Mr 4%' David Cameron was the candidate anointed in editorials and comment pieces by influential Tory-supporting media pundits and the novice cruised to victory. Why did Cameron get such a leg-up?
In October 2005, I attempted to explain Cameron's rapid elevation in The Guardian.
"Cameron's meteoric rise from leadership no-hoper to frontrunner has taken many by surprise," I wrote. "But what has happened is that British neoconservatives, faced with the nightmarish possibility that in a straight fight between David Davis and Kenneth Clarke the more charismatic and anti-war former chancellor would prevail, sought to undermine support for the latter by reinventing Cameron, the pro-war Thatcherite, as the voice of Tory 'moderation'".
The big negative with Ken Clarke for the Tory neocon 'modernizers' was that the former Chancellor had opposed the Iraq war.
As I noted in the Guardian, Cameron's leadership campaign was masterminded by the 'neoconservative trio' of George Osborne, Michael Gove and Ed Vaizey. The last two men were signatories to the Statement of Principles
of the uber neocon 'Henry Jackson Society' which launched in the UK in 2005, the same year Cameron became Tory leader.
The Tory neocons wanted a man who could be relied to carry on an interventionist foreign policy. The fresh-faced Cameron - who unlike 'Big Beast' Ken Clarke had supported the Iraq invasion - could be the Tory party's Tony Blair. A man cast as a 'moderate', but who could be relied up to carry out extreme policies, like cuts and privatization at home and further redistribution of wealth to the super-rich, while carrying on UK support for 'wars on intervention' abroad.
As Cameron himself declared during the leadership campaign: "I am the heir to Blair".
We can't say we weren't warned.
In Part 2: How Cameron repaid his neocon backers
Follow Neil Clark on Twitter @NeilClark66
The statements, views and opinions expressed in this column are solely those of the author and do not necessarily represent those of RT.
You can share this story on social media: