Cameron 'oblivious' to tax avoidance fury, as over 100,000 petition for snap election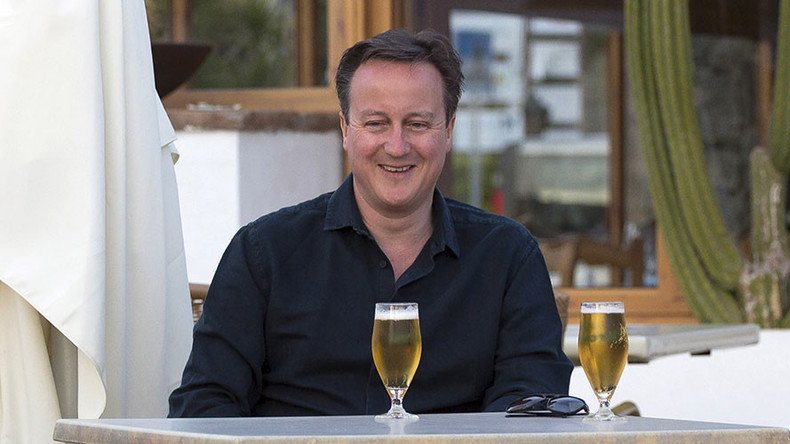 Prime Minister David Cameron doesn't recognize the intensity of public anger over his tax affairs, Labour leader Jeremy Corbyn told MPs. His remarks come as more than 100,000 signatories petitioned for a snap general election.
Cameron was on the defensive in Parliament on Monday over his past offshore investments and his government's failure to crack down on tax avoidance.
Corbyn attacked the PM for failing to grasp the widespread rage felt across the UK at revelations of industrial-scale tax avoidance in the wake of six years of harsh austerity.
"There is one rule for the superrich and another for the rest. I'm honestly not sure that the PM fully appreciates the anger that is out there over this injustice," the opposition leader said.
Britons have registered their disquiet in a petition calling for a fresh general election to take place this year. On Monday it surpassed the 100,000 signature threshold required for Parliament to consider the subject for debate.
Thousands of protestors gathered outside 10 Downing Street on Saturday demanding the PM crack down on tax havens or resign.
In response to clamors for greater transparency, Cameron published details of his tax return and issued a statement to the House of Commons on the Panama Papers leak.
During the statement he defended his past investments in offshore holdings and announced a new task force to tackle tax evasion.
He also defended the practice of avoiding inheritance tax whereby parents give money to their children before they die, branding it an action of "aspiration."
Amid the controversy, Cameron attacked Labour for being "anti-aspiration" and seeking to raise taxes on British citizens.
The embattled PM has faced further scrutiny for receiving a gift of £200,000 from his mother, in addition to the £300,000 inheritance he received following the death of his father in 2010.
Mary Cameron made the tax-free payments to her son in May and July 2011. The PM is only liable to pay inheritance tax on this if his mother dies within seven years of handing over the money.
Corbyn was on the attack during Monday's session, describing Cameron's publication of his tax return as "a masterclass in the art of distraction."
"The PM has attacked tax dodging as immoral, but he clearly failed to give a clear account of his own involvement in offshore tax holdings until this week. Or to take essential action to clean up the system, while at the same time blocking wider efforts to do so," he said.
"The PM's record, particularly over the past week, means the public no longer have trust in him to do with these issues."
Corbyn said British people are outraged by the Panama Papers revelations because they have been forced to endure six years of "crushing austerity, much of [which] could have been avoided if the super-rich had paid their taxes."
Corbyn also attacked the PM's new task force to investigate tax avoidance, which will report to the PM and the Chancellor.
Cameron unveiled new legislation to curb tax evasion in the wake of the Panama Papers scandal.
The proposal has been rubbished by tax expert Richard Murphy, who said it will be of "little consequence" because most tax avoidance takes place offshore.
You can share this story on social media: