#ResignCameron protest: 'Main charge against PM is hypocrisy'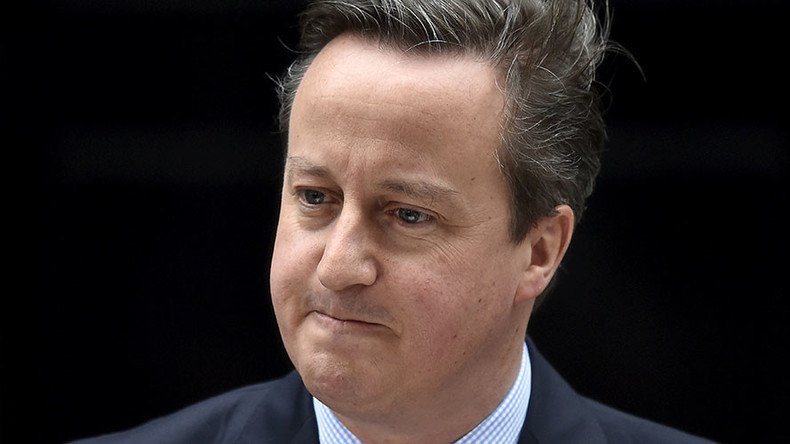 David Cameron, who promised to clampdown on tax avoidance, but then admitted he himself had a profitable stake in his father's offshore fund, expects the public to be open and transparent. However, he isn't standing to these standards himself, experts told RT.
Prime Minister David Cameron is facing criticism in the UK after the release of Panama Papers. Cameron acknowledged that he had shares in his father's offshore trust in Panama, but added that he sold everything before taking the post of prime minister.
British citizens gathered on Saturday in the streets of London calling for Cameron's resignation. On Twitter, people have been teaming up under the hashtag #ResignCameron, voicing criticism of the British leader.
Despite the criticism mounting on Cameron, it is unlikely that he might at some point cave in and resign, says Paul Monaghan, a Scottish MP.
"He is an individual that is used to operating under pressure. He clearly is under pressure at the moment. I think perhaps the difference in this case is that the pressure relates to his personal affairs, rather than to his professional political career. At the moment, unless there are other revelations, Mr. Cameron will probably hang on," he told RT.
Just last year Cameron laid out a very clear position on tax evasion. "If we're to beat corruption, we need transparency. I've taken the lead by pledging much more transparency over property and company ownership in the UK so that terrorists, the tax-avoiders, the money launderers and the criminals have nowhere to hide their ill-gotten gains," the British leader said in September 2015.
Now he has admitted that he profited from offshore funds, which are often used to dodge taxes.
According to Monaghan, Cameron "presents himself as being some of a model crusader in terms of tax affairs."
"And here we are with the truth leaking out on a daily basis about Mr. Cameron's own personal investments, his business life and his tax affairs. At the same time he expects general public to be open, transparent and honest. He isn't standing to the standards that he expects of others," he added.
The MP says that the revelations known as Panama Papers "damage Cameron personally, they damage his credibility, they damage his leadership, and they damage… the case for staying within the EU."
Neil Clark, a journalist, agrees that the latest revelations are damaging for Сameron's future.
"Quite honestly, he has misled us. Early in the week he said in his first statement that this was a private matter. He has changed his story four times now. And only [Thursday] did he actually come out and said yes, he did benefit from this offshore trust," he told RT.
"I think the main charge against Cameron is hypocrisy here. This is a man who came into power saying he was going to clampdown on tax avoidance,"It was morally wrong," he said, when a famous comedian was exposed for avoiding tax. This is a man who has made a substantial sum of money from his own tax avoidance schemes. So I think the big charge against Cameron is he didn't come out cleanly in the beginning of the week to actually state that truth, and that he is a hypocrite. Whether he will resign – this is another matter," Clark added.
The journalist noted that there have been a lot of things that Cameron "has done wrong" – such as the role he has played in the "destruction of Libya" but "he is still there."
In his words, there "is a real disconnect" in the UK between the media and political elite – who are generally pro-Cameron - and the general members of the public.
"We see this on Twitter; there is almost a twitter storm now: #cameronmustgo; people calling for demonstrations, etc. But the view of the leading members of the commentariat, political allies of Cameron, is basically – 'this is no big deal'," Clark said.
He also added that the reaction would've been completely different if the leader of the Labour Party, Jeremy Corbyn, was involved in the scandal.
"Just imagine if this was Jeremy Corbyn, the Labour Party leader, who's come under relentless attack. Just imagine his father had this investment fund in Panama and Corbyn made a 20,000 pound profit from this. Just imagine what would happen there. I think there would be calls all round," Clark said.
Renwick, a political activist and youth worker, says that Cameron is now trying to make it a personal thing.
"He is talking about the lessons that he's done. But I don't think the lessons are that Britain has this horrible overseas network of finance and murkiness that has to be brought to light. I don't think that's the lesson," he said.
The statements, views and opinions expressed in this column are solely those of the author and do not necessarily represent those of RT.
You can share this story on social media: