'US funding sectarianism in Iraq to advance own political agenda'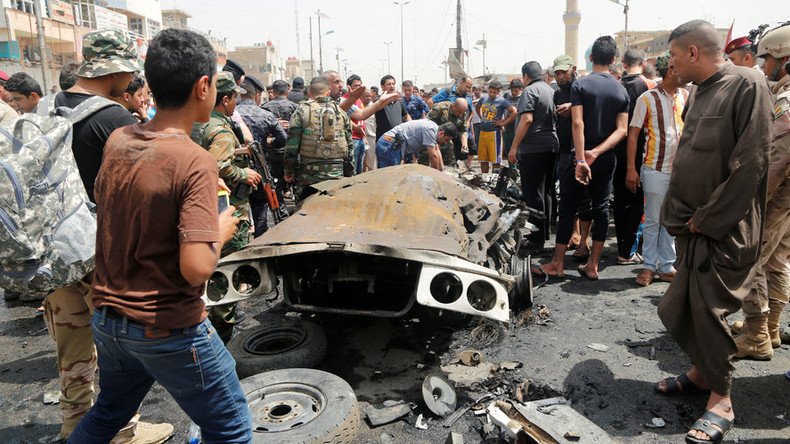 The West has caused political, social and military disarray in the Middle East by funding tension and playing ethnicities and faiths against each other, says Catherine Shakdam of the Shafaqna Institute of Middle Eastern Studies.
At least 93 people were killed on Wednesday in three separate car bombings in Baghdad. Islamic State (IS, formerly ISIS/ISIL) claimed responsibility for the deadliest attack in Iraq this year. Less than 24 hours later, the terrorist group killed at least 17 Iraqi soldiers with suicide truck bombs, reports Reuters.
RT: These attacks come while the US is stepping up its operations against Islamic State. When Washington sent troops back to Iraq in 2014, Barack Obama promised to degrade and destroy ISIS. However, the facts show that despite all those efforts, the terrorists are still on the rise. So why are they able to stage such deadly attacks in the middle of Iraq's capital?
Catherine Shakdam: The main problem that we have is that we keep assuming that stepping up militarily will change anything. What we need to do is, first of all, to make sure that Iraq wants military intervention if foreign troops are to be involved. Otherwise it would be impeding onto the sovereignty.
The second thing, I think we need to think outside the box, because for the past decade we have been upping militarily, but it hasn't worked. It has worked in Syria, because there was a great deal of cooperation between Russia, Iran and Damascus. There have been some real efforts to try to kind of break down ISIS/ISIL/Daesh [Arabic pejorative term for IS] cells on the ground.
This is not the case in Iraq. We have a problem where we're assuming that Western powers, the US in particular, are interested in fighting terrorism, when really what they are doing is using terror as a political tool to advance their own agenda, which has nothing to do with counter terrorism.
More importantly, the US continues to align itself with Turkey, for example, which we know now has had a very heavy hand into propping and aiding terrorism across the Middle East. And now that they are losing ground in Syria, they are upping the tempo in Iraq, because they are trying to find a fallback on the military option. I think we need to look at Iraq and understand that what is happening today – this is creation of the terror attacks – is a direct result of President Bashar al-Assad's victory in Syria. We could see that ISIS militants are now falling back into Iraq and trying to find new ground and a way to assert themselves…
RT: What about the Iraqi military itself? Why is it failing to keep even Baghdad secure?
CS: When it comes to the Iraqi military there is a great deal of disorganization and there is a great deal of sectarian and ethnic issues within the military. It is very sad to say, but it is a reality. The Iraqi Army is not that united. It's been a problem…and the US has a lot to do with this – they have been funding sectarianism to forward their own political agenda. If so far Baghdad has been more or less stable because it hasn't been breached, it has been very difficult to prevent terror attacks. It is difficult to prevent people from carrying out suicide bombings and the rest of it. The security can never be absolutely perfect.
What you need to do is to go after the ideology and to try to reunite what was disunited. That would mean trying to promote nationalism in Iraq and try to make people understand that issues of religion and ethnicity that would have to be addressed differently, but not through violence; that people have a right as Iraqis to cohabitate next to each other; they have a right to express themselves.
However, whether it is ethnicity or religion – they have the right to their identity and their faith. But that is the problem – that is not the message that has been carried out today, because of the narrative again. Western powers have done great harm in the Middle East by funding tension and by playing ethnicities against each other and faiths against each other. You have the result today: you find countries which are in disarray – not just socially, but politically, economically, militarily. You have the result of this kind of deconstruction of nationalism today. This is a danger; it is very difficult to mend what was broken. It takes a long time. They are facing terrorism. They don't have a credit of time – they need to act now and do something together, or they are just going to perish together.
The statements, views and opinions expressed in this column are solely those of the author and do not necessarily represent those of RT.
You can share this story on social media: