Warmongering in Warsaw: EU gives Poland greenlight to ramp up tensions with Russia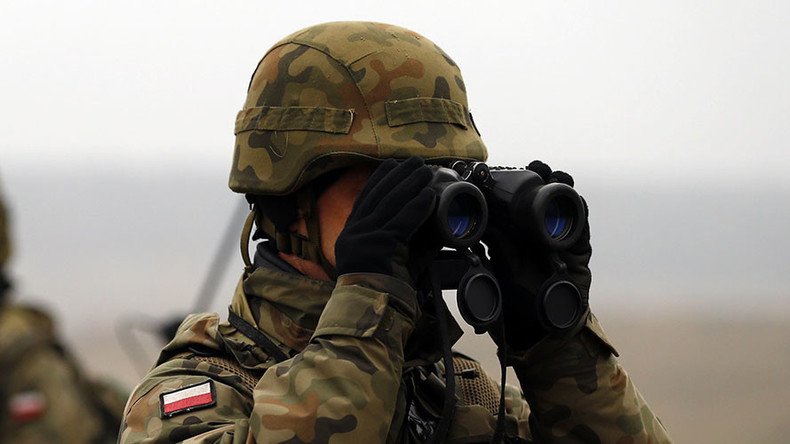 The Polish Foreign Minister Witold Waszczykowski recently called Russia 'an existential threat' to Poland and the EU. In his view, Russia is even more dangerous than so-called Islamic State, since the threats posed by the Middle Eastern terrorists are not "existential."
Waszczykowski's comment was made at a security conference in the Slovak capital Bratislava, and it predictably made waves in Russia.
Alexei Pushkov, the head of the Duma's Committee on Foreign Relations, called Waszczykowski "an existential threat to common sense," dismissing the fears of the Polish politician as nonsense.
But what was the West's reaction to the Polish minister's outlandish statement? It was zero, and this is the most dangerous development. Even during the last years of the Soviet Union, when the cold war was in everyone's memory and in some ways still a part of daily reality, this kind of statement would lead to a resignation or at least to a defeat at the next election (remember Barry Goldwater). But now this was not the case.
Waszczykowski did not get scolded for his war-mongering neither by the EU nor by the United States, nor his own party PiS, which openly positions itself as pro-American.
Soon after his statement, Waszczykowski was welcoming in Warsaw Alexander Vershbow, deputy Secretary General of NATO and a former American ambassador to Moscow. Vershbow knows full well that Waszczykowski was lying.
During his diplomatic tenure in Moscow, Vershbow said many times that Russia was no longer a threat to the US, but a modern country seeking good ties to the whole world. However, this time Vershbow did not say a word of criticism about Waszczykowski's statement. Vershbow limited his "pacifying" influence on the war-mongering Polish elite to stopping short of promising "permanent" NATO bases in the near future, even though such a promise was openly sought by Polish Prime Minister Beata Szydlo.
In general, as far as NATO is concerned, Waszczykowski seems to be in the good graces of NATO's Secretary General Jens Stoltenberg, who has adopted a somewhat Polish vein of speaking on Russia in recent months. The only difference is that Waszczykowski usually accompanies his alarmist statements about Russia by calls for the permanent stationing of NATO forces on Polish soil. Last year, he even said American nuclear weapons would be welcome in Poland.
"We should not forget: Waszczikowski recently said that, in his opinion, Russia would not hesitate to use nuclear weapons. So, Mr. Waszczikowski can't wait to see a real nuclear conflict on our territory" - such was an ironic comment from Mateusz Piskorski, the leader of a small leftist Polish party Zmiana.
Though it failed to get a registration from the Polish authorities, Zmiana is well known in Poland and Russia as the only Polish political party advocating on behalf of improved Russo-Polish relations through understanding, not through stubborn pressure from the Polish side.
Interestingly, Zmiana is largely boycotted by the Polish media, while there is no lack of sympathetic press for the most outlandish statements on Russia by Waszczykowski, the Defense Minister Antoni Macierewicz and the leader of PiS, Jaroslaw Kaczynski. When one puts the statement by Waszczikowski in a larger Polish context, one understands that the people ruling Poland are simply living in a fantasy world, where Russia is always a dangerous villain, while they are knights in shining armor.
For example, Defense Minister Antoni Macieriewicz, and a representative of PiS, recently called the crash of the Polish presidential plane in Smolensk in 2010 "a terrorist act." This statement was made despite the well known fact, reported by the global media from the NYT to Gazeta Wyborcza, that numerous investigative commissions, including Polish ones, did not find any traces of a "conspiracy" in the plane crash.
The commissions came to the conclusion that Lech Kaczynski's TU-154 crashed because of the late president's desire to land by all means and at all costs in order not to be late for an official ceremony scheduled for April 10, 2010.
PiS's Jaroslaw Kaczynski, the shadow leader of the country (his party controls the government), not only did not scold Macieriewicz for this outlandish statement, but called Macieriewicz's "investigation" of the 2010 disaster a "miracle." Both Kaczynski and Macieriewicz openly accuse the former Polish premier, Donald Tusk, of being behind the crash in 2010. The other suspect is, as usual, the Russian President Vladimir Putin. Why? In the beginning of April 2010, days before the late Kaczynski's unfortunate trip to Smolensk, Putin and Tusk laid wreaths at the graves of the Polish officers, secretly executed there on Stalin's orders in 1940. Now the people running Poland say Putin and Tusk could want to kill Kaczynski out of "jealousy" because of his "patriotic" visit to the same place scheduled for April 10.
"There is no need to comment on these statements of Kaczynski and Waszczykowski," says Valery Masterov, an expert at the Russian-Polish Center for Dialogue and Accord, a veteran Russian media correspondent in Warsaw. "Unfortunately, the Poles have mostly only themselves to blame for having such inadequate leaders, so hostile to Russia and to each other. In the last two decades, Russia did not give any ground for this attitude."
The PiS party's main "suspect" Donald Tusk is now the head of the European Council, so the EU, quite expectedly, blasts PiS for its campaign against Tusk and his "liberal" party the Civic Platform (which is second only to PiS in the anti-Russian character of its statements).
PiS is accused by Brussels of trying to force the state-owned media to serve its interests, even though the Civic Platform did the same, when it was in power in 2007-2015. Blasting Jaroslaw Kaczynski for his criticism of Brussels, the EU, however, never reins in PiS, when its leaders make much more outlandish anti-Russian statements.
"There is no freedom of press in Poland, at least no freedom of the state-owned press," explains Zmiana's Piskorski. "Both main parties are using the state media against each other - and against Russia. On the Russian issue, there is little difference between them."
Since Poland joined NATO in 1999, it was not NATO teaching Poland to be friendly with Russia (as Moscow had been promised), but rather the Polish elite teaching NATO to hate Russia. This is a bad dynamic, dangerous for Poland, the EU and, finally, for for Russia.
The statements, views and opinions expressed in this column are solely those of the author and do not necessarily represent those of RT.
You can share this story on social media: