'Russophobic': Moscow blasts Polish minister's calling presidential plane crash 'act of terrorism'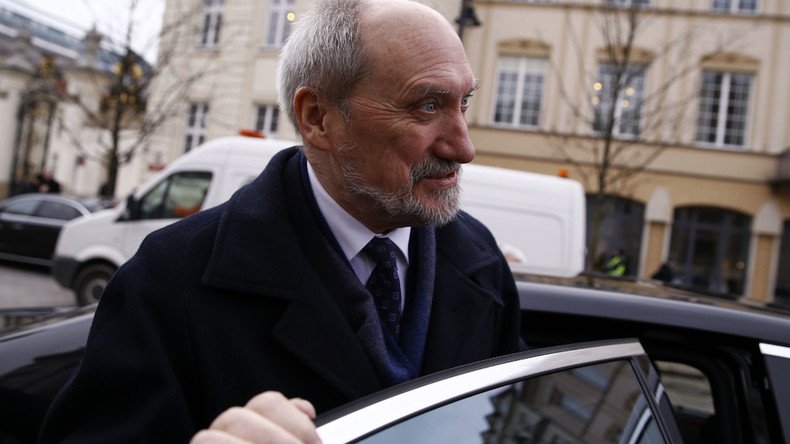 Moscow described as "irresponsible" and "Russophobic" the statements of Poland's defense minister, who branded the 2010 crash of the Polish presidential plane in Russia an 'act of terrorism' and hinted that the Kremlin was to blame.
Speaking Saturday at a university in the Polish city of Toruń, Antoni Macierewicz stated that the crash in April 2010 near Smolensk was a deliberate attack on the Polish government and stopped just short of accusing Russia of masterminding it.
"After [the] Smolensk [plane crash], we can say that we were ... the first great victim of terrorism in the modern conflict, that's playing out right before our eyes," Macierewicz told a conference on warfare and terrorism.
He didn't directly accuse the Kremlin of putting a bomb on the Polish plane, but claimed that Russia had benefited from the incident and alluded to conspiracy theories which alleged that a series of bombings in Russia in 1999 was orchestrated by then-Prime Minister Vladimir Putin to secure his position as future president.
The crash that happened in April 2010 killed Poland's then-President Lech Kaczynski, his wife and a number of top government officials. The incident was investigated by both Russia and Poland and ruled to have been caused by pilot error.
The Polish report on the crash was published under the center-liberal government of Donald Tusk and was heavily criticized by members of Kaczynski's conservative Law and Justice Party (PiS), which is now headed by his twin brother Jarosław. Macierewicz, then an MP, headed a parliamentary investigative commission consisting mostly of PiS members, which claimed that two explosions occurred on board the plane just as it was landing.
Commenting on Macierewicz's statements, the Russian Foreign Ministry called them "Russophobic","irresponsible" and "beyond absurd." The Kremlin said the Polish minister's words are "baseless, biased and disconnected from the actual circumstances of the tragedy."
Some Polish opposition figures also criticized Macierewicz, saying he was playing with fire.
"I am terrified by these words," said former Foreign Minister Rafal Trzaskowski, who is now an MP from the Civic Platform (PO) one of the two members of the coalition that formed Tusk's government in 2011.
"Over a weekend Macierewicz may declare a war on Russia," his fellow PO member Marcin Kierwinski said. "That's some approach to foreign policy and security."
The issue of Kaczynski plane's crash was brought back into Poland's political agenda after the 2015 parliamentary election, which brought PiS back into power. In March 2015, Macierewicz, who was already slated to become defense minister in the new government, told the European Parliament that Russia was "fully responsible" for the crash.
In November last year, the government shut down a website with a comprehensive collection of documents related to the crash and threatened to prosecute Tusk, who is currently serving as president of the EU, for alleged negligence in investigating the incident.
In February this year, Macierewicz announced that Poland was reopening the investigation due to "mistakes" made in the previous one. The deadline for the investigation was pushed back six months on Tuesday and is now set on October 10.
Macierewicz's allegations come months before the country is to host a NATO summit, where Warsaw intends to advocate stationing additional forces in Eastern Europe, claiming that they are needed for protection from Russia. Ahead of the summit Poland is to host a major NATO military exercise called 'Anaconda', which would involve 12,000 Polish and 13,000 foreign troops.
The new defense minister is currently pushing for an overhaul of Poland's military, which includes replacing top brass who started their military career in Warsaw Pact Poland. Last week, Polish media reported that five of the 23 generals serving in the Polish central command resigned from their position in what some speculated was an act of protest against the reform.
READ MORE: 'No to dictatorship in Poland': 50,000+ protest govt reforms in Warsaw (VIDEO)
The military reform is just part of new government's tough policies. It also strengthened its grip on the state-owned media and the Constitutional Court, with both moves sparking protests in the country and drawing criticism from the European Union over a perceived authoritarian slide within Poland.
You can share this story on social media: