'No to dictatorship in Poland': 50,000+ protest govt reforms in Warsaw (VIDEO)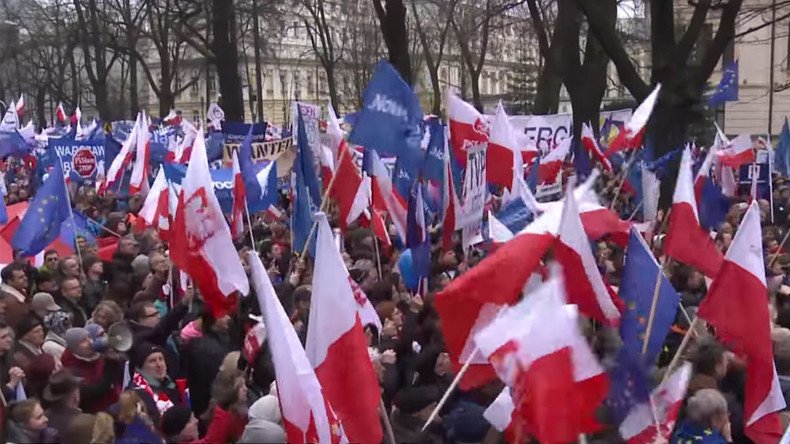 Tens of thousands of protesters have turned up for an anti-government rally in Warsaw demanding that the ruling party respect the constitution. The demonstration comes amid an ongoing conflict between the Polish government and Constitution Court.
Over 50,000 people waving Polish and EU flags filled the streets of Warsaw on Saturday, AFP reports.
"Many of us are afraid that we will have dictatorship in Poland. Do not be afraid, come with us, we will defend the Polish constitution, we will defend democracy," Kamila Gasiuk-Pihowicz, a spokesperson for the Modern Party, told the crowd, according to RT's Ruptly video agency.
The protesters started their rally near the Constitutional Court building and marched three kilometers to the presidential palace in Warsaw's old town.
"Years ago, Poles protested to change the political system," former World Bank economist Ryszard Petru, leader of the liberal opposition Modern party, said to the protesters.
"Now we're protesting to make sure they don't suddenly change it," he added.
The political crisis erupted in Poland after the ruling Law and Justice Party (PiS) came to power in 2015, and promptly adopted new legislation limiting the powers of the country's Constitutional Court and imposing tough government controls on the media.
The Constitutional Court ruled on Wednesday that the government's decision to raise the number of judges necessary to form a quorum for the most contentious cases – thus making it harder to secure rulings – was illegal. Previously 9 out of the 15 judges on the country's top court needed to support a ruling for it to become valid. Now, a total of 13 must, meaning just three dissenting judges could block any decision, such as those invalidating laws passed by the new government.
The government, however, refused to publish the constitutional court's decision in an official journal, claiming that the court's ruling was illegal itself.
"We uphold the position that Poland's government cannot publish the statement of some of the constitutional court judges, which is not based on law," government spokesman Rafal Bochenek told a news conference earlier on Saturday.
The government's decision came under fire of the Venice Commission, a body of legal experts within the Council of Europe, which warned that it "would further deepen the constitutional crisis in Poland."
The EU high authorities also criticized PiS's actions. Gunther Oettinger, European Commissioner for Digital Economy and Society, said in early January that Poland should be placed under supervision because of the laws proposed by the ruling party. Poland's Justice Minister, Zbigniew Ziobro, compared the initiative of the German politician with the Nazi aggression against Poland in 1939.
You can share this story on social media: