Polish minister dismisses 'silly' German criticism of media law citing Nazi 'supervision' during WW2
Published time: 10 Jan, 2016 18:45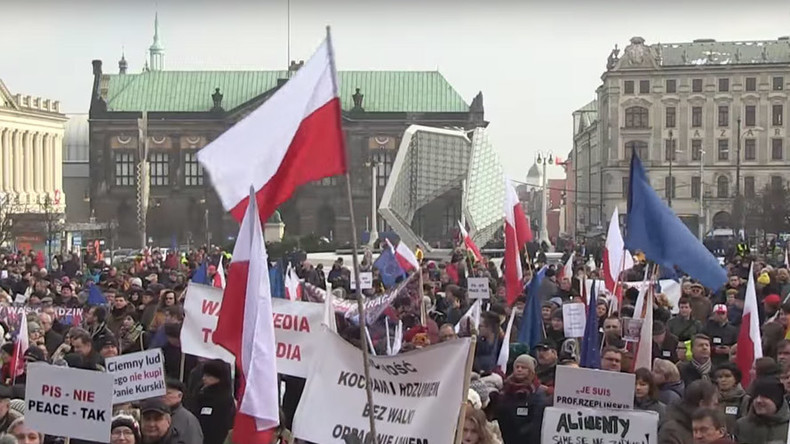 Poland's Justice Minister has dismissed German criticism of a new media law, comparing Berlin's calls to monitor the situation in the country with Nazi aggression. The German ambassador has also been summoned over "anti-Polish" remarks made by politicians.
The previous week, Gunther Oettinger, European Commissioner for Digital Economy and Society, said that Poland should be placed under supervision because of its attempts to establish state control over public media as well as its plans to reform the Constitutional Court. The remarks did not go down well with the Polish Justice Minister, Zbigniew Ziobro.
"I am not in the habit of replying to silly comments on Poland made by foreign politicians," Ziobro wrote in an open letter to Oettinger, PAP reported.
"Such words, said by a German politician, cause the worst of connotations among Poles. Also in me. I'm a grandson of a Polish officer, who during World War II fought in the underground National Army with 'German supervision'," Ziobro added. The National Army was the main resistance movement when Poland was occupied by Nazi forces during WW2.
The minister also accused Germany of 'hushing' the media in its coverage of New Year's Eve sexual assaults in Cologne.
'[These events] were for several days hushed up by the German media…I came to the painful conclusion that it's easier for you to talk about fictitious threats to media freedom in other countries than condemn censorship in your own country," wrote Ziobro.
On Sunday, Polish Foreign Minister Witold Waszczykowski summoned German ambassador Rolf Nikel because of "anti-Polish comments by German politicians".
The decision followed a number of statements made by prominent German politicians calling for the imposition of sanctions against Poland.
"If attacks on European values are revealed, the EU member states must screw up courage to impose sanctions [against Poland]," Volker Kauder, parliamentary group leader of the ruling CDU/CSU union, told Der Spiegel on Saturday.
"The Polish government must know that one cannot infringe on certain basic values in the EU," he added.
The same initiative was put forward by another prominent politician from Merkel's Christian Democratic Union (CDU) – Herbert Reul, the party's group leader in the EU parliament.
"We will need economic sanctions if political means of the dialogue do not work," Reul said as cited by Der Spiegel.
Poland came under fire after the Law and Justice Party (PiS), which came to power in 2015, adopted a law introducing tough state control over media.
The bill allows the government to terminate the contracts of executives running the state radio and television networks, TVP1 and Polskie Radio, and empowers the Treasury Ministry to appoint new heads. The law limits the number of members on the state broadcasters' supervisory and management boards.
The media law, as well as the reform of the Constitutional Court, caused massive protests across the country as well as the resignations of several key media figures. PiS opponents accuse the party of undermining democratic principles.