Hungary to block sanctions on Poland, Warsaw grip on media & judiciary tightens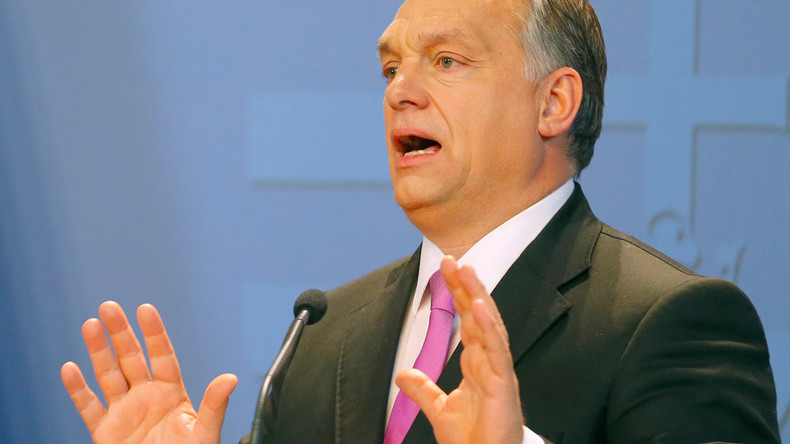 Hungarian PM Viktor Orban says he will veto any possible sanctions the European Union aims at Poland. Warsaw has come under pressure after the Law and Justice Party was elected in October and moved to bring state media under government control.
Prime Minister Orban had a meeting with Jaroslaw Kaczynski, the leader of Poland's Law and Justice Party (PiS), on Wednesday. During the discussion, he said Hungary would oppose any sanctions against its Central European neighbor.
"The European Union should not think about applying any sort of sanctions against Poland, because that would require full unanimity and Hungary will never support any sort of sanctions against Poland," Orban told public radio in an interview, as cited by Reuters.
Under the new law, the treasury minister will have the power to appoint and sack senior figures in public radio and television, as opposed to them being appointed through a contest by the National Broadcasting Council (KRRiT), as per previous rules.
Several key figures in the Polish media resigned in a gesture of protest, saying they would be laid off if the new law were passed. Those include heads of three TV channels of the Polish public broadcaster TVP, and the head of its human resources department.
"No one can force Poland to shut its mouth. No one can force me to shut my mouth," Tomazs Lis, one of Poland's most well known journalists, said about his resignation to the Gazeta Wyborcza newspaper.
The move, which has also seen Warsaw introduce a reform of the Constitutional Court, which makes it harder to pass rulings, demanding a quorum of 13 judges out of 15 to decide on the most contentious cases, up from nine, has led to protesters taking to the streets.
On January 2, around 2,000 protesters braved freezing temperatures to show their disdain for the policies being implemented by the Polish government. The demonstrators gathered in Poznan. Each person attending the rally was given a red card symbolizing opposition to the government's actions.
After initially voicing concern when the lower house of the parliament passed the measure on December 30, the European Commission downplayed the Polish move to restrict freedom of speech in the country on Wednesday.
"Let's not overdramatize. It's an important issue. But we have to have friendly and good relations with Poland. Our approach is very constructive – we're not bashing Poland," European Commission President Jean-Claude Juncker said in Amsterdam, the EU observer reported.
In the EU, freedom of the press is protected against "restrictions on media pluralism, especially in broadcasting, through undue governmental control and pressure over broadcasters or favoritism toward state-owned media."
According to the OSCE Representative on Freedom of the Media Factsheet: "Free media, unfettered by government control, promotes a free exchange of views, which can help reduce international tensions and prevent conflicts."
By violating freedom of the press, Poland, under Article 7 of the EU treaty, should lose its EU Council voting rights. However, Juncker believes Poland will get off clean.
"I don't think it'll come to that," he said, adding he is "very confident" the Polish government will clarify and justify its intentions.
You can share this story on social media: